NEXT STORY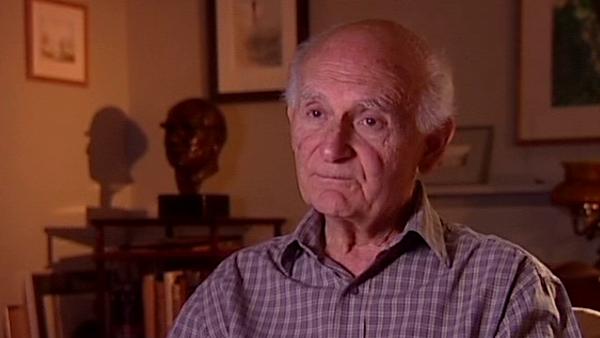 When it's better not to tell the truth
A difference in expectations
1
2
3
4
5
6
...
8
What I think people underestimate are the intellectual blocks. I'm not talking about language blocks or long words. I'm talking about what's going on. I mean, we say, let's think. The patient comes in and says, 'I'm short of breath', and you say, 'Are your ankles swollen?' I mean what the heck is this chap talking about? That's really bizarre, isn't it, if you haven't got a scientific training, and you could think of endless examples of that and you really, even in supposedly very educated people, you find the most enormous... what is the liver, doctor? You know. Well, I mean, I actually don't know exactly. It's very complicated, but that, that sort of thing, enormous blocks, and I think people underestimate that. And, I mean, what you're doing in medicine is I think two different things. I don't actually do think they fit together very well. You're trying to interpret the patient's problem in your own mental structure of scientific medicine and, at the same time, if you've got time, you're trying to understand how the patient sees the problem, and she obviously may need time. And I think those are two pretty difficult horses to ride at the same time, but that's what you're trying to do, and what I'm saying is that we all know about the fear and all that, anxiety, but I think we often underestimate this thing about what is this chap going on about.
I... I had an experience last night because our builder in Wales, a very nice chap, an old friend, I rang up and I spoke to his wife, who was very worried about him. He's diabetic and his daughter is insisting he should have a CT scan and I know what the problem is, in general. It's something to do with diabetic eyes and he's going to see the doctor, who's a very good GP they trust, today. And I was thinking that's a good example, isn't it? He must have a CT scan. Well, we would say, what, what has that got to do with a CT scan? But that's how they saw the problem. And, unless, of course there's no way the gap, the barrier between how the doctor sees it and how the patient sees it is so big, the only possible solution is giving the patient time to cough it up, which often they don't do either because you don't listen to them or they don't have enough time or... or they're too shy, diffident that they're talking nonsense. And another thing about that is answering patients' questions. You know, 'What does insulin do?' Yes, it lowers the blood sugar level, that's all right, but a lot of the things the patient asks they're not stupid questions it's just we don't know what they're about. So a patient says something to do with, oh, I don't know - why do I get an itchy nose when my left ankle hurts, or something? Well, it's not actually... if he gets that, he gets that. It's just you have no idea so we, including me, often just ignore those many questions or you say, 'I don't know', or you kind of get onto what your agenda is, which is trying to find whether he's got pneumonia or something. So, I mean, I think people do terribly underestimate... I mean, you as a general practitioner know this, all this stuff very well, but... so I think when people come back and say, 'I saw that doctor, but he didn't tell me anything', I mean, it almost certainly is factually completely untrue, as we know, from what people have come back and said that they have said to us, like we've said to them, but in understanding it, it's got to be true because that's what they say and I... that's why I say it's mainly about misunderstanding because... I'm not saying I can do this, I'm just saying that's what the problem is and a very, very deep, deep problem.
[Q] You say, I'm not saying I can do this, but you did do it and you do it, I wondered whether you'd consciously thought about explaining things in a different way to patients or, or whether you...
Well, I thought about, as you know... I'm rather gabby, but I've thought about giving them more time to talk to me and that's the main thing. I've had experiences which, when they have said what they wanted to say it was so totally outside my mental structure. There's no other way I would have even thought of that as a problem. You can feel your way to whether the patient's worried about cancer. I mean, it's, it's in a bubble coming out of the front of their head, isn't it. But then the difficulty is do they want to bring this out or don't they want to bring it out but often you, you actually can't quite get what's actually going on and time is really, I think, the only thing. I haven't found this particularly to do with geographical origin or anything. I think it's just as much in a sort of posh, public school English person as it is in a chap from Nigeria who's just arrived. I, I think that the same problem arises.
[Q] But working in South London you must have seen a lot of new peoples with new... did you find that a... a difficulty, an inspiration, a...
Yeah, that, that does raise another point about how we structure our thing. We had this huge influx of both Gujarati Indians, mainly Hindu, of Muslims from Pakistan and then West Indians, who are kind of more easily on the same wavelength, and I found... I realised a bit what I was getting wrong, which is this; that the patient comes with a lump in their neck and I'd say, 'Well, look, you know, Mr Patel, this could be, as you know, it could be tubercle or aborted pyogenic gland or maybe something funny, rare, and I don't know what it is but we've got... what we need to do is these tests and then maybe we'll have to give a little anaesthetic and take a bit out', and they'd say, 'And the diagnosis doctor?' And I realised that there, what you go to the doctor for is treatment. This sort of Baconian inductive, deductive system of my line of thought about this, that and the other it wasn't that they disagreed with it. It was completely meaningless, and what they came for was the diagnosis so you had somehow, I mean, I don't think you could resolve that one except to do the things you wanted to do, but that was another conceptual gap which is quite important really, isn't it. Yeah. Yeah. I'm sure you could have many examples of that.
[Q] And, and do you... did that alter the way in which you, you dealt with them or dealt with patients?
Well, I mean, it did in the sense that I kind of tried to come to terms with it and, of course, the biggest thing is psychological symptoms in that and, there again, it was a learning curve for me, when I realised that I could remember the, the first person. It was a, it was a little Bengali lady who had a small baby, a small child, about two or three I think, had a dreadful husband and they were all experiencing a lot of, I don't think physical assault, but prejudice and to my way of looking at her she was clearly very depressed. It was obvious. Anybody, you didn't have to be a doctor, she was a very depressed woman and I started feeling towards this and she got very shirty. She said, 'No, it's my headache, doctor', or something, whatever she said and didn't say no. She just... what we call depression wasn't the way in which the illness expressed itself and, again, not being a psychiatrist, I found that quite difficult to handle. So that's another very big thing about what, I think, your somatisation of what we would call mental symptoms.
British doctor Harold Lambert (1926-2017) spent his career tackling infectious diseases, helping in the development of pyrazinamide as an effective treatment for tuberculosis. He also published work on the rational use of antibiotics and was a trustee and medical advisor for the Meningitis Research Foundation.
Title: A difference in expectations
Listeners: Roger Higgs
Roger Higgs was an inner city GP for 30 years in south London, UK, and is Emeritus Professor of General Practice at Kings College London, where he set up the department.

He gained scholarships in classics at Cambridge but changed to medicine after a period of voluntary work in Kenya in 1962. He was Harold Lambert's registrar for 18 months in the early 1970s, the most influential and exciting episode in his hospital training. He set up his own practice in 1975. He helped to establish medical ethics as a practical and academic subject through teaching, writing and broadcasting, and jointly set up the 'Journal of Medical Ethics' in 1975.

His other work included studies in whole person assessment and narrative in general practice and development work in primary medical care: innovations here included intermediate care centres, primary care assessment in accident and emergency departments, teaching internal medicine in general practice and establishing counselling services in medicine.

He was made MBE in 1987 for this development work and now combines bioethics governance, teaching and writing with an arts based retirement.


Tags: CT scan, questions, shy, explanations, language, patients, doctors
Duration: 7 minutes, 56 seconds
Date story recorded: October 2004
Date story went live: 24 January 2008