NEXT STORY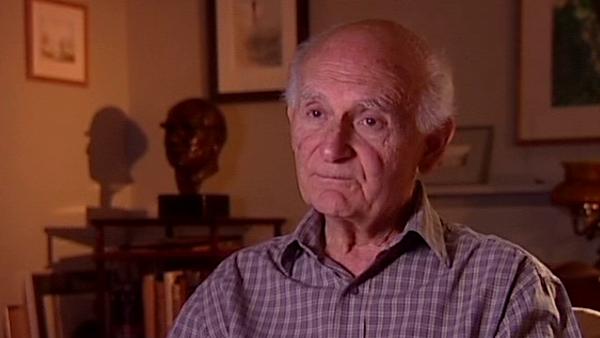 Making mistakes and how to remedy them
1
...
3
4
5
6
7
8
Hardly need to talk about the obvious things people know about better antibiotics, although badly used, about some cancers actually curable and some children with leukaemia being okay and, say, transplants. I mean the idea of doing a liver transplant, being a non-surgeon, the idea seems to me amazing, and there are thousands done every year. All that's true but I... I would myself pick two things, which aren't terribly spoken about as things which I think have changed. One is geriatrics as a specialty because it's radiated out into other things because just as, as students we didn't really... we weren't taught about 90% of what a general practitioner sees every day. It wasn't on the agenda. The same thing was with old people. I mean, what old people... it's feet and corns, and worry about dementia and about joints not working and all those things, which we really weren't taught about, and those kind of seminal geriatricians they were really people who thought ahead of their time. They weren't, weren't in great teaching hospitals. Well, one was I know but mostly in places like West Middlesex and they produced this specialty and then, of course, the lessons from it, 'Oh there's a person blocking the bed', you know. We all... I said that certainly and what are we going to do and then, you know, you come to the important questions in medicine. You know, who's looking after the cat and all that sort of stuff, but... I think geriatricians... and the other thing, looking back, you know, we might talk about getting things wrong, but the thing I really am sad about is not being able to relieve pain properly or really not knowing how to relieve pain properly, and the hospice movement has told us how to do that. I think that is really a huge advance.
[Q] And do you think that's spread out enough amongst other physicians outside the hospice movement now?
I'm not sure about that. I'm not sure. You would know better than I would. It's certainly spread out but not enough. I mean, of the times I've known about it, in one case it was not spread out. I had to twist the arm of the general practitioner, and the other case was very well known about and done very well by the general practitioner and the hospice support.
[Q] Howard, were there, were there any advances that you saw coming or that you had experience of that you really didn't like or didn't feel should have happened or, or felt reluctant to accept?
I... I did have a sort of emotional block about things like dialysis and transplants. I did feel, 'Gosh, you know, is that really the right way to go?' and then you see people walking around the streets or striding into the clinic, well people, and then you very soon see what the real things are happening. There's a neighbour of ours here who's got a renal transplant and she's a tall, beautiful lady who's a district nurse and you see her dealing with her children, rushing off in her car. You think: how can you argue with that?
[Q] So can you remember sort of feeling a conversion as it were?
I don't remember a moment. I don't remember, you know, Road to Damascus, but it's changed all right, pretty quickly.
British doctor Harold Lambert (1926-2017) spent his career tackling infectious diseases, helping in the development of pyrazinamide as an effective treatment for tuberculosis. He also published work on the rational use of antibiotics and was a trustee and medical advisor for the Meningitis Research Foundation.
Title: Advances in medicine
Listeners: Roger Higgs
Roger Higgs was an inner city GP for 30 years in south London, UK, and is Emeritus Professor of General Practice at Kings College London, where he set up the department.

He gained scholarships in classics at Cambridge but changed to medicine after a period of voluntary work in Kenya in 1962. He was Harold Lambert's registrar for 18 months in the early 1970s, the most influential and exciting episode in his hospital training. He set up his own practice in 1975. He helped to establish medical ethics as a practical and academic subject through teaching, writing and broadcasting, and jointly set up the 'Journal of Medical Ethics' in 1975.

His other work included studies in whole person assessment and narrative in general practice and development work in primary medical care: innovations here included intermediate care centres, primary care assessment in accident and emergency departments, teaching internal medicine in general practice and establishing counselling services in medicine.

He was made MBE in 1987 for this development work and now combines bioethics governance, teaching and writing with an arts based retirement.


Tags: West Middlesex Hospital
Duration: 3 minutes, 50 seconds
Date story recorded: October 2004
Date story went live: 24 January 2008