NEXT STORY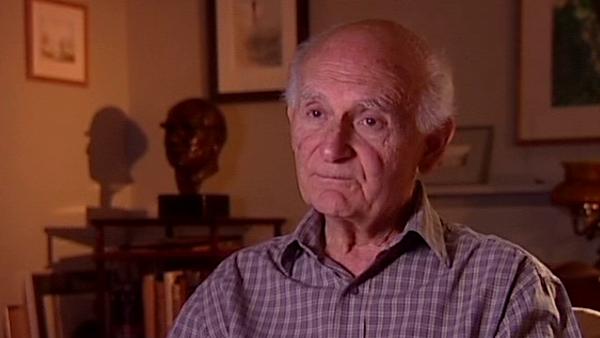 Suing doctors for their mistakes
The wonders of modern anaesthetics
1
...
3
4
5
6
7
8
I think really that has been transforming and people don't talk about it. There isn't any age at which you can't anaesthetise a patient for something to their benefit, like pinning their hip or something and that wasn't the case when we were young.
[Q] Yeah, yeah, true.
It was a really serious balance. I remember gangrene of the legs in old people and the awful agony. What are you going to do, you know, and... and now, well, you can do whatever's necessary now, and not add to their chance of dying by giving the anaesthetic.
I, in fact, I remember when I had this cardiac bypass about – I was in intensive care for a day or so, then I was in a general ward at St George's, and I don't remember, it may have been the sort of second day in there, I was going down the hospital, the ward to have a wash and a shave. I mean I wasn't exactly running, but I was thinking: I wasn't thinking particularly good old John Parker, I was thinking this anaesthetic's, I mean, it's... it's amazing! I've been on bypass, had my heart cut up and here I am walking down the ward and, I mean, the anaesthetics is a wonderful thing.
I've got an old friend from Cambridge and UCH who's a Professor of Anaesthetics and he's writing up the history of the muscle relaxant side of it and, again, people don't talk about it, but in our lifetime that's been a huge change. I mean giving, say, an open operation of the gallbladder because you can do keyhole stuff now, an open operation of the gallbladder was really something to contend with, wasn't it?
[Q] Yes. Yes. Yes.
Pain and pulmonary emboli, disability, were you going to get better at all? And now, I'm not saying it's, you know, anybody would like to have it done, but it is, you know, workable, not too bad procedure.
[Q] It was a strange thing, wasn't it, that general anaesthetics were invented before local anaesthetics. I often wonder if it had been the other way round we might have had a different approach to it.
That's interesting. Yeah, that could be. Yeah, that's interesting, yeah.
[Q] Knock the patient out, and we can do what we like.
It's still an amazing thing, isn't it, awesome? I mean a patient coming out more or less – I did think I was slightly knocked off by... by having cardiac bypass. I thought there's something about the few months before it, which aren't quite the same, but then I was having old-age memory loss anyway, so it was hard to tell which was which.
British doctor Harold Lambert (1926-2017) spent his career tackling infectious diseases, helping in the development of pyrazinamide as an effective treatment for tuberculosis. He also published work on the rational use of antibiotics and was a trustee and medical advisor for the Meningitis Research Foundation.
Title: The wonders of modern anaesthetics
Listeners: Roger Higgs
Roger Higgs was an inner city GP for 30 years in south London, UK, and is Emeritus Professor of General Practice at Kings College London, where he set up the department.

He gained scholarships in classics at Cambridge but changed to medicine after a period of voluntary work in Kenya in 1962. He was Harold Lambert's registrar for 18 months in the early 1970s, the most influential and exciting episode in his hospital training. He set up his own practice in 1975. He helped to establish medical ethics as a practical and academic subject through teaching, writing and broadcasting, and jointly set up the 'Journal of Medical Ethics' in 1975.

His other work included studies in whole person assessment and narrative in general practice and development work in primary medical care: innovations here included intermediate care centres, primary care assessment in accident and emergency departments, teaching internal medicine in general practice and establishing counselling services in medicine.

He was made MBE in 1987 for this development work and now combines bioethics governance, teaching and writing with an arts based retirement.


Tags: St George's Hospital, John Parker
Duration: 2 minutes, 16 seconds
Date story recorded: October 2004
Date story went live: 24 January 2008