NEXT STORY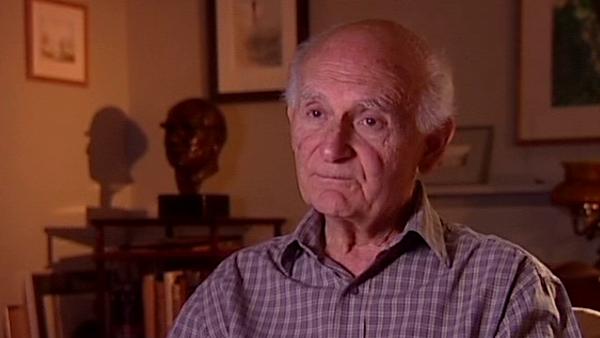 Finding the right way to approach each patient
Patients need for more time in considering their treatment
1
...
4
5
6
7
8
[Q] I suppose this went in parallel with a couple of other things; one, maybe the, I mean, the type of dilemma you described of, the... of not transplants, but of renal dialysis, of new technology. So, suddenly doctors were revealed as being not quite sure what to do, which was perfectly reasonable, and then other people beginning to realise that actually doctors only deciding didn't quite make sense.
Yes, that's quite true and another thing is of course that respect for doctors' status has absolutely no relation to our ability to do things. And if you look at, say, pre-Second World War, the great lords of medicine who had to be called in before you had permission to die or get better, were people with almost no therapeutic options open to them. But they got huge status, they became lords and they got huge chunks of money, but now we've got all these wonderful drugs and people think we're all terrible. It's rather strange, isn't it?
[Q] I don't think they do actually because, but at the same time, it's... I... I think the, the idea of opening up the decision making is, is an extraordinary fascinating one because there has to be a limit to it, doesn't, doesn't there. At the same, if you feel that someone is, is dictating to you, nowadays we feel naturally we want to...
Yes.
[Q] Even politically, I mean, if we're told by the government, 'You must do that', there's a tendency for people to say, 'Well, hang on a bit, I don't think I want to'.
Yeah. Yeah. Yeah. Yeah. I think you're right. There is a limit. There's a balance that when you see the other extreme taking place now, a doctor saying: X% of this and Y% of that, and you can do this and you can do that, you go and decide, talk to your husband or wife and decide. I think that's frankly ridiculous. I mean, the doctor ought to say to the patient how he sees the problem and although it's often denied that it's often said that it's an unfair question for the patient to say to the doctor what would you do. I think it's a perfectly fair question. The only thing is the two positions do differ and I think the doctor's entitled to say, 'Look, we're not in the same situation because, well, partly because I'm not feeling what you're feeling, but partly for various other reasons, but, as I understand the situation, if it was me I'd do this'. It's not saying do this but it's... and, and I don't think the, that patients often do want guidance of that sort. They... there's that balance. They don't want to be said do this, do that, do the other, but they do want to have a feeling of, of direction from the doctor because, although we do all these attempts at, at explanation and discussion, as I said previously, I think there's inevitable misunderstanding because of our concepts of disease and illness.
[Q] Yes. And also the containment of anxiety, isn't it? Because, being faced with a big decision is... one has quite a lot of anxiety in that. If somebody else says, 'Well, it's up to you what, what you do', that doesn't feel a helpful – I mean, some people talk about 'holding', which I think is quite a, quite a nice term in some way, that there is someone there who is on your side as it were, even, even if they're not actually telling you what to do. At least they're giving you some form of direction.
Yeah, I do see that actually and, and I suppose another facet of that is if the situation's not too urgent, if, say, you know, you can't take all this in, go and have a chat about it and write down things you feel you can really sort out and then come back whenever and have another chat about it. I think it's very important.
[Q] That, that seems to be a... big lack in, in modern medical care is that ability to have a second bite at the cherry in terms of discussion. You know, it, because of time pressures most people don't get the chance to go away and think and come back at it in the same... way which, at least that's my impression, that you don't have, whereas most of us for a decision would, would want to discuss, I don't know, with an estate agent and go away and think about it and come back or... or even with a car salesman or whatever decision we're making. There needs to be two, three attempts at it and, and it's even written into insurance, isn't it, that, you know, you've signed for insurance, but you're given ten days in which you can change your mind and I... I think that that gradual process of decision-making is something that hasn't really been taken on by the system of, of medicine, that actually we ought to be saying there are always two or three consultations with someone who's taking a difficult decision in some ways.
Yeah, I think that's absolutely right.
British doctor Harold Lambert (1926-2017) spent his career tackling infectious diseases, helping in the development of pyrazinamide as an effective treatment for tuberculosis. He also published work on the rational use of antibiotics and was a trustee and medical advisor for the Meningitis Research Foundation.
Title: Patients need for more time in considering their treatment
Listeners: Roger Higgs
Roger Higgs was an inner city GP for 30 years in south London, UK, and is Emeritus Professor of General Practice at Kings College London, where he set up the department.

He gained scholarships in classics at Cambridge but changed to medicine after a period of voluntary work in Kenya in 1962. He was Harold Lambert's registrar for 18 months in the early 1970s, the most influential and exciting episode in his hospital training. He set up his own practice in 1975. He helped to establish medical ethics as a practical and academic subject through teaching, writing and broadcasting, and jointly set up the 'Journal of Medical Ethics' in 1975.

His other work included studies in whole person assessment and narrative in general practice and development work in primary medical care: innovations here included intermediate care centres, primary care assessment in accident and emergency departments, teaching internal medicine in general practice and establishing counselling services in medicine.

He was made MBE in 1987 for this development work and now combines bioethics governance, teaching and writing with an arts based retirement.


Tags: World War II, options, drugs, decisions, anxiety, system, patients, doctors
Duration: 5 minutes, 9 seconds
Date story recorded: October 2004
Date story went live: 24 January 2008