NEXT STORY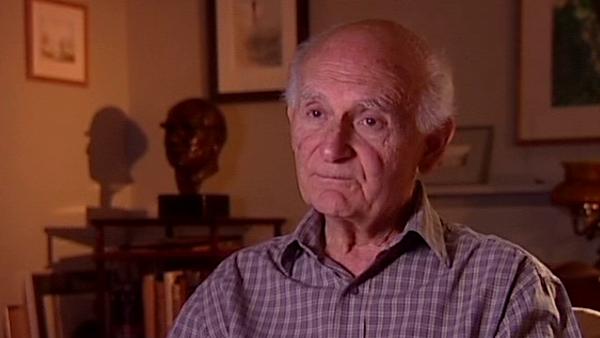 When dogma trumps science
Psychiatric and emotional factors in physical illness
1
...
4
5
6
7
8
This newer interest in the sense, not older interest, but newer focusing on psychiatric and emotional factors in physical illness, which obviously has been a concern down the centuries, obviously right back to Hippocrates, but now they're getting sort of handles on it. And, again, some people who are sort of anti my kind of medicine would say: you know, you've never admitted that social-emotional things might affect whether you've got a cancer or not. On the contrary, I think it's only too likely, but again, I come back to evidence and, as you know, people have come both to good and to harm by that approach. I mean, for example, this thing about, you know, if you think the right thoughts your cancer will go away. I find that unutterably cruel and making people guilty for their own illness and death. I mean, there've been some horrible things done. They based – as we've done horrible things – on dogma and, of course, that is the great enemy, isn't it, being enthralled. That's why I think, I truly think, without being overmodest most good, good doctors are very pragmatical and you've got a... You know, the same thing is some unfortunate parents killing children off because they know the right thing to feed them on which doesn't happen to have any calories or protein or things you need to live and that kind of rejection of scientific medicine is, is terribly painful. There was a guy – I didn't look after him, but there was a case at St George's where – and the interesting thing was, I think the paediatricians handled it very tactfully. Belief is a pretty hard thing to get at. Did you notice Mr Blair said, 'I know what I believe', instead of saying, 'I believe what I know', which is what you and I would say. Isn't that disgraceful? That's what he said at the party conference. Sorry, what we were talking about?
[Q] That's why we're in the hole we're in.
Exactly.
British doctor Harold Lambert (1926-2017) spent his career tackling infectious diseases, helping in the development of pyrazinamide as an effective treatment for tuberculosis. He also published work on the rational use of antibiotics and was a trustee and medical advisor for the Meningitis Research Foundation.
Title: Psychiatric and emotional factors in physical illness
Listeners: Roger Higgs
Roger Higgs was an inner city GP for 30 years in south London, UK, and is Emeritus Professor of General Practice at Kings College London, where he set up the department.

He gained scholarships in classics at Cambridge but changed to medicine after a period of voluntary work in Kenya in 1962. He was Harold Lambert's registrar for 18 months in the early 1970s, the most influential and exciting episode in his hospital training. He set up his own practice in 1975. He helped to establish medical ethics as a practical and academic subject through teaching, writing and broadcasting, and jointly set up the 'Journal of Medical Ethics' in 1975.

His other work included studies in whole person assessment and narrative in general practice and development work in primary medical care: innovations here included intermediate care centres, primary care assessment in accident and emergency departments, teaching internal medicine in general practice and establishing counselling services in medicine.

He was made MBE in 1987 for this development work and now combines bioethics governance, teaching and writing with an arts based retirement.


Tags: Saint George's Hospital
Duration: 1 minute, 51 seconds
Date story recorded: October 2004
Date story went live: 24 January 2008