NEXT STORY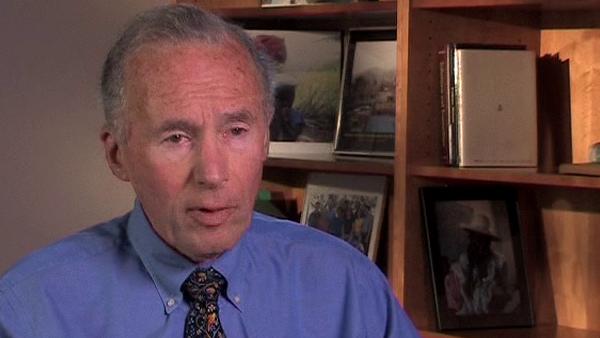 Return to Boston
A year at the Pasteur Institute in Paris
1
2
3
4
5
...
7
The year in the lab was, was extraordinary. This was the year in which a team from the Pasteur and from Jim Watson's lab in Boston at Harvard that included Wally Gilbert, this was the year in which that team demonstrated the existence of mRNA. And again, an indication of the role of chance in my life, I happened to be there at that time and be a member of that team. From thereafter I was associated with messenger in the eyes of people who weren't close enough to know that I wasn't too much more than a glorified technician in that experience. Nonetheless, I... I really learned a great deal.
It was on day one or day two of, not day one of my time at the lab, but on the first day in which I carried out an experiment myself, that really led to results that were quite contrary to what then was the dogma. Jacquess Monod used to come into the lab every day after lunch, sit on the bench, cross his knees, and ask, 'Quoi de neuf, mes amis?' 'What's knew, friends? And François introduced me, we had met, Jacques and I had met, but introduced me as now a colleague and said, 'Howard's gotten some really extraordinary results, it, it is something that really leads me to wonder about what we've been... what we've been accepting as the basis for the messenger'. And, Jacques listened and as was his wont, he got up, went into the library, everybody followed him, he took a piece of chalk, went to the board and built this fantastic picture of how my results would work into the messenger thesis. Well, I repeated the experiment the next day and, of course, it didn't work. It had been quite flawed, and Jacques arrived that afternoon, 'Quoi de neuf, mes amis?', and François Gros said, 'Well, Howard's repeated that experiment and it's come out really quite differently'. In the library we went, Jacques explained how relieved he felt that we now could put this all together in a way, never a word of criticism of what I had done or me, but it... it was a... lesson that I didn't, as you can see, I didn't forget.
[Q] Did this tell you something about molecular biologists?
It perhaps did say something about molecular biology in that the field was evolving and theories were, were rampant. This was at a time when some of the more traditional biochemists had great reservations about these people that they concluded, that they regarded as intruders. So many of them, Cyrus Levinthal, another friend, close friend of mine, like so many others, had been physicists before they turned to this... to this field.
The, the year for us was just extraordinary in other respects. John, our oldest, was learning Latin in French, never having... never having had any, either language, so that it was my responsibility, since I had had both, every evening to work with him. Deborah was a quick learner with respect to her French. After two or three weeks when I suggested that we change the language at our meals to French, said with a measure of disgust, 'I can't stand Americans talking French', and refused, refused to have any part of this. Fred excited everybody in the family. Fred and John shared - we had a very small apartment - Fred and John shared a room. Fred excited everybody in the family when he had his first dream in French, and he actually learned to speak French before... learned to read French before he knew to read in English. The books, the English books that we had brought for him, initially, offered some problems to him. He would look at a book and read, 'This is Mr Dog', and then he'd say in puzzle... great puzzlement, 'What is Mr Dog mean in English?' he'd say having learned, you know, language, learned... having learned to read phonetically. We travelled a fair amount. I worked hard. After John's... after our lessons in Latin I'd go back to the lab on many evenings and remember wondering what all of this might mean to medicine and to what I was going to return home to, but it was too exciting not to be in any way hindered by any concept of what, of, of its long-term implications.
Born in 1925, American Howard Hiatt set up one of the first medical oncology research and training units in the US and has headed up some of America's most prestigious medical institutions. Hiatt attended Harvard College and received his MD from the Harvard Medical School in 1948. He was a member of the team at the Pasteur Institute, Paris, that first identified and described mRNA, and he was among the first to demonstrate mRNA in mammalian cells. From 1991 to 1997, he was Secretary of the American Academy of Arts and Sciences, where he began and directs the Academy's Initiatives For Children program. He is also committed to helping disadvantaged people access decent health care.
Title: A year at the Pasteur Institute in Paris
Listeners: Milton C. Weinstein
Milton C. Weinstein, Ph.D., is the Henry J. Kaiser Professor of Health Policy and Management at the Harvard School of Public Health and Professor of Medicine at the Harvard Medical School. At the Harvard School of Public Health he is Academic Director of the Program in Health Decision Science, and Director of the Program on Economic Evaluation of Medical Technology . He is best known for his research on cost-effectiveness of medical practices and for developing methods of economic evaluation and decision analysis in health care. He is a co-developer of the CEPAC (Cost-Effectiveness of Preventing AIDS Complications) computer simulation model, and has conducted studies on prevention and treatment of HIV infections. He is the co-developer of the Coronary Heart Disease Policy Model, which has been used to evaluate the cost-effectiveness of cardiovascular prevention and treatment. He is an author of four books: Decision Making in Health and Medicine: Integrating Evidence and Values; Cost-Effectiveness in Health and Medicine,the report of the Panel of Cost Effectiveness in Health and Medicine; Clinical Decision Analysis; and Hypertension: A Policy Perspective.He has also published more than 200 papers in peer-reviewed medical, public health, and economics journals. He is an elected member of the Institute of Medicine of the National Academy of Sciences, and a recipient of the Award for Career Achievement from the Society for Medical Decision Making. Dr. Weinstein received his A.B. and A.M. in Applied Mathematics (1970), his M.P.P. (1972), and his Ph.D. in Public Policy (1973) from Harvard University.
Tags: Jacques Monod, Francois Gros
Duration: 6 minutes, 41 seconds
Date story recorded: September 2006
Date story went live: 24 January 2008