NEXT STORY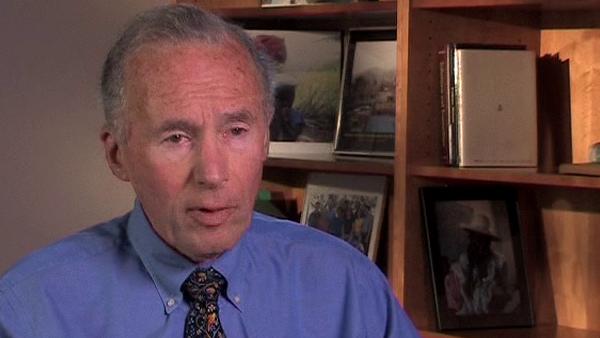 Developing health programs in the community
'What do you think of the National Health Service?'
1
2
3
4
5
...
7
I had said, when I took the position, that I would do it for no more than 10 years and then go back to the lab, and in the seventh year I went to... I took a sabbatical. The hospital, the, the department was put in the keep of... of Howard Frazier and Dick Nesson, and I went to the Imperial Cancer Research Fund laboratories of Michael Stoker at Lincoln's Inn Field's in London. I went there to study nuclear transfer, a rather new area of biology, but I chose to do it in the UK because I was very interested in the National Health Service, and in the way in which general practitioners functioned, particularly the interactions of general practice and social service. Indeed, one of my former residents at, at the Beth Israel, a remarkable man named Brian Jarman had returned to the UK where he had become a GP.
And, I found myself in London out of the lab some of the time making house calls with Brian, something that, as a professor of medicine at Harvard Medical School, I had only rarely done, but it was, it was routine practice for Brian and it opened my eyes. I recall, on our first house call we went fifth floor of, of a, an apartment building on the south bank of the Thames, and were greeted by a man who was a truck driver who told us about his lorry, but told us about his child who had a very bad sore throat and fever, and a second child with the same problem. Well, Brian examined the first child and I examined the second. We both agreed that both kids had strep throats, and while Brian was making out prescriptions and filling in the paperwork, I did what I did on all of my ventures in such settings, I asked, 'What do you think of the, of the Health Service?' And, with this Cockney accent he said, 'It's the best thing here, Governor, the doctor, it's the best thing here'. He said, 'Every time I have a, I come into it in one way or another, it gets better, for example, how did you people know that there were two, we needed two doctors today?' This was a... an experience, not precisely in those terms, that I experienced from virtually everybody, their reaction to the health service.
Born in 1925, American Howard Hiatt set up one of the first medical oncology research and training units in the US and has headed up some of America's most prestigious medical institutions. Hiatt attended Harvard College and received his MD from the Harvard Medical School in 1948. He was a member of the team at the Pasteur Institute, Paris, that first identified and described mRNA, and he was among the first to demonstrate mRNA in mammalian cells. From 1991 to 1997, he was Secretary of the American Academy of Arts and Sciences, where he began and directs the Academy's Initiatives For Children program. He is also committed to helping disadvantaged people access decent health care.
Title: 'What do you think of the National Health Service?'
Listeners: Milton C. Weinstein
Milton C. Weinstein, Ph.D., is the Henry J. Kaiser Professor of Health Policy and Management at the Harvard School of Public Health and Professor of Medicine at the Harvard Medical School. At the Harvard School of Public Health he is Academic Director of the Program in Health Decision Science, and Director of the Program on Economic Evaluation of Medical Technology . He is best known for his research on cost-effectiveness of medical practices and for developing methods of economic evaluation and decision analysis in health care. He is a co-developer of the CEPAC (Cost-Effectiveness of Preventing AIDS Complications) computer simulation model, and has conducted studies on prevention and treatment of HIV infections. He is the co-developer of the Coronary Heart Disease Policy Model, which has been used to evaluate the cost-effectiveness of cardiovascular prevention and treatment. He is an author of four books: Decision Making in Health and Medicine: Integrating Evidence and Values; Cost-Effectiveness in Health and Medicine,the report of the Panel of Cost Effectiveness in Health and Medicine; Clinical Decision Analysis; and Hypertension: A Policy Perspective.He has also published more than 200 papers in peer-reviewed medical, public health, and economics journals. He is an elected member of the Institute of Medicine of the National Academy of Sciences, and a recipient of the Award for Career Achievement from the Society for Medical Decision Making. Dr. Weinstein received his A.B. and A.M. in Applied Mathematics (1970), his M.P.P. (1972), and his Ph.D. in Public Policy (1973) from Harvard University.
Tags: National Health Service, Brian Jarman
Duration: 3 minutes, 24 seconds
Date story recorded: September 2006
Date story went live: 24 January 2008