NEXT STORY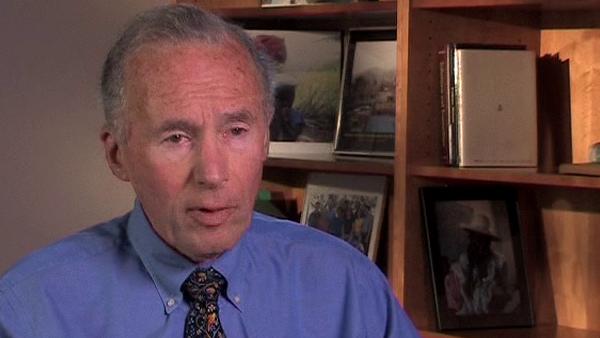 Starting work at the Harvard School of Public Health
Developing a good bedside manner
1
2
3
4
5
...
7
I spoke earlier about the caring of the medical staff, the model that Hermann Blumgart established, and I went on to the floor - I had already left the hospital - came back one day to visit a patient and was... and met one of the oncologists at the hospital who had been a student at the hospital when I was chairman of the department. He invited me to make rounds with him and his students, and I went into a room where there was a young woman in bed. Steve Colm, the person I speak of, now an oncologist, sat on the edge of her bed, took her hand and said, 'You know, it's now been several hours since you and I talked earlier, and what questions have come up?' He had earlier told this woman that she had Hodgkin's disease. She expressed some concerns. He addressed them holding her hand, sitting on the edge of her bed, and then said to her, 'I'll be back this evening and we'll talk further'. We went out into the hall, into the corridor and the... and Steve Colm turned to one of the students and said, 'What did you think about that encounter?' And the student said, 'I was very impressed by your having sat on the edge of the bed and taken that woman's hand'. And he said, 'I learned that from Dr Hiatt, he did that one day when I made rounds here'. And I said to him and to the students, 'I learned that from Dr Blumgart, he then... he did that one day when I made rounds here as a student'.
Born in 1925, American Howard Hiatt set up one of the first medical oncology research and training units in the US and has headed up some of America's most prestigious medical institutions. Hiatt attended Harvard College and received his MD from the Harvard Medical School in 1948. He was a member of the team at the Pasteur Institute, Paris, that first identified and described mRNA, and he was among the first to demonstrate mRNA in mammalian cells. From 1991 to 1997, he was Secretary of the American Academy of Arts and Sciences, where he began and directs the Academy's Initiatives For Children program. He is also committed to helping disadvantaged people access decent health care.
Title: Developing a good bedside manner
Listeners: Milton C. Weinstein
Milton C. Weinstein, Ph.D., is the Henry J. Kaiser Professor of Health Policy and Management at the Harvard School of Public Health and Professor of Medicine at the Harvard Medical School. At the Harvard School of Public Health he is Academic Director of the Program in Health Decision Science, and Director of the Program on Economic Evaluation of Medical Technology . He is best known for his research on cost-effectiveness of medical practices and for developing methods of economic evaluation and decision analysis in health care. He is a co-developer of the CEPAC (Cost-Effectiveness of Preventing AIDS Complications) computer simulation model, and has conducted studies on prevention and treatment of HIV infections. He is the co-developer of the Coronary Heart Disease Policy Model, which has been used to evaluate the cost-effectiveness of cardiovascular prevention and treatment. He is an author of four books: Decision Making in Health and Medicine: Integrating Evidence and Values; Cost-Effectiveness in Health and Medicine,the report of the Panel of Cost Effectiveness in Health and Medicine; Clinical Decision Analysis; and Hypertension: A Policy Perspective.He has also published more than 200 papers in peer-reviewed medical, public health, and economics journals. He is an elected member of the Institute of Medicine of the National Academy of Sciences, and a recipient of the Award for Career Achievement from the Society for Medical Decision Making. Dr. Weinstein received his A.B. and A.M. in Applied Mathematics (1970), his M.P.P. (1972), and his Ph.D. in Public Policy (1973) from Harvard University.
Tags: Hermann Blumgart, Steve Colm
Duration: 2 minutes, 28 seconds
Date story recorded: September 2006
Date story went live: 24 January 2008