NEXT STORY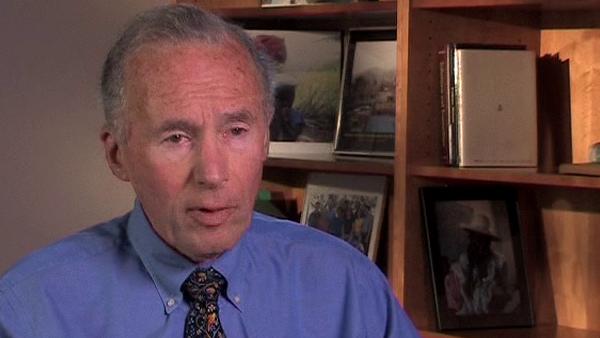 Reasons for writing Medical Lifeboat
Letter of thanks from Derek Bok
1
2
3
4
5
6
7
I spoke earlier of the fact that in 1984, 12 years after I came to the school and five years after Derek Bok declined to accept my resignation, I did resign, and at that time I left to return to the Medical School.
Seven years later, Derek Bok wrote me a letter that I'd like to read from. Dear Howard, it's dated April 26th 1971 [sic]. Dear Howard, the Corporation chose to conduct yesterday's meeting - the Corporation is the governing... one of the governing boards of Harvard - chose to conduct yesterday's meeting at the School of Public Health in order to see at first-hand what the School was doing. As I sat there, I realized that it was just 20 years since Jack Sneyder - Jack Sneyder was my predecessor as Dean of the School of Public Health - since Jack Sneyder invited me, as a President Elect (this was Derek's first year at... as President of the university) since Jack Sneyder invited me to see the school for the first time. I cannot begin to describe how much better the School of Public Health is in every way from what it was in 1971. There is a sense of excitement, a student enthusiasm of high faculty morale that is quite palpable. All this, as we both know, could not have occurred without the enormous effort you devoted to shaking the faculty out of its complacency and lifting its aspirations and its standards. I realise how lonely and difficult your efforts were. At this point, however, when one can assess the results objectively after the elapse of several years, the verdict seems clear and you should feel extremely proud. For my part I am simply grateful.
I regarded... regard this as a... as a gratifying ending, but as perhaps is evident from the way in which I've told the story, this was not a particularly, not... not a gratifying period of my life, of my career. We did recruit many people from many parts of the university to programs in the... the public health fields, and those programs, I think, benefited enormously as a result. I think we changed really the attitudes of people in public health schools around the country, but I failed to convince a large number of my colleagues at the school, people who had been there for many years and, although none chose to leave, I found the experience not a particularly happy one, in... in retrospect than at the time.
Born in 1925, American Howard Hiatt set up one of the first medical oncology research and training units in the US and has headed up some of America's most prestigious medical institutions. Hiatt attended Harvard College and received his MD from the Harvard Medical School in 1948. He was a member of the team at the Pasteur Institute, Paris, that first identified and described mRNA, and he was among the first to demonstrate mRNA in mammalian cells. From 1991 to 1997, he was Secretary of the American Academy of Arts and Sciences, where he began and directs the Academy's Initiatives For Children program. He is also committed to helping disadvantaged people access decent health care.
Title: Letter of thanks from Derek Bok
Listeners: Milton C. Weinstein
Milton C. Weinstein, Ph.D., is the Henry J. Kaiser Professor of Health Policy and Management at the Harvard School of Public Health and Professor of Medicine at the Harvard Medical School. At the Harvard School of Public Health he is Academic Director of the Program in Health Decision Science, and Director of the Program on Economic Evaluation of Medical Technology . He is best known for his research on cost-effectiveness of medical practices and for developing methods of economic evaluation and decision analysis in health care. He is a co-developer of the CEPAC (Cost-Effectiveness of Preventing AIDS Complications) computer simulation model, and has conducted studies on prevention and treatment of HIV infections. He is the co-developer of the Coronary Heart Disease Policy Model, which has been used to evaluate the cost-effectiveness of cardiovascular prevention and treatment. He is an author of four books: Decision Making in Health and Medicine: Integrating Evidence and Values; Cost-Effectiveness in Health and Medicine,the report of the Panel of Cost Effectiveness in Health and Medicine; Clinical Decision Analysis; and Hypertension: A Policy Perspective.He has also published more than 200 papers in peer-reviewed medical, public health, and economics journals. He is an elected member of the Institute of Medicine of the National Academy of Sciences, and a recipient of the Award for Career Achievement from the Society for Medical Decision Making. Dr. Weinstein received his A.B. and A.M. in Applied Mathematics (1970), his M.P.P. (1972), and his Ph.D. in Public Policy (1973) from Harvard University.
Tags: School of Public Health, Harvard Medical School, Derek Bok, Jack Sneyder
Duration: 3 minutes, 41 seconds
Date story recorded: September 2006
Date story went live: 24 January 2008