NEXT STORY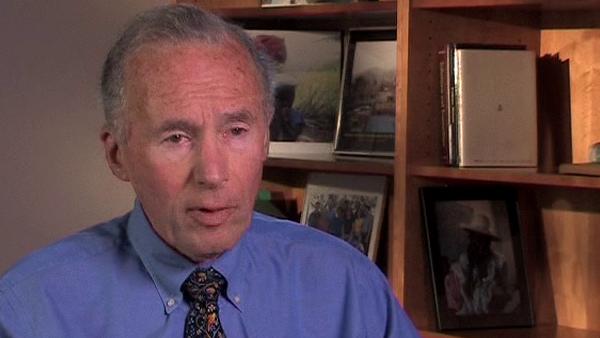 Battling epidemics in Haiti and Russia
Residency program at Brigham draws in students
1
...
3
4
5
6
7
About five years ago, the Chairman of the Department of Medicine at the Brigham and Women's Hospital, then Victor Dzau, decided to set up a separate unit as a base for Paul and Jim. He asked me whether I would chair it and I told him that my days of chairing are long since gone, but I suggested that if Jim chair it, since Paul is away more than Jim, and Paul serve as deputy, I would be the deputy to the deputy, and that was the title I was given and now have served in that role.
Paul and Jim, as I said, attract large numbers of extremely gifted young people to work with them and who seek careers similar to theirs. Three years ago, we established a Residency in Global Health Equity, a Residency for young people who have in mind leading the lives that Paul and Jim lead. The interest in this program has been extraordinary. People, young physicians, have regularly spoken of how deeply committed they feel because of their observations of what Paul and Jim are doing, and the gratification that they feel they would get from what, if they were to do the same.
I see this in young people who come here seeking Residency training. The Brigham has always been one of the most sought after Residencies in medicine in the country, and it perhaps is even more now in demand, and in demand by a growing group of people who see global health as something that might serve them and in which they might serve. I saw a student from Duke just the other day, Duke University Medical School, who said to me when I asked him why he sought to come here, said, you know, I went into medicine because of my commitment to social justice and I don't know any place where I can have further training where that commitment can be better expressed than at the Brigham.
The acting chairman of the department two years ago said to me that over 60% of the young people that he interviewed in connection with the Residency program, expressed an interest in the Brigham, at least in part, because of this commitment to global health. And, I see it now on the part, not only of... of these, of young people coming along, but from people in other parts of the hospital. Yesterday, I had a call from the chairman of the Department of Thoracic Surgery who said to me, how would it be if I organized a group of thoracic surgeons who would come to the... Haiti or to Rwanda or to one of the other places where you people are working, and spend a month at a time; I think I could find a number of people, not only in my own department but in departments around the country. The Chairman of the Department of, of Neurosurgery, marvellous doctor named Peter Black, said to me recently, if I were to spend a month in Haiti or in Rwanda, would... would I, would that be useful? Could I do anything that might he helpful? And, to see this burgeoning interest in global health on the part of... of not only the young people but their seniors, is just so, so rewarding to me.
Born in 1925, American Howard Hiatt set up one of the first medical oncology research and training units in the US and has headed up some of America's most prestigious medical institutions. Hiatt attended Harvard College and received his MD from the Harvard Medical School in 1948. He was a member of the team at the Pasteur Institute, Paris, that first identified and described mRNA, and he was among the first to demonstrate mRNA in mammalian cells. From 1991 to 1997, he was Secretary of the American Academy of Arts and Sciences, where he began and directs the Academy's Initiatives For Children program. He is also committed to helping disadvantaged people access decent health care.
Title: Residency program at Brigham draws in students
Listeners: Milton C. Weinstein
Milton C. Weinstein, Ph.D., is the Henry J. Kaiser Professor of Health Policy and Management at the Harvard School of Public Health and Professor of Medicine at the Harvard Medical School. At the Harvard School of Public Health he is Academic Director of the Program in Health Decision Science, and Director of the Program on Economic Evaluation of Medical Technology . He is best known for his research on cost-effectiveness of medical practices and for developing methods of economic evaluation and decision analysis in health care. He is a co-developer of the CEPAC (Cost-Effectiveness of Preventing AIDS Complications) computer simulation model, and has conducted studies on prevention and treatment of HIV infections. He is the co-developer of the Coronary Heart Disease Policy Model, which has been used to evaluate the cost-effectiveness of cardiovascular prevention and treatment. He is an author of four books: Decision Making in Health and Medicine: Integrating Evidence and Values; Cost-Effectiveness in Health and Medicine,the report of the Panel of Cost Effectiveness in Health and Medicine; Clinical Decision Analysis; and Hypertension: A Policy Perspective.He has also published more than 200 papers in peer-reviewed medical, public health, and economics journals. He is an elected member of the Institute of Medicine of the National Academy of Sciences, and a recipient of the Award for Career Achievement from the Society for Medical Decision Making. Dr. Weinstein received his A.B. and A.M. in Applied Mathematics (1970), his M.P.P. (1972), and his Ph.D. in Public Policy (1973) from Harvard University.
Tags: Brigham and Women's Hospital, Haiti, Rwanda, Paul Farmer, Jim Yong Kim
Duration: 4 minutes, 57 seconds
Date story recorded: September 2006
Date story went live: 24 January 2008