NEXT STORY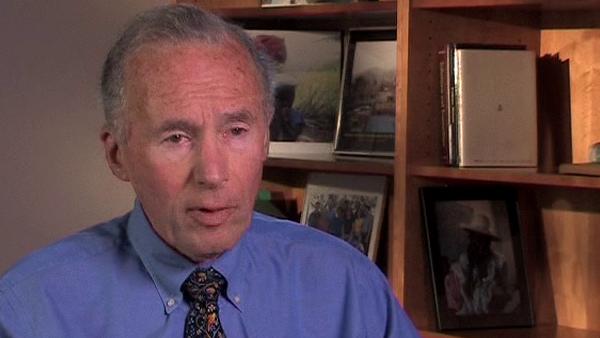 Interest in the global health program grows
The Global Health Residency Program
1
...
3
4
5
6
7
The division of Social Medicine and Health Inequalities established a Residency in Global Health three years ago. We agreed we would take two students the first year and... two Residents the first year because that's what we had resources for.
The two Residents whom we took were just extraordinary people. David Walton who was a medical student at Harvard had spent part time in two years helping to build the program in Haiti, taking care of patients there, training community health workers, and then came to the Brigham for his formal Residency training when he finished medical school, and now he's in the Global Health Residency program, and since that program offers a period of time in other countries for training, David chooses go to Haiti for his, his training. A marvellous young physician who will really contribute in major fashion to world health, without question.
The second resident, wonderful young woman named Nancy Lange who had been a dancer before she went to medical school, and who, while in medical school in New York, worked at length with prisoners, with people who had been convicted of substance abuse and who needed help from the outside, and Nancy was there to help them. Nancy is now, along with David, finishing the Residency in Global Health, but has been, as part of her work, looking at the problem of malaria in Rwanda.
The second year we took four Residents. We got some money from, for this, from my brother, to whom I referred earlier who's available for good causes whenever I've called on him, and this year, for the four slots we had 10 people apply. I went to a former student of mine, Michael Crichton, who provided us with the money to make it possible to make the program available to not 10 - we can't possibly do that - but we have five marvellous young people, including some with rather different kinds of interest.
Marcella Alsan, for example, is a young woman who graduated from Harvard College five, almost six years ago with a degree, with Honours in Economics and she had questions on the basis of her thesis work with some of the conclusions drawn by the World Bank with respect to the effects of illness on productivity on the part of people. And Marcy decided that, as part of her Global Health Residency she would include getting a PhD in economics. She applied to Harvard, Princeton and to MIT, was accepted almost at once into all three, and has chosen to take her PhD at Harvard in economics. She will complete the first two years of her Residency training, will take two years off then to do her course work in economics, and then return for her Residency, she's... to finish her Residency, but she's already begun to collect some of the data she's going to need from people in Lesotho who are not yet under treatment, but who - for AIDS - but who will be soon.
Born in 1925, American Howard Hiatt set up one of the first medical oncology research and training units in the US and has headed up some of America's most prestigious medical institutions. Hiatt attended Harvard College and received his MD from the Harvard Medical School in 1948. He was a member of the team at the Pasteur Institute, Paris, that first identified and described mRNA, and he was among the first to demonstrate mRNA in mammalian cells. From 1991 to 1997, he was Secretary of the American Academy of Arts and Sciences, where he began and directs the Academy's Initiatives For Children program. He is also committed to helping disadvantaged people access decent health care.
Title: The Global Health Residency Program
Listeners: Milton C. Weinstein
Milton C. Weinstein, Ph.D., is the Henry J. Kaiser Professor of Health Policy and Management at the Harvard School of Public Health and Professor of Medicine at the Harvard Medical School. At the Harvard School of Public Health he is Academic Director of the Program in Health Decision Science, and Director of the Program on Economic Evaluation of Medical Technology . He is best known for his research on cost-effectiveness of medical practices and for developing methods of economic evaluation and decision analysis in health care. He is a co-developer of the CEPAC (Cost-Effectiveness of Preventing AIDS Complications) computer simulation model, and has conducted studies on prevention and treatment of HIV infections. He is the co-developer of the Coronary Heart Disease Policy Model, which has been used to evaluate the cost-effectiveness of cardiovascular prevention and treatment. He is an author of four books: Decision Making in Health and Medicine: Integrating Evidence and Values; Cost-Effectiveness in Health and Medicine,the report of the Panel of Cost Effectiveness in Health and Medicine; Clinical Decision Analysis; and Hypertension: A Policy Perspective.He has also published more than 200 papers in peer-reviewed medical, public health, and economics journals. He is an elected member of the Institute of Medicine of the National Academy of Sciences, and a recipient of the Award for Career Achievement from the Society for Medical Decision Making. Dr. Weinstein received his A.B. and A.M. in Applied Mathematics (1970), his M.P.P. (1972), and his Ph.D. in Public Policy (1973) from Harvard University.
Tags: Haiti, Rwanda, Lesotho, David Walton, Nancy Lange, Marcella Alson
Duration: 4 minutes, 41 seconds
Date story recorded: September 2006
Date story went live: 24 January 2008