NEXT STORY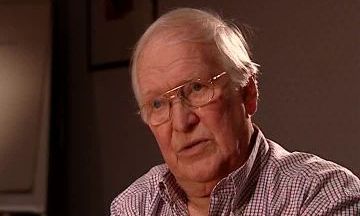 Leaving the Wellcome Foundation and moving to King's College
Going to work for the Wellcome Foundation
1
2
3
4
Before I left, while I was still at Smith Kline, I can't remember now how I met John Vane, but I remember going down once a week to the Royal College of Surgeons where he worked as a Professor of Pharmacology there, and we did some experiments together. And then he was head-hunted to become the Research Director of the Wellcome Foundation, and so he'd gone to Wellcome, and he recruited me as a consultant. So I used to go down to Langley Park at Beckenham, which was the headquarters of the Wellcome Foundation, and I got to know the place. And I loved the idea of it. So let me recap what that was. Henry Wellcome was a Canadian and another young American, Burroughs, did pharmacy together at University of Wisconsin and then they moved to Philadelphia and they set up a little manufacturing business and they moved to the UK and we have Burroughs Wellcome Limited which pro... produced a lot of things – digitalis, this kind of thing – but also they introduced antibodies. And... and so they were producing antibodies for... help me... horses... it'll come... my nominal amnesia. Anyway, the point was that Wellcome, Henry Wellcome, had moved south of London into Herne Hill area, to a big estate so that he could have horses that would generate the proteins, the vaccines which the company used. And then that became too small so then he moved into this much bigger site in, near Beckenham, Langley Park. By the time we got there the horses had gone. That was done elsewhere. But it had become a conventional pharmaceutical company, and, with dedicated buildings and so on, but the idea was... what happened was in 1936 Wellcome died and in his will he directed that the company should be handed over to trustees, and it was set up as the Wellcome Foundation, and the Trustees had the fiducial duty to manage that business with the idea that profits from it would go back into medical research. And that was the condition where we were, and I liked that idea, frankly. Everybody did. We all liked it. So when I got frustrated at University College and John, I suppose, detected this; he then head-hunted me to go down and join him. Well, that was a mixed blessing, and John and I, really, temperamental-wise just didn't fit, and the way I wanted to do things he didn't want, and so... on the positive side I think I helped to bring to the market three products which might not have happened otherwise, lamotrigine, the anticonvulsant, and the short acting neuromuscular blocker which falls apart, and the 5-HT agonist.
The late Scottish pharmacologist Sir James W Black (1924-2010) revolutionised medical treatment of hypertension and angina with his invention of propranolol, the first ever beta blocker. This and his synthesis of cimetidine, used for the treatment of peptic ulcers, earned him the Nobel Prize in Physiology or Medicine in 1988.
Title: Going to work for the Wellcome Foundation
Listeners: William Duncan
After graduating with a BSc Bill Duncan went on to gain a PhD from Edinburgh University in 1956. He joined the Pharmaceuticals Division of ICI where he contributed to the development of a number of drugs. In 1958, he started a collaboration with Jim Black working on beta blockers and left ICI with him in 1963 to join the Research Institute of Smith Kline & French as Head of Biochemistry. He collaborated closely with Black on the H2 antagonist programme and this work continued when, in 1968, Duncan was appointed the Director of the Research Institute. In 1979, he moved back to ICI as Deputy Chairman (Technical), a post he occupied until 1986 when he became Chairman and CEO of Coopers Animal Health. He 'retired' in 1989 but his retirement was short-lived and he held a number of directorships in venture capital backed companies. One of his part-time activities was membership of the Bioscience Advisory Board of Johnson and Johnson who asked him to become Chairman of the Pharmaceutical Research Institute of Johnson and Johnson in New Jersey. For personal reasons he returned to the UK in 1999, but was retained by Johnson and Johnson until 2006 in a number of senior position in R&D working from the UK. From 1999 to 2007 he was a non-executive director of the James Black Foundation. He is now fully retired.
Tags: Smith Kline & French, Royal College of Surgeons, Wellcome Foundation, Langley Park, Beckenham, University of Wisconsin, Philadelphia, UK, Burroughs Wellcome Ltd, London, Herne Hill, 1936, UCL, John Vane, Henry Wellcome, Silas Burroughs
Duration: 4 minutes, 16 seconds
Date story recorded: August 2006
Date story went live: 02 June 2008