NEXT STORY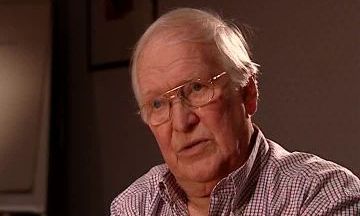 The gastrin story
Setting up my own research unit
1
2
3
4
Then I was approached by someone... I can't recall the company... something director, what are they called? J&J? Oh, never mind. A senior director of the company invited me to lunch at The Connaught and I think he was trying to head-hunt me. At that time they had the man who is the... had been the most fecund inventor of new drugs ever; he worked in Belgium and he had set up this company, and J&J had taken over, and I think they were saying, 'Well, look here, we have him; why can't we have you?' And I explained that wild horses wouldn't take me back into big industry, that I'd had that, and in any case my wife was dying and I wasn't going to do anything. So, a year later – by this time my wife had died – they came back and took me to lunch again at The Connaught, again, dangling this thing. So, I said, 'No, I'm sorry, I've... I'm dealing with grief by working my butt off, and I'm going to set up my own little business and do it my way', and all the rest. So, as a result of that I had a phone call from the person who'd been mentioned at both meetings: a Mr Wilson, a mysterious Mr Wilson. So this Mr... It wasn't Mr Wilson, it was the Director again who came round and said he'd spoken to Mr Wilson who said if I wanted to set up my own business I'd need capital, and he had capital; could he come and talk. And so, earlier in January '87, I met Mr Wilson at the hotel in London and went up to his room – a great big fellow, woolly pullover, shaggy – and we sat down and talked all day. He had a pad and made notes, and I sketched out all my dreams. And, so he... said, 'Now write something'. So that was how it was left. And... a few days later I had a phone call from him saying, 'Look, they've been kicking around the office and they... could they come back', so they came back almost a week later. This was Mr Wilson with someone who turned out to be a lawyer. Dellenbaugh. Mr Dellenbaugh. And, anyway, so we talked and we shook hands on a deal, in principle, that we would set up our own thing. Now, that was... that was all right but we... once we got lawyers involved... the heads of agreement came fairly quickly, but before we actually got... it took 6 months, lawyers, before we eventually got a contract. Meanwhile I needed a home for this thing I wanted to do, and the Dean had... introduced me to this place here. Now, this building was built by King's College and it was meant to be biological sciences in the country. So, this building, in fact, is incomplete. The end of it, just along there, was meant to have another building this size added on. This bit was to be botany and then the other bit was going to be zoology, but as always in universities they never see things through, so the botany was... it just stayed here. Then the Kings College took over Queen Elizabeth College that had its own botany department, and so they decided they would amalgamate the two, and so all the botanists from here were made to go and work up at Queen Elizabeth College. You can almost hear the groans, but... but... anyway, so this building was empty and so, again, I shook hands on a deal with King's and in 1988 we opened it. Do you remember? Princess Margaret who was...
[Q] Anne.
Anne, Anne, who was the Chancellor of the University of London came and opened it, and fun and games were had by all, and we've been working here ever since.
The late Scottish pharmacologist Sir James W Black (1924-2010) revolutionised medical treatment of hypertension and angina with his invention of propranolol, the first ever beta blocker. This and his synthesis of cimetidine, used for the treatment of peptic ulcers, earned him the Nobel Prize in Physiology or Medicine in 1988.
Title: Setting up my own research unit
Listeners: William Duncan
After graduating with a BSc Bill Duncan went on to gain a PhD from Edinburgh University in 1956. He joined the Pharmaceuticals Division of ICI where he contributed to the development of a number of drugs. In 1958, he started a collaboration with Jim Black working on beta blockers and left ICI with him in 1963 to join the Research Institute of Smith Kline & French as Head of Biochemistry. He collaborated closely with Black on the H2 antagonist programme and this work continued when, in 1968, Duncan was appointed the Director of the Research Institute. In 1979, he moved back to ICI as Deputy Chairman (Technical), a post he occupied until 1986 when he became Chairman and CEO of Coopers Animal Health. He 'retired' in 1989 but his retirement was short-lived and he held a number of directorships in venture capital backed companies. One of his part-time activities was membership of the Bioscience Advisory Board of Johnson and Johnson who asked him to become Chairman of the Pharmaceutical Research Institute of Johnson and Johnson in New Jersey. For personal reasons he returned to the UK in 1999, but was retained by Johnson and Johnson until 2006 in a number of senior position in R&D working from the UK. From 1999 to 2007 he was a non-executive director of the James Black Foundation. He is now fully retired.
Tags: The Connaught, Belgium, Johnson & Johnson, King's College London, Queen Elizabeth College, 1988, Princess Anne
Duration: 4 minutes, 44 seconds
Date story recorded: August 2006
Date story went live: 02 June 2008