NEXT STORY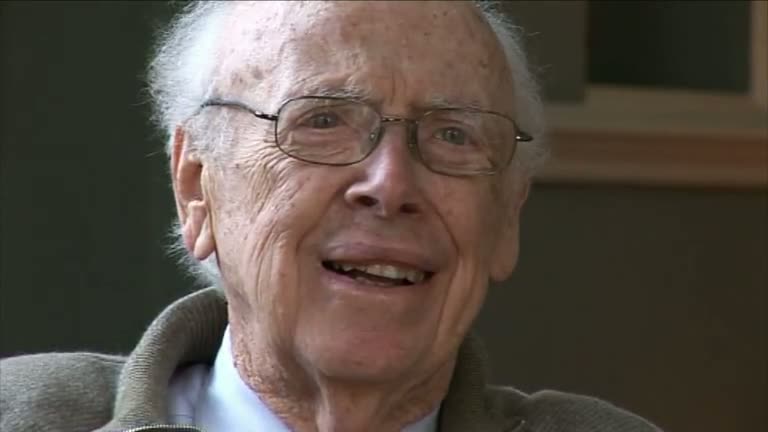 Reading the Great Books
Enrolling to The University of Chicago at 15
1
2
3
4
5
...
10
The President of the University of Chicago was... it had become Robert Hutchins, had become Dean of the Law School at 28 or something. He was an extraordinary speaker, my father knew him at Oberlin. I think Hutchins was one year older and so he was already a dominant person when he was in college and at some stage, you know, he wanted to reform American education, so I think it was Elliott at Harvard who, you know, let you major in everything. Before it was a classical education or you came and you could learn psychology and all that and different majors and Hutchins saw this as that you weren't really educated as to what the world was about, and so people would... you know, would just go on in life and make money and they were ignorant. And he was influenced by the program at Columbia.
Columbia College had a, sort of, general education where you got the best of the past and there was some emphasis on the books. And when Chicago... Hutchins went to Chicago in 1933, that was his real aim, was to make Chicago like Columbia. The Chicago Faculty wasn't enthusiastic at their department, they thought they were maybe the best university then in the country, they were not enamored of Hutchins. Hutchins had been chosen by the trustees, so Hutchins essentially treated the college where people were hired as teachers, not as research people. They were not part of the department and they were there to teach social sciences, humanities, sciences and thought the American high school was a joke and since he himself was precocious, ought to just get to college when you're 15 and I think I remember the remarkable President Notre Dame, Hesburgh, who was given an honorary degree by the University of Chicago in '61. And he said the Catholic Church should just focus on high schools, that is, since they gave up the grammar schools it wouldn't make much difference. It was the high schools that was the time you really, that people were formed. That if you wanted to become religious, you got get them in high school or if you wanted to get... and I think it's probably true, that this period between 15 and 20 is a... people are receptive to a lot of things, they... it's early enough before jobs, so you're not thinking of, you know, how it would help me earn a living.
And so at the University of Chicago, I got extraordinary American history course. Chicago wasn't memorizing dates, you know, the year of the Constitution was, sort of, irrelevant in general but, you know, what was... why did they... what was the reason you had the very articles for the Constitution, you know, what was the function of the Federalist Papers? What did the Puritans believe before? So, I got intellectual history, you know, more or less why things happened, you know, the fights between the planters and the others. So, I was just fascinated by American history, you know, in the same way that you could, you know, English history if you were living there. Why did things happen? Not just which king killed which other king.
American molecular biologist James Dewey Watson is probably best known for discovering the structure of DNA for which he was jointly awarded the 1962 Nobel Prize in Physiology or Medicine along with Francis Crick and Maurice Wilkins. His long career has seen him teaching at Harvard and Caltech, and taking over the directorship of Cold Spring Harbor Laboratory in New York. From 1988 to 1992, James Watson was head of the Human Genome Project at the National Institutes of Health. His current research focuses on the study of cancer.
Title: Enrolling to The University of Chicago at 15
Listeners: Walter Gratzer Martin Raff
Walter Gratzer is Emeritus Professor of Biophysical Chemistry at King's College London, and was for most of his research career a member of the scientific staff of the Medical Research Council. He is the author of several books on popular science. He was a Postdoctoral Fellow at Harvard and has known Jim Watson since that time
Martin Raff is a Canadian-born neurologist and research biologist who has made important contributions to immunology and cell development. He has a special interest in apoptosis, the phenomenon of cell death.
Listen to
Martin Raff
at Web of Stories
Tags: Columbia College, University of Chicago, Robert Hutchins
Duration: 5 minutes, 1 second
Date story recorded: November 2008 and October 2009
Date story went live: 18 June 2010