NEXT STORY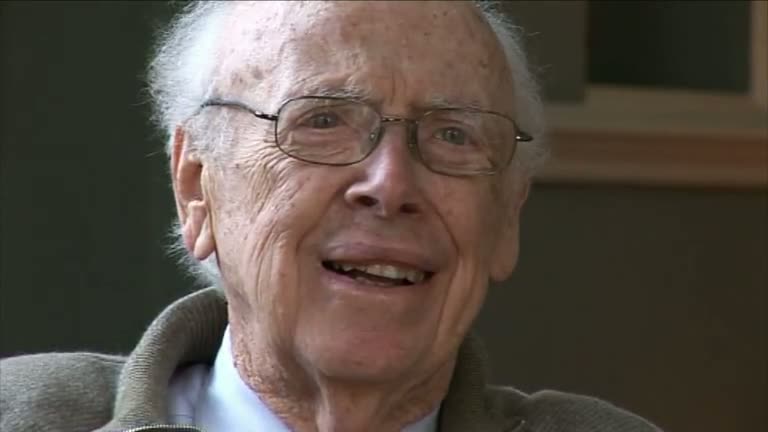 On being competitive
Seeing Rosalind Franklin's photo of DNA
1
2
3
4
5
...
10
As an American I could walk into someone's office without being asked. And so the famous meeting where I saw the B photo of DNA I had the Pauling manuscript... I don't think we called up Wilkins, I just said, 'I'll take it up there'. Or maybe, you know, there was a phone call. I got there, Maurice wasn't there. I walked into Rosalind's office because I wanted to find her. I gave him... I just opened the door and walked in. And so she caught me in her office. So, you know, this was something that only a thief would... the only one who would be in your office was there, someone trying to steal your data, which she probably would have thought, yes, they want my data. So Maurice was confined this way, and... and Francis. And some people didn't quite... you know, Rosalind Franklin had this famous meeting which I didn't know about until after I wrote the Double Helix, which I'd learned from... maybe it was Alex Rich via Jack Dunitz who was there.
Jack is a crystallographer; he was at Caltech after the war to be in Pauling's lab for... in that group for two years. And then he'd gone back to Oxford, he was originally from Glasgow, and was with Dorothy. And Rosalind went there. I think it was in the fall of 1951 when the space group had been determined, and I think this space group, in fact, had been determined by Maurice. And from... reflections or not Rosalind had concluded there were four possible arrangements and went up and met with, with Dorothy, and Jack Dunitz may have been there, and... because the group wasn't big. And Rosalind started saying there were five possible space groups for DNA, and almost instantly Dorothy realized that two of them were a mirror symmetry. And she said, 'They can't be because there's no mirror symmetry in biology, it's either left-handed or right-handed'. And knowing Rosalind she probably said, 'Well, how can you be sure or something, you know? Why? How do you know that?' And so Dorothy said, 'You should go in the next room and learn about space groups from Jack Dunitz'. And after a while Rosalind just went back home, never again talked to anyone about the space group.
Now, the space group, C1, was by accident the same one that Francis worked on the hemoglobin, that in his hemoglobin groups that he was studying a particular space was C1. So he knew all the axis symmetry and realized that there were two chains running in opposite directions. He knew that the moment he learned this space group, he immediately wanted me to believe it, but I didn't understand the space groups, so I wasn't sure this was a hard fact I had to put in. And it wasn't until I found the base pairs that then Francis put it in the whole thing was solid.
[Q] When did Francis learn of this space group?
When a friend... the MRC report, the famous MRC report that was sent to Max Perutz, which described the space group, to which it had never been written confidential. And Max just showed it to us. And that was about two weeks before we got the answer. Now, if Rosalind had gone back to Oxford and tried to follow up, she would have really... someone would have said it's too... But I suspected Rosalind couldn't go back up because, you know, no-one invited her back. No-one wanted to invite her back because it had been a sort of awkward conversation. But that's what England was like, you were tied up in the... if you came from an educated class, there were these rules for what you did and what you didn't do. And Rosalind would occasionally get into... I'm sure would say something when she... so she was, I think, probably... she knew she was... socially wasn't a big success when she was with people she had known. I think she just took people before she got to know them as the enemy, which led me to believe that she had Asperger's-like syndrome, she just couldn't sense what other people's faces looked like. And so the whole thing was just she tried to get away from people as fast as she could. It was... but there was still.
And then there are two facts which, again, I don't know the statistics of. One is that women are supposedly bad at three dimensions. So did Rosalind not build models because she never really liked to think in three dimensions? Then there's the fact that the one aspect of the Jewish brain, which is not first class, is that Jews are said to be bad at thinking in three dimensions. Now you can say that doesn't explain Einstein, it doesn't explain, but in a sense it is true!
[Q] It explains me.
Yeah, okay. So one of the... funny things is that some people like maths, some people don't like maths, some people... Rosalind was very at ease with equations, but not at all at ease with trying to put it out. So she may have two strikes to her. She was a woman, she was Jewish and that really tests the... I'm not going to go near that.
American molecular biologist James Dewey Watson is probably best known for discovering the structure of DNA for which he was jointly awarded the 1962 Nobel Prize in Physiology or Medicine along with Francis Crick and Maurice Wilkins. His long career has seen him teaching at Harvard and Caltech, and taking over the directorship of Cold Spring Harbor Laboratory in New York. From 1988 to 1992, James Watson was head of the Human Genome Project at the National Institutes of Health. His current research focuses on the study of cancer.
Title: Seeing Rosalind Franklin's photo of DNA
Listeners: Martin Raff Walter Gratzer
Martin Raff is a Canadian-born neurologist and research biologist who has made important contributions to immunology and cell development. He has a special interest in apoptosis, the phenomenon of cell death.
Listen to
Martin Raff
at Web of Stories
Walter Gratzer is Emeritus Professor of Biophysical Chemistry at King's College London, and was for most of his research career a member of the scientific staff of the Medical Research Council. He is the author of several books on popular science. He was a Postdoctoral Fellow at Harvard and has known Jim Watson since that time
Tags: Double Helix, Linus Pauling, Maurice Wilkins, Rosalind Franklin, Alex Rich, Jack Dunitz, Francis Crick, Dorothy Hodgkin, Max Perutz
Duration: 7 minutes, 17 seconds
Date story recorded: November 2008 and October 2009
Date story went live: 18 June 2010