NEXT STORY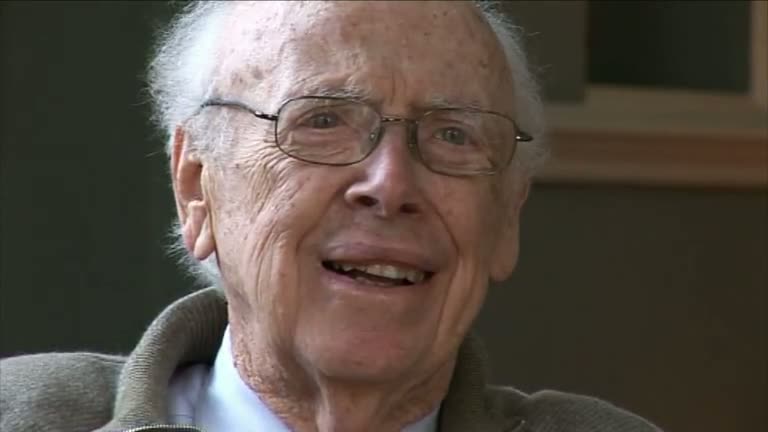 Interest in current affairs
Growing up in the Depression
1
2
3
4
5
...
10
After the war, when he... he went bird-watching in Jackson Park in 1919, and then in Jackson Park, met a young student at the University of Chicago, who was a younger student at Chicago, Nathan Leopold, who came from a wealthy German-Jewish family, they could have been originally involved in shipping. The first German Jews came as... almost trappers... fur merchants... and then moved into shipping along the lakes and so, I think, that's where the Leopold's made their money and they lived in Hyde Park, sort of, a neighborhood almost southward, called Kenwood. And so my father bird-watched with him, certainly until 23:00 or something, and he and met Nathan's close friend Bobby Low whose father was number two in Sears Roebuck and had a vast mansion in Charlotte Way, north of Michigan. And soon after they met they published a small pamphlet, you know, Spring Migration routes in Chicago, so with a friend of my father from high school days, George Porter Lewis. And then there was a fourth person, Sidney Stein, and he probably was a University of Chicago student, though I've forgotten. He became an Investment Banker in Chicago. So birds dominated my... really, father's life, so they played golf and they had a Jackson motorcar and, you know, there're pictures of the car and I remember being in it only once in 1933 when we drove to the South Bank to take the money out before the crash. I mean, there was a run on the banks just as Roosevelt was becoming President.
And sometime round about that time, my father's salary was cut in half, and so money was always in short supply, and my parents would sometimes have big arguments over money. You know, whether my father was spending money on used books, or my mother spending more on clothes than my father thought was necessary, but their arguing was never a major factor in our lives. I just remember their arguments were chiefly about money. And my mother was a very social woman, she could be friends with anyone and my father really was at ease only with people who read books. So by enduring, see, the grips of the depression, because they knew they were round there, there was a communist magazine called The New Masses, and I remember it, there, you know, I don't think old copies of that have floated around the house. My father... he was more or less, you would say... his views were social issues, everything shouldn't be all about the State but probably the steel mills, which should be. And... but he was probably the only democrat in, you know, among the managerial people in the company he worked with.
And my mother soon arranged, you know, that in our precinct the elections were held in the basement of our tiny bungalow and she was a precinct captain and canvassed the roles and that. So she might have got, you know, 20 or 30, somewhere between 25 and 50 dollars a year from the, from the... seem like such tiny sums, but I know my father's income was $3,000 a year. And... but I never remember being deprived, that is in the sense that, you know, the winter clothes wasn't warm enough, you know, that, and I never felt embarrassed by, you know, that we didn't have more money. But my father had to go to work every morning in a streetcar and I don't... I think he only had to change once and then his firm was on 41st in Michigan, which was long ways from The Loop.
But then, by the time I was a boy, I was totally surrounded by a Negro ghetto and so it was slightly unsafe. Then sometime, probably during the war, they moved into The Loop, that is. The Loop was the centre of Chicago and the elevated railroads made a circle in The Loop. That was most of the hotels or... and certainly the big the border train, they were always in The Loop and there were six train stations, going off in different directions, which there was an alternative way of getting to The Loop, which was take a streetcar to the east and then pick up a, sort of, suburban line branch to the Illinois Central. And that would take 20 minutes or 30 minutes off the trip down there. If we wanted to go to The Loop, it would take about an hour. But my father read books, you know, both ways.
American molecular biologist James Dewey Watson is probably best known for discovering the structure of DNA for which he was jointly awarded the 1962 Nobel Prize in Physiology or Medicine along with Francis Crick and Maurice Wilkins. His long career has seen him teaching at Harvard and Caltech, and taking over the directorship of Cold Spring Harbor Laboratory in New York. From 1988 to 1992, James Watson was head of the Human Genome Project at the National Institutes of Health. His current research focuses on the study of cancer.
Title: Growing up in the Depression
Listeners: Walter Gratzer Martin Raff
Walter Gratzer is Emeritus Professor of Biophysical Chemistry at King's College London, and was for most of his research career a member of the scientific staff of the Medical Research Council. He is the author of several books on popular science. He was a Postdoctoral Fellow at Harvard and has known Jim Watson since that time
Martin Raff is a Canadian-born neurologist and research biologist who has made important contributions to immunology and cell development. He has a special interest in apoptosis, the phenomenon of cell death.
Listen to
Martin Raff
at Web of Stories
Tags: The New Masses, Nathan Leopold, Bobby Low, George Porter Lewis, Sidney Stein
Duration: 8 minutes, 8 seconds
Date story recorded: November 2008 and October 2009
Date story went live: 18 June 2010