NEXT STORY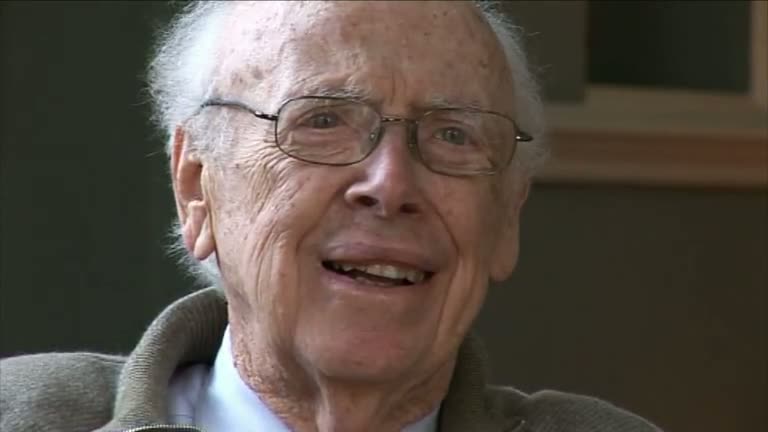 The film of the book
Controversies surrounding The Double Helix
1
2
3
4
5
6
...
10
A day later I'd written, you know, the chapters where... a couple of thousand words long, not very long chapters. And the first chapter was really on Francis Crick and then, you know, I introduced myself, but the first one was really just I started the story with Francis because I thought that by any... anyway you look at it, Francis was the major player. I could never be next to Francis and seem equally important, you know, not only was he was older, he was taller, his... he had better diction and he didn't mumble so, you know, I'm sort of Boswell with Samuel Johnson. So that's the way I took it on.
When the manuscript was completed, one of the first persons who saw it was Francis, who immediately said, 'You can't publish it, it's not your story, it's both our stories. We should... produce something more satisfactory for the general public'. But I had written it and I thought it was a good read and I didn't want to produce a consensus version which would almost, by definition, not catch the essence of Francis, or Wilkins, or anyone else. So early on people said, well you can't publish it. So I sent it to a number of people. One fairly early on was John Maddox, the editor of Nature, and his only thing is, 'You lose a lot of friends when it comes out', and I thought, well, if I lose them this way, I should lose them. So it didn't matter and what mattered for a while was whether the book would be stopped by lawyers or by publishers afraid that they would be sued. And Harvard Press, they originally liked the book. They said they didn't want to publish a book that was too controversial. They didn't want Crick objecting to the book when they published it, or at least the President of the university, the head of the Press, was deeply disappointed, but I think we all understood maybe it's not for Harvard Press, and we got a commercial publisher and I hired the best libel lawyer in the United States and he said there's not a word of libel in it.
In England it was more tricky, and the editor was getting very nervous until we gave the manuscript to someone who knew Francis very well, who said, 'Oh, the book is totally correct. Francis is exactly this way, if anything it understates him'. So I think they figured, you know, it wasn't... the book wasn't an attempt to get back at Francis or to in any way disparage him. It was just to say what he was like, and I think most people said I caught the essence of him pretty well. His friend Jacques Monod said it he had seen Francis once in an unmodest mood when Francis used his Nobel Prize money to buy half of a sailing yacht in the Mediterranean. So Jacques saw Francis on the boat and Francis couldn't sail it and Francis was quite modest. And... but I think, you know, outside of being on a boat, Francis knew where to step where he could be himself. And afterwards Francis... the minute he got invited to parties, he wouldn't defend the book, made him seem more interesting. No one thought the worst of Francis for having read the book, but I can understand that... but I really... you know, I like Francis for not being modest. If you're not modest you convey information faster, you don't qualify things, you sort of... and Francis was, you know, constantly seeing the need to educate me as an American as, you know, how to act when I was in Cambridge, what was acceptable behavior, what you did, what you didn't do, and Francis was always right on. He knew what to do.
American molecular biologist James Dewey Watson is probably best known for discovering the structure of DNA for which he was jointly awarded the 1962 Nobel Prize in Physiology or Medicine along with Francis Crick and Maurice Wilkins. His long career has seen him teaching at Harvard and Caltech, and taking over the directorship of Cold Spring Harbor Laboratory in New York. From 1988 to 1992, James Watson was head of the Human Genome Project at the National Institutes of Health. His current research focuses on the study of cancer.
Title: Controversies surrounding "The Double Helix"
Listeners: Walter Gratzer Martin Raff
Walter Gratzer is Emeritus Professor of Biophysical Chemistry at King's College London, and was for most of his research career a member of the scientific staff of the Medical Research Council. He is the author of several books on popular science. He was a Postdoctoral Fellow at Harvard and has known Jim Watson since that time
Martin Raff is a Canadian-born neurologist and research biologist who has made important contributions to immunology and cell development. He has a special interest in apoptosis, the phenomenon of cell death.
Listen to
Martin Raff
at Web of Stories
Tags: Nature, The Double Helix, Harvard Press, Francis Crick, Maurice Wilkins, John Maddox, Jacques Monod
Duration: 5 minutes, 43 seconds
Date story recorded: November 2008 and October 2009
Date story went live: 18 June 2010