NEXT STORY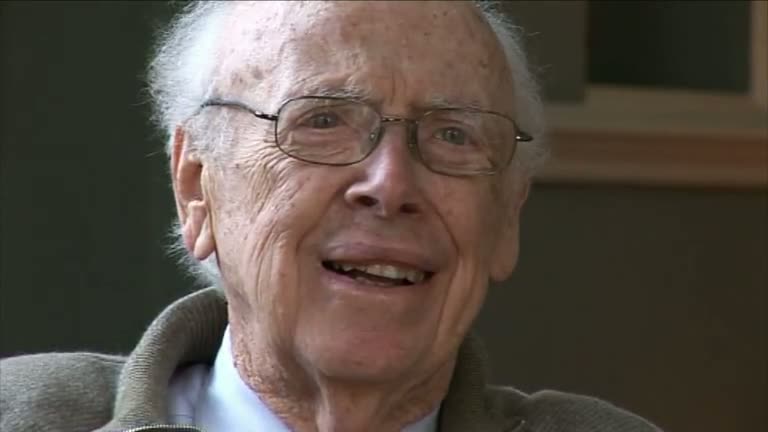 Feelings about death
1
...
6
7
8
9
10
[Q] Would you like to live forever?
No, I'd be too short. You know, part of my identity is believing I am 6 feet tall, and you know, I've lost at least 2 inches, or 3 inches. So, you know, if I really cheat slightly, I'm only 5 foot 11 inches now.
[Q] But, what if we could stop the ageing process, now? Would you like to live forever?
Sure. If you've stopped the ageing process. But ar what... at what age should you stop ageing? You know, would you let people?
[Q] Ten years ago, in you.
You mean you mean they allow everyone to be?
[Q] Get to 50, and then you stay right where you are.
Stay, at 50.
[Q] Or at 60, yeah.
Uh, I'd freeze women at 35.
[Q] You? What about you? Would you like, though, the idea of living forever? Does that have appeal?
I know it won't happen, so I'm not I, I can't...
[Q] You can't think about it?
Really, I can't think about it. I can think about... you know, right now, I haven't met a 100-year-old person I'd want to look at. So, you know, we have to... and... you know, it would be basically, we can only live to be... if in some way you genetically engineered all people to repair their DNA better, then we'd probably live longer, the mutation rate would be lower... you know, we'd have less autism, we'd have less schizophrenia. We'd have, probably, less ability to adapt to new environments, but then you could say, well, you'd try and have the earth remain the same, if people have got to remain the same. Uh... I, we'd have many fewer children. We'd be spending less of our national product on education. We'd be spending less on health. People would die of accidents. Yeah, it would be better. I mean, all these... ageing is an awful thing.
[Q] You see it as an awful thing?
Yeah, strokes...
[Q] Strokes, not good, but not everybody has strokes.
No, but if you don't have strokes, and if you don't have diabetes, and if, you know, your hips don't give out after 3 years of being a tennis pro, and things like that, the... and if you have the genomes where you really could know the major obstacles, that we could handle them. The... the only... the major advantage is that, if you lived to be 1000 years, you're probably going to see some curious nuclear explosions, and so... you'll be still alive and there to warn people. So, the chief age... the chief, you know, advantage of grandparents was the wisdom. They've been through the experiences before books. It was before you could have a guide, so grandparents were... old people really did have something. So, 1000 years would give you more wisdom. On the other hand, that's not worth worrying about. I think, the only thing to worry about is how to get rid of Alzheimer's. Then, if you can get rid of Al, you know, so...
[Q] Are you optimistic that we'll get rid of Alzheimer's?
No. You know. I don't have reason. I can't say, I think the probability is 80%. I have no reason for saying that. And so, until that probability gets high enough that that is the absolute prerequisite for moving ahead. You know, trying to keep anyone older, is, right now, you would want people to die sooner. I mean, it's going to be a, a...-
[Q] Will we have an epidemic of Alzheimer's?
Yeah. Yeah, well then, probably if, you know, we get more Alzheimer's, you will find an imper... a much larger percentage of people who would like to assist in the death of their parents who don't recognize anyone. So, there will be a movement not to keep someone alive 10 years after they've had no emotional contact with anyone. And, that's still the norm.
[Q] So, what do you think about all of this? What should be done?
Well, how your father behaved. Yeah, totally. Yeah, if I knew it, die before, while you're alive.
[Q] Do you think the law might be changed in your time?
Yeah. Economic necessity. And, just enough... people worn out by handling their parents. Although, happens... who will be able to keep Alzheimer's people living longer. So you know, there are different definitions of death. You know, I almost play doubles tennis called death. So but, you know, it depends what...
[Q] So, do do you have any fear of death, dying, any of those things?
Oh, I... of course. I mean, I, I think the one you've, I fear the most is stroke. Yeah. And then, cancer. But, stroke often puts you in a position where you can't even do anything. Cancer, if you knew that you had that, you would just take a pill and die, and not have to go through it. Strokes are often such that people, sort of, go from controlling their life, to total lack.
American molecular biologist James Dewey Watson is probably best known for discovering the structure of DNA for which he was jointly awarded the 1962 Nobel Prize in Physiology or Medicine along with Francis Crick and Maurice Wilkins. His long career has seen him teaching at Harvard and Caltech, and taking over the directorship of Cold Spring Harbor Laboratory in New York. From 1988 to 1992, James Watson was head of the Human Genome Project at the National Institutes of Health. His current research focuses on the study of cancer.
Title: Ageing
Listeners: Walter Gratzer Martin Raff
Walter Gratzer is Emeritus Professor of Biophysical Chemistry at King's College London, and was for most of his research career a member of the scientific staff of the Medical Research Council. He is the author of several books on popular science. He was a Postdoctoral Fellow at Harvard and has known Jim Watson since that time
Martin Raff is a Canadian-born neurologist and research biologist who has made important contributions to immunology and cell development. He has a special interest in apoptosis, the phenomenon of cell death.
Listen to
Martin Raff
at Web of Stories
Duration: 7 minutes, 1 second
Date story recorded: November 2008 and October 2009
Date story went live: 18 June 2010