NEXT STORY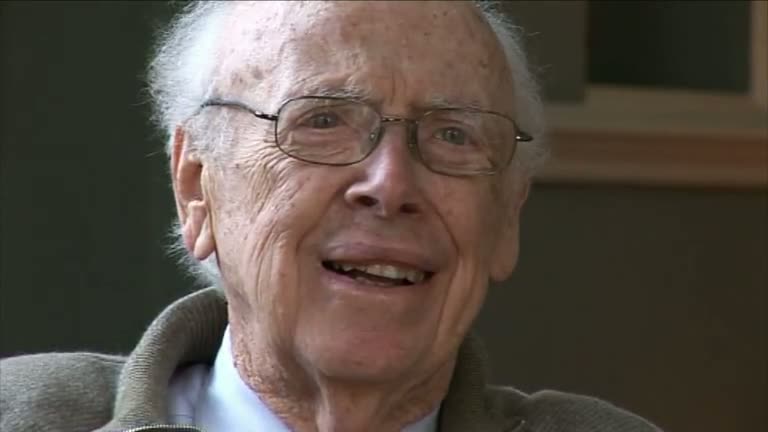 The Human Genome Project (Part 3)
The Human Genome Project (Part 2)
1
...
6
7
8
9
10
The National Institutes of Health, unlike the Department of Energy, had no enthusiasm for the Human Genome Project. The director, Jim Wyngaarden, was in favor of it, but the staff below him wasn't. And - sort of reflecting, you know, the views of the scientific community they supported, which just saw it as a possible big diversion of money away from pure science or an applied project. But David Baltimore and I - went in front of a group of key senators in May of 1957, David saying that Congress should vote money for HIV, that AIDS was a world crisis, and we had to immediately put - at that time we really didn't know how fast it would spread or anything. So we had a very good reception and several key senators liked it enough, so $30 million was inserted into the NIH budget by the Senate. And I think the House - there was a compromise, we finally ended up with in the first year with $18 million being given to NIH to prepare for the Human Genome Project. And that led Jim Wyngaarden, who wanted it to start, to organize a meeting which was led by David Baltimore outside Dulles Airport in Reston to discuss how it should be done. And by then, David was in favour of the project. Once, you know, you've defined it, it's very hard to be against it. And Wyngaarden saw it as an add-on. It wasn't taking money from NIH but it would be additional moneys. And that, I think that proved to be the case. And he did this by saying he would set up a new institute of human genome and it wouldn't be part of the Institute for General Medical Science which was run by Ruth Kirstein, who really didn't like the genome project. She just saw it threatening basic research. At that meeting, there was discussion who should head, which I was not part of, but Tom Caskey from Baylor College of Medicine, he was very active in that meeting as a human geneticist. I think he supported the idea that I should be head of the project and later that Spring, Jim came up to Cold Spring Harbor and asked me whether I would lead the project. And I said if - because our son was being hospitalized and that I couldn't give up our home in Cold Spring Harbor but I, you know, wanted to stay head of the Cold Spring Harbor lab and so have two jobs. And Jim said fine and then afterwards, I think there was a ruling that it was totally illegal. You know, that I couldn't be doing government business from my desk in Cold Spring Harbor because Cold Spring Harbor was receiving money from NIH. But that only occurred several years afterward. But when Jim's successor, Bernadine Healy, wanted to get rid of me because I was opposing her idea on patenting cDNA sequences, the lawyers told her, you know, that she didn't have to worry. I never should have been - had the job. In fact, they could prosecute me. And - but before that happened, my aim was to try and give the money out to highly intelligent people who were in favour of it. So we ended up with advisor committees which were - Eric Lander very early came in, he was sort of David Botstein's prodigy, a Rhodes Scholar who had joined, was then a - had briefly been an assistant professor at the business school of Harvard, had become interested in biology and was working part time in a drosophila lab. He wanted to be part of the project and afterwards became a key person. And Maynard Olson, who came to replace Wally Gilbert on our committee, had come up with the yeast artificial chromosomes, which, into which you could, er, were cloning vehicles. So you could clone large fragments of DNA. So you can imagine not having to deal with random mixtures of human DNA but precise, hopefully a collection of overlapping acts along all the chromosomes which we would sequence. The - in 1990, I was told that in the NIH there was a - someone very keen to sequence human DNA, Craig Venter, that I then met and I liked him. And he submitted a proposal to sequence human DNA but we had first a committee on mapping and - mapping of fragments, so mapping the human genome. And then sequencing was finally going to be the real thing. And so Lee Hood had said he had an automated machine which would sequence DNA and there were several sort of clever proposals on how to do sequencing, one of which was Wally Gilbert's. And so there was a special, just giving out first sequencing money to see which ways we should use it. Craig applied for some of this money for the NIH and the committee - and I forget who chose him, it was either Joe Sambrook or Eric Lander, I think was that. They decided they would, you know, focus on sequencing bacterial DNA or yeast DNA, smaller things. You do, you know, you want to show you can sequence a bacterium before you could go on to humans. And the decision was made I think to have five groups, and so Craig didn't get any money and the money went to Caltech and Lee Hood, who wanted to sequence with his machine. Craig reapplied and the second time it went around he was again turned down, and then he had met Sydney Brenner at some meeting. And Sydney had - actually was the first one to make cDNAs have reverse transcriptase, copy messenger RNA fragments into their DNA as one strand RNA, one strand DNA. And then from that you could just copy the DNA.
American molecular biologist James Dewey Watson is probably best known for discovering the structure of DNA for which he was jointly awarded the 1962 Nobel Prize in Physiology or Medicine along with Francis Crick and Maurice Wilkins. His long career has seen him teaching at Harvard and Caltech, and taking over the directorship of Cold Spring Harbor Laboratory in New York. From 1988 to 1992, James Watson was head of the Human Genome Project at the National Institutes of Health. His current research focuses on the study of cancer.
Title: The Human Genome Project (Part 2)
Listeners: Martin Raff Walter Gratzer
Martin Raff is a Canadian-born neurologist and research biologist who has made important contributions to immunology and cell development. He has a special interest in apoptosis, the phenomenon of cell death.
Listen to
Martin Raff
at Web of Stories
Walter Gratzer is Emeritus Professor of Biophysical Chemistry at King's College London, and was for most of his research career a member of the scientific staff of the Medical Research Council. He is the author of several books on popular science. He was a Postdoctoral Fellow at Harvard and has known Jim Watson since that time
Duration: 9 minutes, 21 seconds
Date story recorded: November 2008 and October 2009
Date story went live: 18 June 2010