NEXT STORY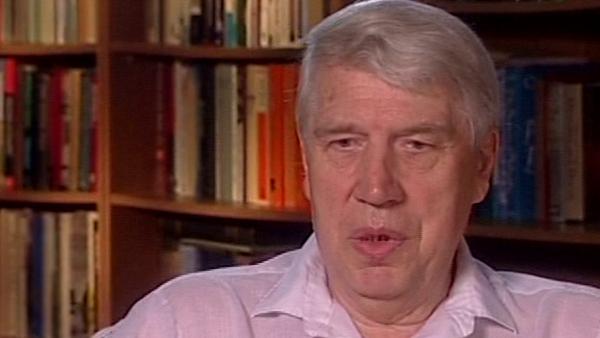 We are doing the best to eliminate ourselves
1
...
7
8
9
10
11
[Q] You've expressed a love of natural diversity. What do you think the future holds?
The future looks bleak, I must say. That's a very sad part to realize at the end of your life that the situation is going to the worse and that stupidity prevails. I can only say I went back home and I could not find just a few percent of perhaps of the species I liked... I thought should be there. They are just disappearing. The creek I mentioned is dead, there is practically no fish in it, with it all the birds that lived around... the species one after the other, that were so common, they are gone. So it's getting worse and I think it will continue getting worse unfortunately until we find... until people realize something that... and I think... and I think here I am... many people think this is bizarre thinking, but this is my thinking anyway... I think the problem is that humans believe that they are special. They are unique, but every species is unique, but humans biologically are not unique. If you believe in uniqueness of the species, then you can justify all what is happening in the world. Well, then we can end up that we are the only species on this planet and we can artificially produce everything that we want. If there are people who want that, as I said during the narrative, then they should go somewhere else because it's not necessary. But there are people like me who need that... who cannot live without the diversity, without nature and we cannot go to another planet because it's not there, so we should fight. But I think the problem is really to convince people that we are not unique species... excuse me, that we are not special species. Special... the argument is usually either religious because we are created by God, or it's because we are at the top of the evolutionary process. Both arguments are wrong so we should look at things scientifically. There is no evidence biologically that we are anything better than exists on this earth. I think on the contrary the biology... the evolution teaches us that we are very stupid and that we are heading toward our own extinction. If species biologically... we look successful in that we are everywhere and we can do things that no other species can do, but is that success? I think evolutionarily, it is not.
Born in 1936, Jan Klein is a Czech-American immunologist who co-founded the modern science of immunogenetics – key to understanding illness and disease. He is the author or co-author of over 560 scientific publications and of seven books including 'Where Do We Come From?' which examines the molecular evolution of humans. He graduated from the Charles University at Prague in 1955, and received his MS in Botany from the same school in 1958. From 1977 to his retirement in 2004, he was the Director of the Max Planck Institute for Biology at Tübingen, Germany.
Title: The future looks bleak
Listeners: Colm O'hUigin
Colm O'hUigin is a senior staff scientist at the US National Cancer Institute. He received his BA, MSc and PhD at the Genetics Department of Trinity College, Dublin where he later returned as a lecturer. He has held appointments at the Center for Population and Demographic Genetics, UT Houston, and at the University of Cambridge. As an EMBO fellow, he moved in 1990 to the Max Planck Institute for Biology in Tübingen, Germany to work with Jan Klein and lead a research group studying the evolutionary origins of immune molecules, of teeth, trypanosomes and of species.
Duration: 3 minutes, 43 seconds
Date story recorded: August 2005
Date story went live: 24 January 2008