NEXT STORY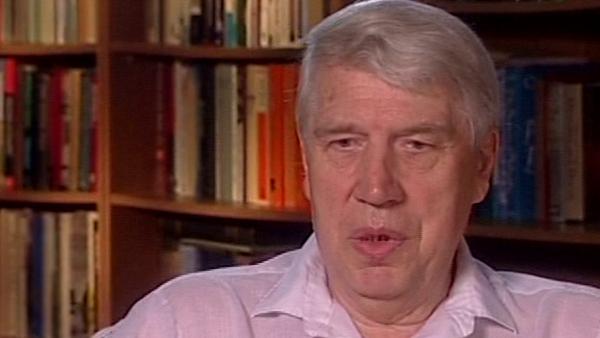 Born in Czechoslovakia
1
...
7
8
9
10
11
[Q] Do you have ideas about what belief systems should guide scientist then, regarding ethical issues?
Well, that's a very broad question and would take a long time to argue the various aspects of this issue, but one aspect would be then perhaps what ethics should guide a scientist and here I think I see one major problem with the way science is going today, in terms of ethics. Science, in my time, has changed dramatically, not so much in the progress that it has made... and progress has been logarithmic since a long time... since the industrial revolution when modern science began... but in terms of being tied to commerce... has become commercial, very much so, and the unfortunate thing is that the ethics of businessmen is penetrating into science, it's taking over. We had an ideal of a scientist. Every historian will tell you that not the scientists... that scientists were not approaching always the ideal, but still at least this was what we were striving to achieve, but that has changed. So here we have a situation where profit... economical profit is becoming the major goal of doing science, and that again I see as the wrong direction. It would mean that basic science would diminish because there is no immediate profit. And the other result is the big science that you already mentioned and other adverse effects, and this is, in my opinion, again, quite wrong, and we should go back to the old ideal of science, even if we are not angels, we are not that, we are just human, we have all kinds of drawbacks and all kinds of things we are doing that we should not be doing, but at least we should try and we should make people who go to science have a Hippocratic oath of a kind that they will be honest, that they will not be pursuing personal gains and they will not be... I don't know... and so on and so on. Of course the physicians don't stick to that oath either but at least we can show that we are interested in that and not that we are interested to become businessmen. Businessmen are cheating, are liars, are doing everything, false advertising and so on and so on, just to make profit. If we will do science like this, that will be the end of science.
Born in 1936, Jan Klein is a Czech-American immunologist who co-founded the modern science of immunogenetics – key to understanding illness and disease. He is the author or co-author of over 560 scientific publications and of seven books including 'Where Do We Come From?' which examines the molecular evolution of humans. He graduated from the Charles University at Prague in 1955, and received his MS in Botany from the same school in 1958. From 1977 to his retirement in 2004, he was the Director of the Max Planck Institute for Biology at Tübingen, Germany.
Title: The ethics of science
Listeners: Colm O'hUigin
Colm O'hUigin is a senior staff scientist at the US National Cancer Institute. He received his BA, MSc and PhD at the Genetics Department of Trinity College, Dublin where he later returned as a lecturer. He has held appointments at the Center for Population and Demographic Genetics, UT Houston, and at the University of Cambridge. As an EMBO fellow, he moved in 1990 to the Max Planck Institute for Biology in Tübingen, Germany to work with Jan Klein and lead a research group studying the evolutionary origins of immune molecules, of teeth, trypanosomes and of species.
Duration: 4 minutes, 8 seconds
Date story recorded: August 2005
Date story went live: 24 January 2008