NEXT STORY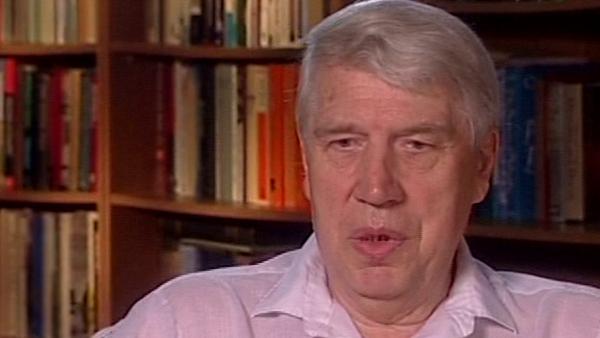 Wanting to have my own project at the Academy
Reading the communist dossier on myself
1
2
3
4
5
...
11
By chance later I got hold of the... what was written about me when I was a teacher by the members of the Communist party and part of it I would like to read here. It says, 'Comrade Klein'... comrade was of course anybody, you could not call Mr or whatever, you were comrade whether you were a Communist or not. So... 'Comrade Klein is a bourgeois intellectual'. It is true, an objectivist true... bourgeois I don't know... 'He is interested in various philosophical trends but approaches them from a position of a bourgeois objectivism. It will be necessary to guide him politically in the right direction. He is a person of integrity, critical and fearless. Has tendency to individualism. Comrade Klein is introverted, a person who does not seek out the collective and service to the collective has not yet become a need for him'.
Well, when I read that I was surprised I was accepted anywhere, although some of the things were true, they were dirty words, if you called somebody... if you called... an intellectual was a dirty word already, but bourgeois intellectual you were finished at a school where you were teaching young people. So I think I got out of the teaching job just in time. I could not have persisted there under these circumstances. Just... this might sound strange to anybody outside... intellectual - why should that be a dirty word? But not so long ago I was in Prague and I took the subway and it was crowded and I was trying to get out and there was a man standing... an old man standing... not old, I mean, elderly man standing in my way, and I ask him, 'Excuse me'. He didn't hear so I just tapped him on the shoulder, he got very mad that I touched him and he said, 'Oh you intellectual'. I don't know why he got the idea that I was an intellectual but it was, you know, calling names... intellectual still is in these people's mind, but bourgeois intellectual, I don't know actually. Bourgeois, what would be the right word for translation into English? But anyway it was... that's how they saw me. That's how the Communist party at that time saw me.
Born in 1936, Jan Klein is a Czech-American immunologist who co-founded the modern science of immunogenetics – key to understanding illness and disease. He is the author or co-author of over 560 scientific publications and of seven books including 'Where Do We Come From?' which examines the molecular evolution of humans. He graduated from the Charles University at Prague in 1955, and received his MS in Botany from the same school in 1958. From 1977 to his retirement in 2004, he was the Director of the Max Planck Institute for Biology at Tübingen, Germany.
Title: Reading the communist dossier on myself
Listeners: Colm O'hUigin
Colm O'hUigin is a senior staff scientist at the US National Cancer Institute. He received his BA, MSc and PhD at the Genetics Department of Trinity College, Dublin where he later returned as a lecturer. He has held appointments at the Center for Population and Demographic Genetics, UT Houston, and at the University of Cambridge. As an EMBO fellow, he moved in 1990 to the Max Planck Institute for Biology in Tübingen, Germany to work with Jan Klein and lead a research group studying the evolutionary origins of immune molecules, of teeth, trypanosomes and of species.
Tags: Prague
Duration: 3 minutes, 20 seconds
Date story recorded: August 2005
Date story went live: 24 January 2008