NEXT STORY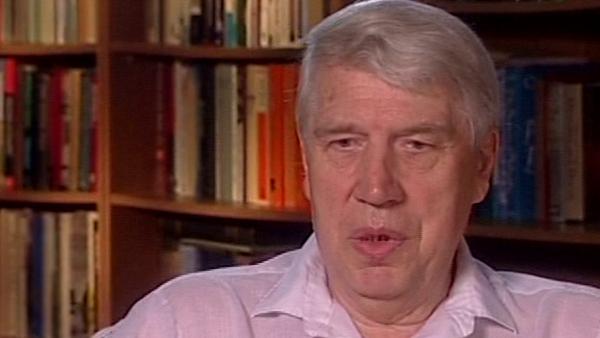 Blood group antigens
1
2
3
4
5
...
11
And so I was accepted by him. And that of course was another Smoking/Not Smoking [sic] situation where my career at least was derailed or on to a completely different track because I was abandoning botany and was getting into a new area because Hašek was working, and all his people were working, on animals. Mice, rabbits, chickens and... and others, but no plants. And that Hašek made very clear. If you work here you will be working on an animal project and so I had to accept that, and that was a very considerable change for me. Now, then it came to... and I think even the same day that he decided what I'm going to work on. So no postponing, nothing, he said... he was thinking for a while... I can see him puffing on his pipe and humming something. That was his usual style. And then he said, 'Hmm, let's have some fun. Have you heard of Georg Klein?' I said, 'I'm sorry, no'. He says, 'Well you will hear about him. He and Eva Klein are working on something that might interest you, and so let's have some fun. And you will be the third Klein who will be... to make some confusion... the third Klein who will be working on the similar system'. So then I... and that was it. That was... I think I'm exaggerating only slightly if I say that it was not until I came to defence of my thesis that Hašek knew what I was doing. But that was fine with me. I... actually that was perfect for me because I liked that. I wanted to have my free hand.
Born in 1936, Jan Klein is a Czech-American immunologist who co-founded the modern science of immunogenetics – key to understanding illness and disease. He is the author or co-author of over 560 scientific publications and of seven books including 'Where Do We Come From?' which examines the molecular evolution of humans. He graduated from the Charles University at Prague in 1955, and received his MS in Botany from the same school in 1958. From 1977 to his retirement in 2004, he was the Director of the Max Planck Institute for Biology at Tübingen, Germany.
Title: Abandoning botany
Listeners: Colm O'hUigin
Colm O'hUigin is a senior staff scientist at the US National Cancer Institute. He received his BA, MSc and PhD at the Genetics Department of Trinity College, Dublin where he later returned as a lecturer. He has held appointments at the Center for Population and Demographic Genetics, UT Houston, and at the University of Cambridge. As an EMBO fellow, he moved in 1990 to the Max Planck Institute for Biology in Tübingen, Germany to work with Jan Klein and lead a research group studying the evolutionary origins of immune molecules, of teeth, trypanosomes and of species.
Tags: Smoking/Not Smoking, Milan Hašek, Georg Klein, Eva Klein
Duration: 2 minutes, 14 seconds
Date story recorded: August 2005
Date story went live: 24 January 2008