NEXT STORY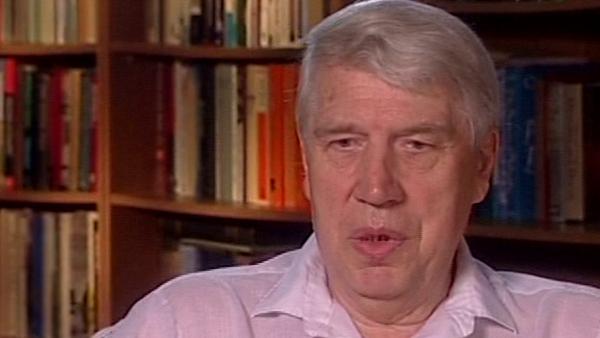 Critical events which change one's life
Jan and Klein - my name has always caused confusion
1
2
3
4
5
...
11
The name itself is a double irony in a way. Jan is spelt 'J A N' which in this country would be pronounced Jan and of course Jan is a female name. And this often led to many confusions. I remember on one occasion in... early in my life... early in my career in the United States, I went to a meeting, I believe it was in Seattle... was a meeting of the Genetic Society of America and they... it's a big meeting and so they make it usually in... at the campus and the people stay in the dormitory. Well they segregated males and females and without realising I found myself in the women's dormitory and so I went to the registration and there was a sour looking woman there and then I said, 'Well, you put me into women's dormitory', and she looked at me and said, 'And you are complaining?' And I said, 'Well I have a problem of going to the bathrooms; they don't let me into the bathroom'. So, oh. So they put me into the male dormitory. There were many such occasions because people always, by the name, judged that I am a female. The last name is also kind of strange, in my case, because as I said in the part of the country where I was born many people speak German so they know, and even if they don't speak they know a few words in German, and they know that Klein means small and, well I must have been born very tall already and then I grew taller and taller, so that was always target of many jokes that I had to take on many occasions. It's not so much any more here because most of the people don't know what Klein means. But even in Japan, I must say, one professor was joking about the connection because he spent a few years in Germany and learnt that Klein means small. But that's my name and I have to live with it.
Born in 1936, Jan Klein is a Czech-American immunologist who co-founded the modern science of immunogenetics – key to understanding illness and disease. He is the author or co-author of over 560 scientific publications and of seven books including 'Where Do We Come From?' which examines the molecular evolution of humans. He graduated from the Charles University at Prague in 1955, and received his MS in Botany from the same school in 1958. From 1977 to his retirement in 2004, he was the Director of the Max Planck Institute for Biology at Tübingen, Germany.
Title: Jan and Klein - my name has always caused confusion
Listeners: Colm O'hUigin
Colm O'hUigin is a senior staff scientist at the US National Cancer Institute. He received his BA, MSc and PhD at the Genetics Department of Trinity College, Dublin where he later returned as a lecturer. He has held appointments at the Center for Population and Demographic Genetics, UT Houston, and at the University of Cambridge. As an EMBO fellow, he moved in 1990 to the Max Planck Institute for Biology in Tübingen, Germany to work with Jan Klein and lead a research group studying the evolutionary origins of immune molecules, of teeth, trypanosomes and of species.
Duration: 2 minutes, 56 seconds
Date story recorded: August 2005
Date story went live: 24 January 2008