NEXT STORY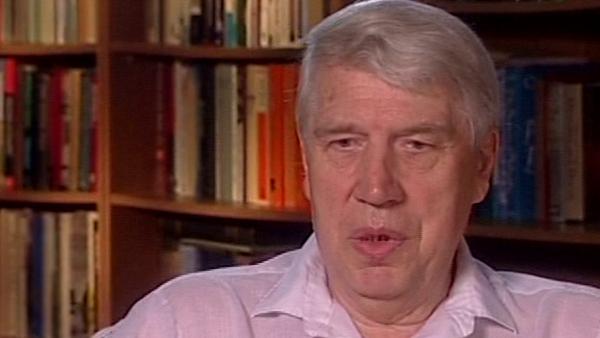 Unable to keep my mouth shut
Having to decide quickly to leave Czechoslovakia
1
...
3
4
5
6
7
...
11
[Q] What, what year was it that...? How long before the Prague Spring?
I was thinking about it. It was not too far. I mean I was... it was before I went to the United States. But it was not long before. It must have been 'short' before. So '60... '67 I came back. It must have been right after I came back.
[Q] Right, yeah then it would have been pretty much within months of it.
Right, yeah, because they waited I guess whether I would come back. I think Hašek had to guarantee that I would come back. He didn't tell me that, but this was one reason. Then I was married. My first marriage... they allowed my wife to visit me, but the son was left in Czechoslovakia. So, you know, defecting at that time was not easy... would not have been easy. I mean... in the marriage it already didn't work well. So it would have... I knew that it would end up in a divorce so it was not impossible, but it was not a simple decision at that time.
[Q] No, it was a brutal decision in as much as there wasn't time. Sometimes it's... sometimes it... maybe it helps not to have too long to think about it.
I think so. I think the problem with Pavol was that he had much... I mean and he had several... a couple of weeks or something to think about it, and actually even longer because I think he also went to... I think his brother defected immediately and then they met somewhere, and Pavol went back. But it... after a long time afterwards he defected as well. It was much more difficult. After the invasion it was for a few months it was not difficult at all. You just jumped into the car and crossed the border if you were inside. But later it was hard.
Born in 1936, Jan Klein is a Czech-American immunologist who co-founded the modern science of immunogenetics – key to understanding illness and disease. He is the author or co-author of over 560 scientific publications and of seven books including 'Where Do We Come From?' which examines the molecular evolution of humans. He graduated from the Charles University at Prague in 1955, and received his MS in Botany from the same school in 1958. From 1977 to his retirement in 2004, he was the Director of the Max Planck Institute for Biology at Tübingen, Germany.
Title: Having to decide quickly to leave Czechoslovakia
Listeners: Colm O'hUigin
Colm O'hUigin is a senior staff scientist at the US National Cancer Institute. He received his BA, MSc and PhD at the Genetics Department of Trinity College, Dublin where he later returned as a lecturer. He has held appointments at the Center for Population and Demographic Genetics, UT Houston, and at the University of Cambridge. As an EMBO fellow, he moved in 1990 to the Max Planck Institute for Biology in Tübingen, Germany to work with Jan Klein and lead a research group studying the evolutionary origins of immune molecules, of teeth, trypanosomes and of species.
Tags: Prague Spring, Milan Hašek, Pavol Ivanyi
Duration: 2 minutes, 37 seconds
Date story recorded: August 2005
Date story went live: 24 January 2008