NEXT STORY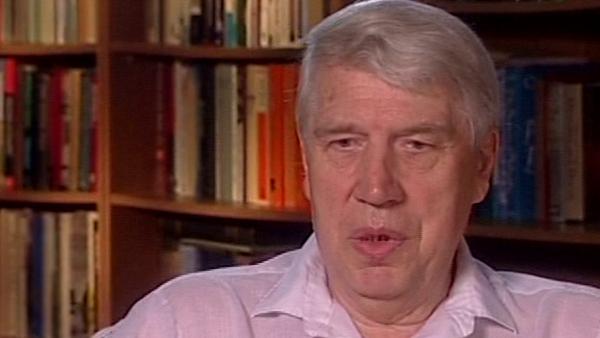 Presenting the H2 locus model in Asilomar
Publishing a controversial essay
1
...
4
5
6
7
8
...
11
All three of us, Schreffler, Snell... well four of us in that case... Schreffler, Snell, Stimpfling and I who had all these recombinant strains, H2 recombinants and other strains, were freely distributing. Whoever asked, got it. Years later when the monoclonal antibodies were... the method of producing monoclonal antibodies was discovered, there were some laboratories who were producing also H2 monoclonal antibodies. And I... at the beginning I didn't want to get involved in producing my own... to set up and producing my own monoclonal antibodies. So I asked these people would you please send us some? We want to do this and this and this. 'No, I cannot send it. We are doing already this experiments'... it was not true, they were not. Or that, 'We need everything that we... and you can... but we are starting a company or... or that will be selling this and you can buy them from them'.
Now, that made me mad... very mad as you can imagine. And I wrote an essay that I published in Immunogenetics. Remind me Immunogenetics... I should say something about Immunogenetics. Stupidly I called it 'The New Shylocks'. But it was... I don't want to make a big story out of it. It was... well the reason I called it... you know Shylock for me was always a person from the literature. I never it associated it with anything. I was not even... that sounds incredible, but I was never interested in Semitism, anti-Semitism or this issue. I mean I considered this silly that if somebody is anti-Semitic or any racist is... I just, you know so he's stupid. But it was interpreted as being anti-Semitic and well there was a big uproar against it. And the message that I originally intended to pass through, which was, I mean, you got from us, you should return us the same favour, was lost. And well I got into a lot of trouble because of that. I don't want to go into any further details. But I think the reaction was... well it was shocking to me, unexpected, unaware of it, and it was not fair. I think it was an exaggerated response that was simply out of place.
Born in 1936, Jan Klein is a Czech-American immunologist who co-founded the modern science of immunogenetics – key to understanding illness and disease. He is the author or co-author of over 560 scientific publications and of seven books including 'Where Do We Come From?' which examines the molecular evolution of humans. He graduated from the Charles University at Prague in 1955, and received his MS in Botany from the same school in 1958. From 1977 to his retirement in 2004, he was the Director of the Max Planck Institute for Biology at Tübingen, Germany.
Title: Publishing a controversial essay
Listeners: Colm O'hUigin
Colm O'hUigin is a senior staff scientist at the US National Cancer Institute. He received his BA, MSc and PhD at the Genetics Department of Trinity College, Dublin where he later returned as a lecturer. He has held appointments at the Center for Population and Demographic Genetics, UT Houston, and at the University of Cambridge. As an EMBO fellow, he moved in 1990 to the Max Planck Institute for Biology in Tübingen, Germany to work with Jan Klein and lead a research group studying the evolutionary origins of immune molecules, of teeth, trypanosomes and of species.
Tags: Shylock, Immunogenetics, Donald C Schreffler, George Davis Snell, Jack H Stimpfling
Duration: 3 minutes, 53 seconds
Date story recorded: August 2005
Date story went live: 24 January 2008