NEXT STORY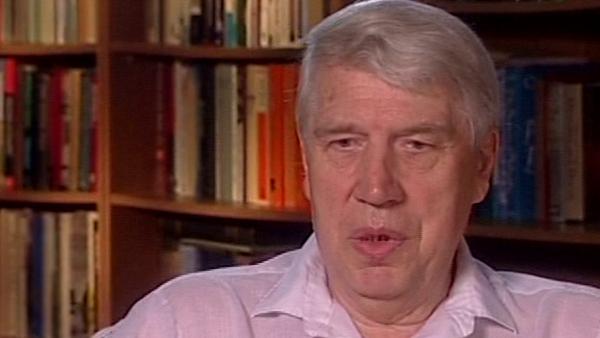 Near misses during World War II
Terror as part of a plane falls out of the sky
1
2
3
4
5
...
11
Shortly after the beginning of the war the Allied planes made raids on different cities in Germany but also in the occupied countries, so in Poland. Not far from my village was a city called Racibórz which was already in Poland, and it was a major railroad junction and also centre of factories and so it was a target of bombardment. We used to watch the planes... they flew always when the weather was good... so I remember the little silver crosses, groups of silver crosses against the blue sky, very high, they flew high in the sky. And then we often could see how they... when they were approaching Racibórz... we could see the white puffs appearing around the planes as the flaks, the defence was shooting at them and occasionally we could see also a plane being hit, spiralling down and sometimes even the parachutist jumping out and being... well we couldn't see how they were... what happened to them but we could see that they at least managed to get out of the plane. Well it was good to see that but on at least two occasions it was not just an innocent watching that we experienced. On one occasion I remember I was coming home from somewhere and close to the... to our house I could see the... well you could hear them first, the humming noise of the airplane, of the group, of the squadron, approaching and as they were just above my head I could see suddenly something detatching from one of the planes and it was falling right on me. And while it was falling it was making strange noise like shhhh, shhhh, shhhh... I mean it was rather big and it appeared to be heading on me and I ran a little bit away and it was like following me. Of course this was just an illusion. I was a small boy, so if I would have thought rationally at that moment I would have realized it's probably not a bomb but... which I thought it was... but anyway it fell down in that manor park, about 50 metres from me, and then it turned out to be a fuel tank that the... one of the planes either lost or just got rid of. So this was very innocent experience but tell a child of my age, I might have been, what, six years, seven years old, that you don't need to worry about things like that.
Born in 1936, Jan Klein is a Czech-American immunologist who co-founded the modern science of immunogenetics – key to understanding illness and disease. He is the author or co-author of over 560 scientific publications and of seven books including 'Where Do We Come From?' which examines the molecular evolution of humans. He graduated from the Charles University at Prague in 1955, and received his MS in Botany from the same school in 1958. From 1977 to his retirement in 2004, he was the Director of the Max Planck Institute for Biology at Tübingen, Germany.
Title: Terror as part of a plane falls out of the sky
Listeners: Colm O'hUigin
Colm O'hUigin is a senior staff scientist at the US National Cancer Institute. He received his BA, MSc and PhD at the Genetics Department of Trinity College, Dublin where he later returned as a lecturer. He has held appointments at the Center for Population and Demographic Genetics, UT Houston, and at the University of Cambridge. As an EMBO fellow, he moved in 1990 to the Max Planck Institute for Biology in Tübingen, Germany to work with Jan Klein and lead a research group studying the evolutionary origins of immune molecules, of teeth, trypanosomes and of species.
Tags: Racibórz
Duration: 3 minutes, 57 seconds
Date story recorded: August 2005
Date story went live: 24 January 2008