NEXT STORY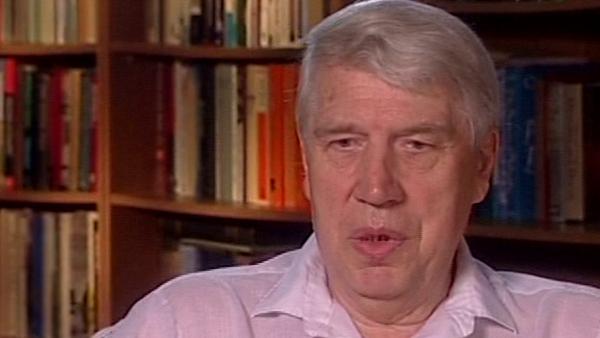 Having a mental block about polymorphism between species
A new definition of polymorphism
1
...
7
8
9
10
11
Now if you think of polymorphism, as it was understood at that time, and for many people it is still understood that way, polymorphism is a variation within a species. That actually used to be a definition... intra-specific variation. So you have two variants, but the two variants occur in the same species and are not supposed to occur in another species. Well, here was a hint that this might not be so, that the same variant might occur in different species. By that time there was already increasing poly... increasing interest in polymorphism and everybody assumed that the polymorphism is intra-specific and that it arose... that means it arose after the species arose... so within like the mice, it has separated two million years ago... the polymorphism within the Western form, the Eastern form... let's say the Western form arose within those two million years. But that to me seemed to be very strange because if that were so you should expect... well, at first it would require a very high rate of mutation, they would have to be changing very rapidly and if they were changing rapidly then we should not find those alleles in different forms. But we were finding them, or at least appeared. That was serology, so we could not be sure. So to find out whether they are really the same or not... then Bernhard Arden, who was a doctoral student at that time in my laboratory, and I studied them biochemically. We isolated the molecules... by that time it was possible, the methods were finally available, there was still no gene cloning, or at least for us it was not available yet in the form that we could easily adapt it for our needs so we couldn't isolate the genes. But we could isolate the proteins, which the H2 turned out to be, and Bernhard was able to do so-called peptide mapping. That means he digested the protein with an enzyme, trypsin in this case, and then separated them chromatographically... the peptides. So, you got different spots and the spots were characteristic of each allele. So, you could distinguish alleles by the pattern of the spots, so if they were very similar, most of the spots were the same, but where they differed in a single peptide, you could find a different spot. So he did that and what he got was identity, that the serologically-identical alleles of the Western mice and the Eastern mice were also biochemically identical.
Born in 1936, Jan Klein is a Czech-American immunologist who co-founded the modern science of immunogenetics – key to understanding illness and disease. He is the author or co-author of over 560 scientific publications and of seven books including 'Where Do We Come From?' which examines the molecular evolution of humans. He graduated from the Charles University at Prague in 1955, and received his MS in Botany from the same school in 1958. From 1977 to his retirement in 2004, he was the Director of the Max Planck Institute for Biology at Tübingen, Germany.
Title: A new definition of polymorphism
Listeners: Colm O'hUigin
Colm O'hUigin is a senior staff scientist at the US National Cancer Institute. He received his BA, MSc and PhD at the Genetics Department of Trinity College, Dublin where he later returned as a lecturer. He has held appointments at the Center for Population and Demographic Genetics, UT Houston, and at the University of Cambridge. As an EMBO fellow, he moved in 1990 to the Max Planck Institute for Biology in Tübingen, Germany to work with Jan Klein and lead a research group studying the evolutionary origins of immune molecules, of teeth, trypanosomes and of species.
Tags: polymorphism, intra-specific variation, peptide mapping, Bernhard Arden
Duration: 3 minutes, 54 seconds
Date story recorded: August 2005
Date story went live: 24 January 2008