NEXT STORY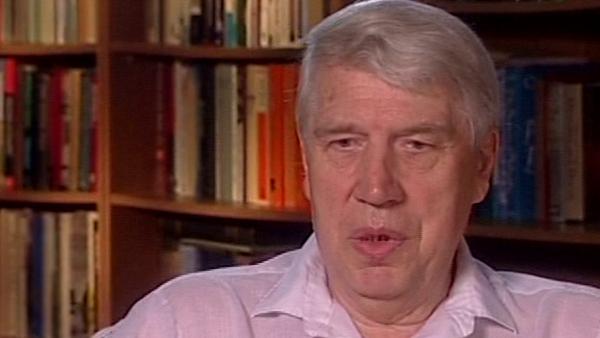 Evolutionary biology and the evolution of the immune system
Changing the direction of my research toward evolutionary biology
1
...
7
8
9
10
11
The Max Planck Institutes in Germany are as close to an ideal research institution as I can think of. They are... the society is an organisation which has institutes all over Germany devoted to different areas and there are three institutes in south... south part of Germany in Tübingen. One of them was the Institute of Biology, which I became a director of. The advantages of being a Max Planck director are, first of all you are generously supported in your research, the number of positions is usually fixed... cannot be increased, but if you get outside sources you can get positions generated in this way, but you have a complete freedom of what you are doing. You don't have to write any grant applications, you don't have to justify what you are doing, it's devoted primarily to basic science research, and the administration that is associated with such a position is, if you choose so, relatively minor.
In my case I had a very good administrator, a certain Mr Schoss, who was very reasonable in every respect and who helped me to solve any problems that arose... administrative problems. I think this was the only time I encountered such an administrator. Usually in universities or other institutions, administrators create problems rather than help to solve them. Herr Schoss was of very different mind and I owe him very much. It was because of this freedom you also don't have to attend meetings if you choose so and because of this freedom I chose not to attend any meetings of the society or only when it concerned our institute, so I didn't waste my time on things that other researchers are often willingly or unwillingly made to participate in.
The freedom also allowed me to change my direction of research if I decided so, and at one point, as I said, when I got tired of immunology, and because of many other complicating factors, I decided to change the direction of research in which I was involved. And the decision was based on my liking of evolutionary studies that I had for a very long time and immunology, as I said, was for me just a sideline from my main direction, which was genetics, and eventually toward evolutionary biology.
Born in 1936, Jan Klein is a Czech-American immunologist who co-founded the modern science of immunogenetics – key to understanding illness and disease. He is the author or co-author of over 560 scientific publications and of seven books including 'Where Do We Come From?' which examines the molecular evolution of humans. He graduated from the Charles University at Prague in 1955, and received his MS in Botany from the same school in 1958. From 1977 to his retirement in 2004, he was the Director of the Max Planck Institute for Biology at Tübingen, Germany.
Title: Changing the direction of my research toward evolutionary biology
Listeners: Colm O'hUigin
Colm O'hUigin is a senior staff scientist at the US National Cancer Institute. He received his BA, MSc and PhD at the Genetics Department of Trinity College, Dublin where he later returned as a lecturer. He has held appointments at the Center for Population and Demographic Genetics, UT Houston, and at the University of Cambridge. As an EMBO fellow, he moved in 1990 to the Max Planck Institute for Biology in Tübingen, Germany to work with Jan Klein and lead a research group studying the evolutionary origins of immune molecules, of teeth, trypanosomes and of species.
Tags: Max Plank Institute, Institute of Biology
Duration: 3 minutes, 53 seconds
Date story recorded: August 2005
Date story went live: 24 January 2008