NEXT STORY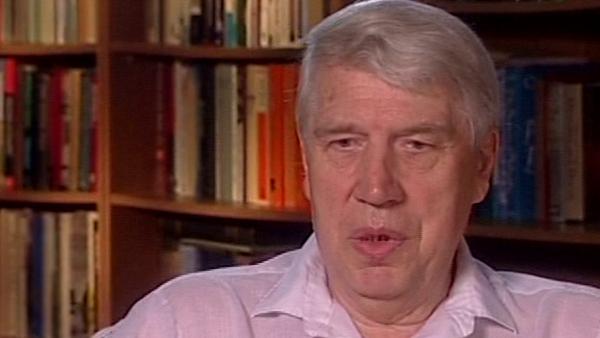 Challenging the generality of the adaptive immune system
Evolution of the MHC genes
1
...
7
8
9
10
11
It seems that the MHC arose at a certain stage of vertebrate evolution and what then happened afterwards? So the fish studies indicated that the MHC of the fish... of the vertebrates doesn't have to be always of the mammalian type. In the mammalian species it's quite common that there are the class I genes and in between the class II genes located... and the whole region is then populated by a group of other... of other loci. They are sometimes called the class III loci genes, and they are like the complement components. They perform a variety of different functions. Some of them are... actually quite a number of them are involved in immunity but not always in the same type of immunity that the H2 is, or MHC is involved. The general interpretation of the mammalian MHC was that the class III genes are actually part of the MHC complex. If not evolutionarily then at least functionally. That they somehow are needed for the function of the MHC. Well, I didn't like that idea from the beginning because there was simply no reason why that should be. Again, the most parsimonious interpretation was that they are there by chance, that they happen to be included when there is rearrangements in the genome taking place, they were included and enclosed in the MHC complex and remained there for genetic reasons, not functional reasons. I didn't find any evidence for the generally widespread hypothesis that somehow these genes have evolved with the class I and class II genes and that it is necessary for the co-evolution that they be together in a single segment.
Born in 1936, Jan Klein is a Czech-American immunologist who co-founded the modern science of immunogenetics – key to understanding illness and disease. He is the author or co-author of over 560 scientific publications and of seven books including 'Where Do We Come From?' which examines the molecular evolution of humans. He graduated from the Charles University at Prague in 1955, and received his MS in Botany from the same school in 1958. From 1977 to his retirement in 2004, he was the Director of the Max Planck Institute for Biology at Tübingen, Germany.
Title: Evolution of the MHC genes
Listeners: Colm O'hUigin
Colm O'hUigin is a senior staff scientist at the US National Cancer Institute. He received his BA, MSc and PhD at the Genetics Department of Trinity College, Dublin where he later returned as a lecturer. He has held appointments at the Center for Population and Demographic Genetics, UT Houston, and at the University of Cambridge. As an EMBO fellow, he moved in 1990 to the Max Planck Institute for Biology in Tübingen, Germany to work with Jan Klein and lead a research group studying the evolutionary origins of immune molecules, of teeth, trypanosomes and of species.
Tags: major histocompatability complex, MHC, vertebrate evolution, class III loci genes, H2
Duration: 2 minutes, 56 seconds
Date story recorded: August 2005
Date story went live: 24 January 2008