NEXT STORY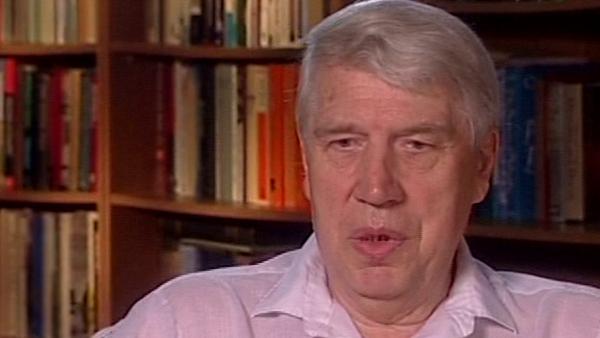 Several times the story of my life might have ended
War experiences made me a person who cannot tolerate violence
1
2
3
4
5
...
11
One other thing that stuck in my memory was again at the end of the war when I was roaming the park of the manor house, by that time the German army was there already, they took over the house as they did also part of our house and most of other houses in the village and from a... from a brushes? What do you call it?
[Q] Scrub? Bushes?
Bushes. From the bushes I could see the Germans involved in some strange activities, so I... hidden in the bushes... I stayed and watched for a while and then I realized that what was going on was actually an execution. Toward the end of the war many of the German soldiers tried to desert the army. There were apparently four that were caught and they were brought to this park and I could see them being led to the chairs that they were... that they put there and the hangman's noose put around their necks and they were executed. I think these and other war experiences made me a person who cannot understand two things in the present society. One is the violence that young people, especially or I think in general, especially in this country, that people seems not only to tolerate but enjoy. Including my kids, they think well it's just... the blood is just raspberry juice or something. I cannot think like that. I always have in the back of my mind these pictures from a real war and I just don't understand the obsession of people with violence. They are taking as fun but the real violence is never fun. The second that influenced me was that war is not something that you just send a few bombers and destroy a city somewhere else and you are not affected by it, that bomb... that war is really something very horrible and that... well from that time I cannot be in favour of wars that are not really fully justified.
Born in 1936, Jan Klein is a Czech-American immunologist who co-founded the modern science of immunogenetics – key to understanding illness and disease. He is the author or co-author of over 560 scientific publications and of seven books including 'Where Do We Come From?' which examines the molecular evolution of humans. He graduated from the Charles University at Prague in 1955, and received his MS in Botany from the same school in 1958. From 1977 to his retirement in 2004, he was the Director of the Max Planck Institute for Biology at Tübingen, Germany.
Title: War experiences made me a person who cannot tolerate violence
Listeners: Colm O'hUigin
Colm O'hUigin is a senior staff scientist at the US National Cancer Institute. He received his BA, MSc and PhD at the Genetics Department of Trinity College, Dublin where he later returned as a lecturer. He has held appointments at the Center for Population and Demographic Genetics, UT Houston, and at the University of Cambridge. As an EMBO fellow, he moved in 1990 to the Max Planck Institute for Biology in Tübingen, Germany to work with Jan Klein and lead a research group studying the evolutionary origins of immune molecules, of teeth, trypanosomes and of species.
Duration: 3 minutes, 33 seconds
Date story recorded: August 2005
Date story went live: 24 January 2008