NEXT STORY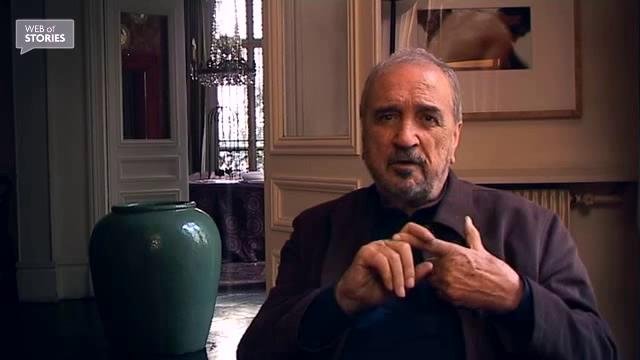 Jacques Tati picked me
My life inclined towards films
Jean-Claude Carrière
Film-maker
1
2
3
4
5
...
8
Le fait que ma vie a basculé vers le cinéma n'est pas un hasard. Rien n'est vraiment un hasard dans la vie. Il y a toujours une part de hasard mais j'avais un goût pour le cinéma très vif depuis le collège religieux où j'étais. Quand je suis venu à Paris ensuite je me suis rué sur le cinéma parce que nous avions à la fin de la guerre un grand appétit de films américains, qui nous étaient interdits et des films français que nous n'avions pas pu voir etc. Les années 45 à 55 sont une grande période d'expansion de cinéma. Il y avait des jours ou j'allais au cinéma trois fois, où je voyais, trois films dans la journée. J'allais bien entendu à la cinémathèque dès l'âge de 16 ans, et j'étais à 17, 18 ans membre du cinéclub universitaire et même délégué à la propagande. C'était un titre très glorieux et ça consistait à distribuer des tracts sur le boulevard Saint Michel. Tout m'attirait vers le cinéma. Quand j'ai été… admis à Normale Supérieure, je devais passer l'agrégation d'histoire, j'avais fait mon diplôme tout ça, et au moment de l'année de l'agrégation je suis tombé malade. Et ça, peut-être c'est le hasard qui a fait que… J'ai eu une néphrite, une maladie des reins très douloureuse qui m'a obligé à rester couché plusieurs mois, et à manger très peu de choses, il y avait tout un traitement à l'époque, on ne le soignait pas aussi facilement qu'aujourd'hui. Pendant ces quelques mois j'ai écrit un roman. Et ce roman a été publié par Robert Laffont, l'éditeur Robert Laffont. Ça, je crois que c'est le jour décisif dans une vie. Je suis encore étudiant. Un éditeur vous reçoit et vous dit: «J'ai lu votre livre et je vais le publier». Tout à coup une porte s'ouvre qui jusque-là était complètement fermée, on ne savait même pas qu'il y avait une porte… Et on se dit: «Où vais-je? Dans quel monde vais-je rentrer maintenant?» Alors ce roman a été publié et Robert Laffont avait, là nous sommes en 56, j'ai 24, 25 ans… Robert Laffont avait un contrat avec Jacques Tati, donc grand metteur en scène comique français, pour faire ce qu'on appelle aujourd'hui de la novélisation, c'est-à-dire tirer des romans de deux de ses films, très célèbres Les vacances de Monsieur Hulot et Mon Oncle. Alors Robert Laffont m'a… qui avait une sorte de confiance en moi, je pense, m'a dit: «Est-ce que vous voulez concourir, essayer d'écrire un chapitre des Vacances de Monsieur Hulot et Jacques Tati choisira l'auteur qui…» J'ai dit: «Oui» tout de suite, je voyais là la possibilité de… et j'ai écrit un chapitre de Vacances de Monsieur Hulot mais je l'ai écrit d'une façon romanesque, ce qui m'a été dit par la suite, c'est-à-dire qu'au lieu de raconter le film, en disant: «Il fait ceci, il fait cela», je me suis mis à la place d'un des personnages secondaires du film, un petit vieux qui est là avec sa femme et qui passe des vacances au bord de la mer et j'ai raconté cet été là comme si la présence de Monsieur Hulot avait transformé, pour le meilleur, les vacances de cet homme cette année-là. Donc ça donnait…C'était un autre regard que celui du film, c'était un regard romanesque et je pense que c'est ce qui fait que Jacques Tati m'a choisi.
The fact that my life inclined towards films is not a complete accident. Nothing happens by pure accident in life. It always plays a part, but I had had a strong taste for films ever since my days at the religious college I attended. When I started living in Paris I was always at the cinema since at the end of the war we were longing to watch American films as they had been forbidden, and French films... we had not been able to see them, and so on. The years '45 to '55 were a time of growth for films. There were days when I was at the cinema watching three films per day. I was, of course, using the film library from the age of 16 and at 17 or 18 I was a member of the university cinema club. I was even in charge of its propaganda. This was a highly distinguished title, and was all about giving out leaflets on the Boulevard Saint Michel.
Everything was leading me towards film-making. When I was accepted in Normale Superieure, as I was taking my Teaching Certificate in history after my BA and everything, at the time of the Teaching Certificate, I fell ill. And maybe chance did it all, I developed nephritis, an extremely painful kidney disease, which confined me to my bed for several months, eating very little, there was a complete treatment regime to follow at the time, it wasn't treated as quickly as it is nowadays. And in those few months I wrote a novel. And that novel was published by Robert Laffont, the publisher. That, I think, was a decisive day in a life. I'm still a student. A publisher calls you in and tells you, 'I have read your book and would like to publish it'. Suddenly, a door opens, a door that had been closed until then, shut so tight that you did not even know there was such a door. And you think, 'Where am I going? What type of world will I get into now?' And that novel was published, and Robert Laffont had... we are in 1956 I was about 24, 25... Robert Laffont had a contract with Jacques Tati, the highly regarded French comedy director, to write what is called 'novelisation', writing in the format of a novel two of his very famous films, Monsieur Hulot's Holiday and Mon Oncle. So Robert Laffont said, he had a certain faith in me, he said, 'Do you want to compete for writing a chapter of Monsieur Hulot, and Jacques Tati will pick the winner who…' I said yes straight away, I could see… and I wrote a chapter of Monsieur Hulot, but writing them in the style of a novel, which I was later told, meaning that instead of 'telling the film' – as 'he does this or that' – I wrote from the perspective of a secondary character from the film, a little old man who is there with his wife, taking their holiday at the seaside, and I recalled that summer as if Monsieur Hulot being there had literally transformed, for the better, that man's holiday. So it was... it was a completely different perspective, it was very novelistic, and that is why I think Jacques Tati picked me.
French screenwriter Jean-Claude Carrière (1931-2021) began his association with films aged 24 when he was selected by Jacques Tati to write for him. This early experience led to further contact with other film-makers, including Luis Buñuel with whom Carrière collaborated for many years. He wrote screenplays for films including Belle de Jour, The Discreet Charms of the Bourgeoisie, Tin Drum and Danton.
Title: My life inclined towards films
Listeners: Andrzej Wolski
Film director and documentary maker, Andrzej Wolski has made around 40 films since 1982 for French television, the BBC, TVP and other TV networks. He specializes in portraits and in historical films. Films that he has directed or written the screenplay for include Kultura, which he co-directed with Agnieszka Holland, and KOR which presents the history of the Worker's Defence Committee as told by its members. Andrzej Wolski has received many awards for his work, including the UNESCO Grand Prix at the Festival du Film d'Art.
Tags: Monsieur Hulot's Holiday, Mon Oncle, Robert Laffont, Jacques Tati
Duration: 3 minutes, 33 seconds
Date story recorded: January 2010
Date story went live: 26 July 2010