NEXT STORY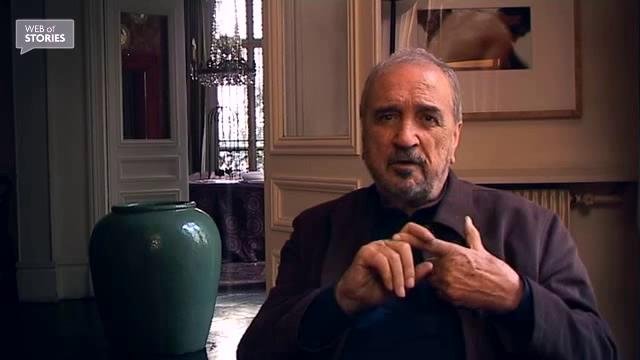 Pictures that shaped my image of the world
Jean-Claude Carrière
Film-maker
1
2
3
4
5
...
8
There was no book in the house where I was born, except maybe for a few old prayer books, some missals still used by my mother. But my parents didn't have what would now be called a library, they did not read, they didn't have the time to do so, farmers didn't have the time.
The first books inside the house were mine, such as school books, then book prizes I was winning, or gifts from a distant cousin. Children books, from Jules Verne, Jack London, Fenimore Cooper... And those books were for me, from the start, as I was the first one in my family to own books, they were like some little treasure. I have found recently a list - almost a catalogue - of those books, I already had 80 books when I was 11 years old. And so I grew up with a certain taste for books, a taste I still have today and even turned into a bibliophile. I took care of libraries and so on. I have always kept that taste for books deep inside of me, and the same goes for reading, and for illustrations, and it is something that needs to be said about those years 1935 to 1945.
Dans la maison où je suis né il n'y avait pas de livres, sauf peut-être quelques vieux livres de prières, quelques vieux missels que ma mère utilisait encore. Mais, mes parents n'avaient pas ce qu'on appelle une bibliothèque, ils ne lisaient pas, ils n'avaient pas le temps de lire, les paysans n'avaient pas le temps de lire. Les premiers livres qui sont rentrés dans cette maison, ont été les miens, c'est-à-dire des livres d'école et ensuite des livres de prix que j'ai pu recevoir, ou des cadeaux que me faisaient des cousins éloignés. Des livres pour enfants, des livres de Jule Verne, des livres de Jack London, des livres de Fenimore Cooper. Et ces livres ont constitué pour moi, assez tôt, comme j'étais le premier dans la famille à avoir des livres, une sorte de petit trésor. J'ai retrouvé il n'y a pas longtemps une liste des livres que j'avais faite, presque comme un catalogue, j'avais déjà 80 livres quand j'avais 11 ans. C'était énorme pour un petit paysan de cette époque-là.
Et voilà, j'ai grandi avec ce goût de livres que je n'ai jamais perdu jusqu'à aujourd'hui, que je suis même devenu bibliophile. Je me suis occupé de bibliothèques, enfin et cetera. J'ai gardé très profondément accroché au fond de moi ce goût du livre et aussi de la lecture et aussi de l'illustration car une chose qu'il faut dire à propos de ce temps-là, je parle des années de 1935 à 1945…
French screenwriter Jean-Claude Carrière (1931-2021) began his association with films aged 24 when he was selected by Jacques Tati to write for him. This early experience led to further contact with other film-makers, including Luis Buñuel with whom Carrière collaborated for many years. He wrote screenplays for films including Belle de Jour, The Discreet Charms of the Bourgeoisie, Tin Drum and Danton.
Title: Books of my childhood
Listeners: Andrzej Wolski
Film director and documentary maker, Andrzej Wolski has made around 40 films since 1982 for French television, the BBC, TVP and other TV networks. He specializes in portraits and in historical films. Films that he has directed or written the screenplay for include Kultura, which he co-directed with Agnieszka Holland, and KOR which presents the history of the Worker's Defence Committee as told by its members. Andrzej Wolski has received many awards for his work, including the UNESCO Grand Prix at the Festival du Film d'Art.
Tags: Reading, school books, childrens' literature, Jules Verne, Jack London, Fenimore Cooper
Duration: 1 minute, 35 seconds
Date story recorded: January 2010
Date story went live: 26 July 2010