NEXT STORY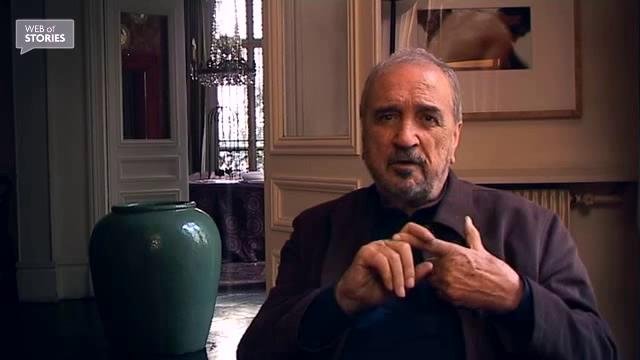 Keeping a 'book of deaths'
Jean-Claude Carrière
Film-maker
1
...
4
5
6
7
8
To train your memory, you need to have things to tell. I was lucky enough to have had an interesting life, and to have met people who left their mark on me... you remember certain details, attitudes, what they have said. And then I'm lucky as I have a good memory and haven't lost it. But anyway, memory, like imagination, are two things that you can train. Actors know that well. Our brain has amazing possibilities, but it is lazy, reducing. It simply does not want to do the work. When we work with imagination, it is often happy with the first idea... 'Ah, perfect, I can go back to sleep'. You need to know how to activate it, and the same goes when it comes to memory. From time to time – and I'm doing it here with you – you need to go back in time, see the people from your past, try to think about their voice, behaviour, clothes even. That is what Proust did, wonderfully, that search into the past, into the lost time, which is not exactly lost, it is still there. Our past is part of ourselves, sometimes even more than the present is. The danger is to live only in the past. I mean, I enjoy fusing past and present... in the absence of the future since we don't know anything about it... as in 'to be today what I was yesterday, and see through what I was yesterday what I am today', which is like fusing them in order to ignore the passage of time. It is the only remedy we have, probably the only one we have against what we call time, which is, in fact, aging. It can't be time, because we can't see it, we can only see its effects. It is a bit like the wind, we see the branches in the trees moving, the leaves falling, but the wind itself, we can't see it.
Pour entretenir sa mémoire, il faut avoir d'abord avoir des choses à raconter. J'ai eu la chance d'avoir une vie intéressante et de rencontrer les gens qui m'ont marqués, dont je me rappelle certains détails, certaines attitudes, certaines phrases et puis j'ai la chance d'avoir une bonne mémoire, et de ne pas l'avoir perdue. Cela dit, la mémoire comme l'imagination sont deux facultés de l'esprit qui peuvent s'entraîner, l'une et l'autre. Les acteurs le savent très bien. Notre cerveau a des possibilités magnifiques, mais il est paresseux, il est réducteur. Il ne demande qu'à ne pas travailler en fait. Quand on fait travailler notre imagination, il se contente souvent de la première solution: «Ah! Très bien, parfait puis je me rendors». Il faut savoir l'activer, il faut savoir en matière de mémoire faire la même chose. C'est-à-dire, de temps en temps et vous m'en donnez l'occasion, de temps en temps retourner en arrière, revoir les personnes qu'on a connu, essayer de retrouver le ton de leurs voix, leurs attitudes, leurs vêtements même. Ce que Proust a fait magnifiquement, cette recherche du temps passé, du temps perdu, qui n'est pas réellement perdu, il est toujours là. Le passé fait évidement partie de nous, plus que, quelques fois même, que le présent. Le danger c'est de ne vivre que dans le passé. C'est à dire, moi j'aime bien faire du passé et du présent, à défaut de l'avenir que nous ne connaissons pas, une seule et la même chose, c'est à dire être aujourd'hui ce que j'étais hier et voir dans ce que j'étais hier ce que je suis aujourd'hui, c'est à dire essayer de ne faire qu'un tout pour, en quelque sorte nier le temps qui passe. C'est la pauvre ressource que nous avons, et la seule, peut-être, que nous avons contre ce que nous appelons le temps et qui en fait est le vieillissement. Ce n'est pas le temps, car le temps nous ne le voyons pas, nous ne voyons que les effets. C'est un peu comme le vent, nous voyons les branches des arbres qui se courbent, les feuilles qui tombent mais le vent lui-même nous ne le voyons pas.
French screenwriter Jean-Claude Carrière (1931-2021) began his association with films aged 24 when he was selected by Jacques Tati to write for him. This early experience led to further contact with other film-makers, including Luis Buñuel with whom Carrière collaborated for many years. He wrote screenplays for films including Belle de Jour, The Discreet Charms of the Bourgeoisie, Tin Drum and Danton.
Title: Training the memory
Listeners: Andrzej Wolski
Film director and documentary maker, Andrzej Wolski has made around 40 films since 1982 for French television, the BBC, TVP and other TV networks. He specializes in portraits and in historical films. Films that he has directed or written the screenplay for include Kultura, which he co-directed with Agnieszka Holland, and KOR which presents the history of the Worker's Defence Committee as told by its members. Andrzej Wolski has received many awards for his work, including the UNESCO Grand Prix at the Festival du Film d'Art.
Tags: Memory, imagination, Marcel Proust, time, ageing
Duration: 2 minutes, 11 seconds
Date story recorded: January 2010
Date story went live: 18 October 2010