NEXT STORY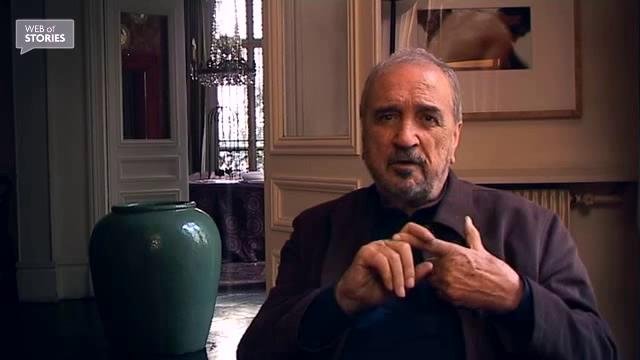 Expect everything from yourself
Jean-Claude Carrière
Film-maker
1
...
4
5
6
7
8
The relationship between money and creation combines two mysteries in the sense that creation is a mystery to everyone. No one knows where it comes from, why at some point it becomes obsessive, why you absolutely need to write in such or such a way, why people will come or not, or read it... that mystery goes back to the beginning of writing, painting, composing... and no one can solve it, which is good as it would be terrible to know the recipe for success or failure. It would freeze creation, which springs out of nothing or almost nothing, and which works as people say by touching people, or not. And when it comes to money, that is another mystery, and it is one I have never tried to understand... Everyone knows that, for instance in 2008 we saw on television New York bankers running amok, carrying computers, files flying around, banks coming down, someone even killed himself, it was the end of the banking world. A year-and-a-half later, we realised that banks have never been as profitable as they were at that time, and were giving extraordinary bonuses to everyone involved. If that is not a mystery, I don't know what that word means. I sometimes feel that money is a creature, like a giant octopus spreading out its tentacles, and that it has its own life, money has a life of its own, and unfortunately, or maybe fortunately, I am in complete ignorance of it.
Le rapport entre l'argent et la création met aux prises pour moi deux mystères car la création est un mystère et celle-là est pour tout le monde, on sait pas d'où vient une idée, on ne sait pas pourquoi à un moment donné elle vous obsède, pourquoi il faut absolument l'écrire sur telle ou telle forme, pourquoi les gens viendront ou ne viendront pas, la lire ou la voir… ce mystère là date depuis le début de l'écriture, de la peinture, de la composition musical etc. Et personne n'a pu en venir à bout et heureusement car ce serait terrible si on connaissait les recettes du succès et les certitudes d'échec. Cela paralyserait totalement ce qu'on appelle précisément la création, qui vient de rien ou de presque rien et qui fonctionne comme on dit, c'est à dire touche d'autres personnes ou non. Quant à l'argent c'est un autre mystère, alors ça c'est un mystère de ma vie que je n'ai jamais essayé de percer car, tout le monde le sait, que par exemple en 2008 on a vu à la télévision des banquiers newyorkais affolés, traverser les rues en apportant des ordinateurs, des dossiers avec des papiers qui volaient partout, toutes les banques s'écroulaient, il y a quelqu'un qui s'est suicidé, c'était la fin du monde bancaire. Un an et demi plus tard on a constaté que jamais les banques n'avaient fait autant de bénéfices que dans cette période là, et distribuaient des bonus extraordinaires à leurs participants. Si ça ce n'est pas un mystère alors je ne sais pas ce que veut dire le mot mystère. J'ai quelques fois l'impression que l'argent est une créature… comme une immense pieuvre qui se repand partout avec des ventouses aspirantes, des réactions étranges et qui a sa vie propre. L'argent a sa vie propre et, pour mon malheur ou pour mon bonheur, je l'ignore totalement.
French screenwriter Jean-Claude Carrière (1931-2021) began his association with films aged 24 when he was selected by Jacques Tati to write for him. This early experience led to further contact with other film-makers, including Luis Buñuel with whom Carrière collaborated for many years. He wrote screenplays for films including Belle de Jour, The Discreet Charms of the Bourgeoisie, Tin Drum and Danton.
Title: Money: the giant octopus
Listeners: Andrzej Wolski
Film director and documentary maker, Andrzej Wolski has made around 40 films since 1982 for French television, the BBC, TVP and other TV networks. He specializes in portraits and in historical films. Films that he has directed or written the screenplay for include Kultura, which he co-directed with Agnieszka Holland, and KOR which presents the history of the Worker's Defence Committee as told by its members. Andrzej Wolski has received many awards for his work, including the UNESCO Grand Prix at the Festival du Film d'Art.
Tags: Money, creativity, 2008 financial crisis
Duration: 2 minutes, 1 second
Date story recorded: January 2010
Date story went live: 10 May 2011