NEXT STORY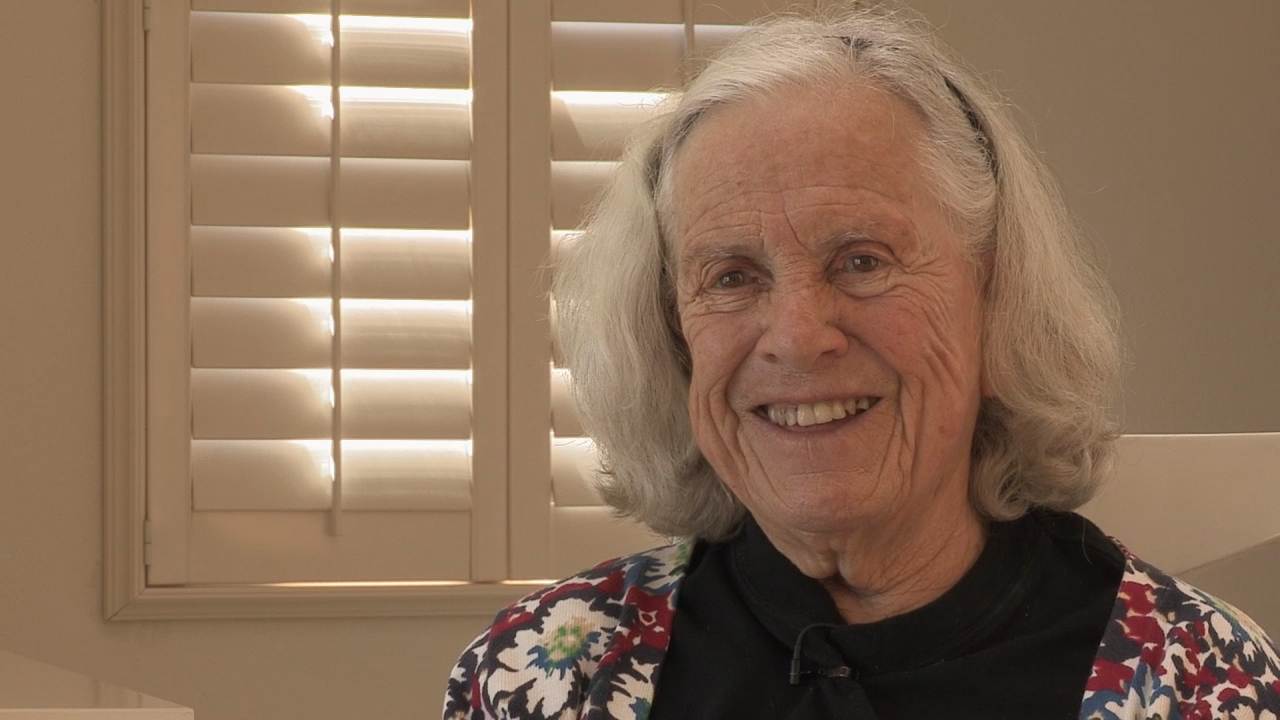 My family history: The values we lived by
My family history: Arriving in America
1
2
This is a story of a couple of generations back. My... that was my grandmother. My great- grandfather was born in Poland and he... at the time there were the usual wars between Poland and Germany and Russia – to what part of the world Poland should be in. And my great-grandfather thought that it would be better... for the Jews if Poland were part of Germany. So he was basically importing... putting armament in Germany secretly. And the Germans caught him. No, he was doing it to Russia. The Russians caught him and they were going to hang him. So as they were preparing to hang him, the Germans attacked. And in the confusion of battle, my great-grandfather or something escaped and went to the little Jewish town where they lived, where the people immediately raised money to send him to the United States, which had no counting of how many people came. So that's how he came.

And he was a watchmaker. And he opened his store... He opened his store in New York and saved money until he had enough money to invite his oldest daughter to come to help him. So he did, and she was 15 or 16. And she came over on a boat. And when she came off the boat into the... into the building, there was nobody there. Her father wasn't there. And then a young man came over and said, 'Are you Johanna Phillips?' And she said, 'Yes'. He said, 'You're supposed to come with me'. So this young woman had to follow this unknown man through the streets of New York 'till they got to the little store. And there, my great-grandmother or whatever saw her... so she rushed in and threw her arms around him. He went like this and said in German, 'Show me your deeds. Don't kiss me. Show me your deeds'. So the next morning she took a broom and she cleaned the whole store and she put the dust and stuff in the road. Well, then a policeman turned up because that was against the law in New York. She got saved from being put in jail by the neighbors who could speak two languages. But I have... but the reason I think she was intelligent was she was fixing watches, which was not normal for women.

My family were not Orthodox Jews. But in about 1900, there was a... were some rabbis who were not satisfied with the new things and they started a new religion, sort of, called ethical culture. And ethical culture had to do with ethics. And they were Jewish ethics which were high on charity and so on but it was not strongly attached to a deity. You made your own idea about the deity. We didn't believe in the Christian deity but it was mostly emphasis on morality. And yes, in that area I would say we were... we believed strongly in morality.
Joan Feynman (1927-2020) was an American astrophysicist. She made important contributions to the study of solar wind particles and fields, sun-Earth relations and magnetospheric physics. In particular, Feynman was known for developing an understanding of the origin of auroras. During her career, Feynman was an author or co-author of more than 100 scientific publications. She also edited three scientific books. In 2002, she was awarded NASA's distinguished Exceptional Achievement Medal.
Title: My family history: Arriving in America
Listeners: Alexander Ruzmaikin Christopher Sykes
Christopher Sykes is an independent documentary producer who has made a number of films about science and scientists for BBC TV, Channel Four, and PBS.
Tags: Russia, America, Poland
Duration: 6 minutes, 4 seconds
Date story recorded: April 2019
Date story went live: 25 October 2019