NEXT STORY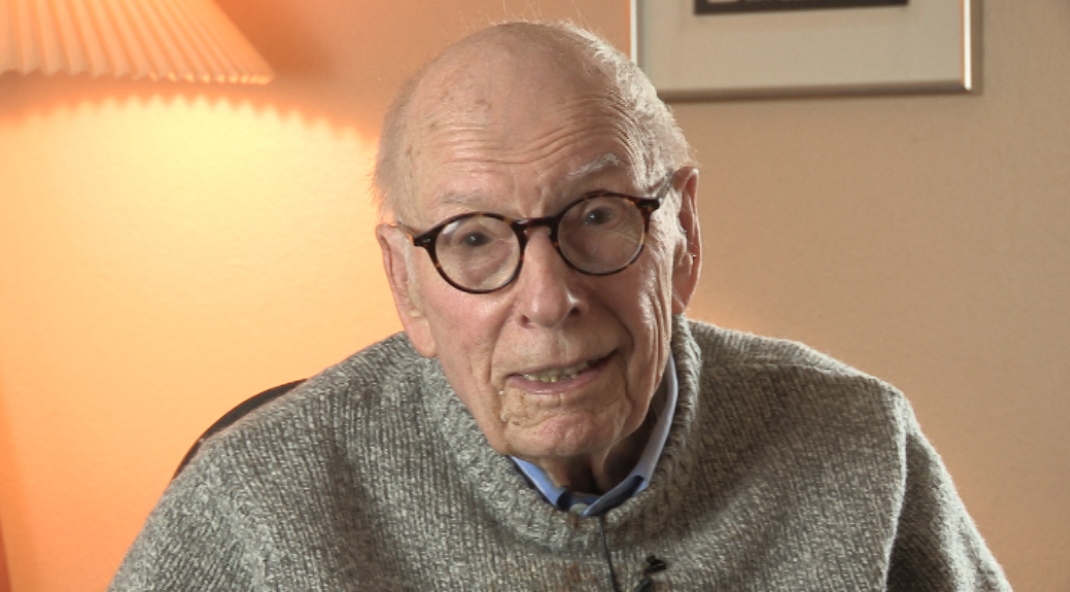 From ornithology to biology
1
2
3
4
5
6
My mother is Swiss. Her father was a younger brother of a very successful silk business in Zurich. And when he came over to set up the American branch, and she was 14 when she came, along with her mother. I would love to have known her then because she ended up being quite a remarkable woman. She was someone who had a very strong personality, but at the same time, though, she fit in with the Swiss background that she had. The role of the woman in the family and the household was definitely a sort of a slave, really. And she had to do, and believe, and agree to what seems to me now as terrible things. But she managed it perfectly because she kept her independence, and she kept her intelligence. And she just simply let all the other things walk away. And even her attitude towards her father was very traditional. He was the boss. And so when she married my father, my father automatically became 'the boss'. And I always remember her telling me that when the Kaiser entered Belgium in the First World War, he arrived down for breakfast, and announced very firmly that henceforth, German will never be talked in this room, in this house. And they said it never was, talked Schwyzerdütsch - Swiss - and they could talk French and English, of course, but true German was out, and that was a disaster for me because I later wanted to become a biologist and in my day, as a young student, almost all the good stuff was written in German, and I couldn't understand a word of it. All I could do was look at the pictures. And I even once brought a paper, and asked my grandmother to translate it for me, or help me translate it. And it was on sex and Chlamydomonas, which is a single-cell green alga. And it couldn't be more innocent a paper. And she just looked at it, before she even started, she looked at it and she said, 'What kind of things are they teaching you these days?' I calmed her down. She eventually got a chance at it.
She was really a remarkable woman because I think in many ways she was more intelligent, and had a better brain than my father. Although, my father was no… and yet, she managed to supress it in a way, so that everybody else around her thought they were fantastic, including her children, actually. She never completely approved of me, but she thought I was intelligent, but pig-headed. That was her… and I'm sure she was right, too.
John Tyler Bonner (born in 1920) is an emeritus professor in the Department of Ecology and Evolutionary Biology at Princeton University. He is a pioneer in the use of cellular slime molds to understand evolution and development and is one of the world's leading experts on cellular slime molds. He says that his prime interests are in evolution and development and that he uses the cellular slime molds as a tool to seek an understanding of those twin disciplines. He has written several books on developmental biology and evolution, many scientific papers, and has produced a number of works in biology. He has led the way in making Dictyostelium discoideum a model organism central to examining some of the major questions in experimental biology.
Title: Why I don't speak German
Listeners: Christopher Sykes
Christopher Sykes is an independent documentary producer who has made a number of films about science and scientists for BBC TV, Channel Four, and PBS.
Tags: Swiss, mother, German, translation, intelligence
Duration: 4 minutes, 13 seconds
Date story recorded: February 2016
Date story went live: 14 September 2016