NEXT STORY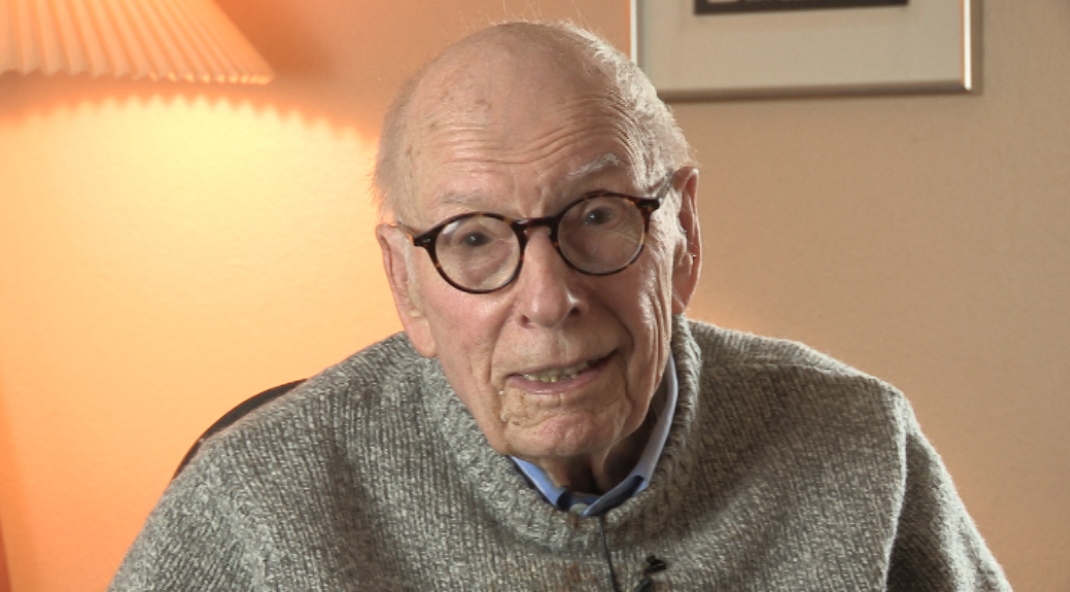 Progress in experimental biology
Discovery of cyclic AMP creates a stir
1
2
3
4
5
6
Theo Konijn, who was from, then from Utrecht, and later Leiden, had been working with slime molds for years. And he was younger than I was, so it still… he had been an old hand. And he and I were chasing after the same thing so I suggested to him that he take a sabbatical and come to Princeton for the year, which he did and it was great. We really did a lot of things.
I came up here in June, not here, but Nova Scotia, and after I'd been there for about three or four weeks, suddenly the phone rang and it was two people on two extensions in Princeton. They were both so excited that I had to make them tell everything three times before I could understand what the hell they were saying. And what had happened is that the graduate student had been taking a course in biochemistry and there was a new substance that had just been discovered by Earl Sutherland, named cyclic AMP. And in this biochemistry course, the professor had outlined its properties and so David said, as they were eating ice cream, David said, 'You know, it exactly seems to fit what we do know about cyclic AMP'. And so they went over that. And they said, 'Well, let's buy some on John's grant', which they did and they tested it as soon as it came and it was active at extremely dilute solutions. So it was solved immediately. Well, we had a lot of fun from then on, of course, then we had to do things like, is it really cyclic AMP that it makes? And is the enzyme which destroys acrasin and acrasinase? Does it destroy cyclic AMP, and so forth and so on? So we did all sort of standard things you do to clean up, as it were. And it stood the test of time. And it was an interesting period for me because I was invited suddenly to medical schools because cyclic AMP had been a very important substance for which Sutherland got the Nobel Prize. And why it was important, it was a substance that seemed to release hormones. So it was a messenger, which told hormones to get going and do something. And it really, I mean, I don't know how many papers have been published on slime mold's cyclic AMP since then. It's just a factory. And I didn't have anything to do with it.
John Tyler Bonner (born in 1920) is an emeritus professor in the Department of Ecology and Evolutionary Biology at Princeton University. He is a pioneer in the use of cellular slime molds to understand evolution and development and is one of the world's leading experts on cellular slime molds. He says that his prime interests are in evolution and development and that he uses the cellular slime molds as a tool to seek an understanding of those twin disciplines. He has written several books on developmental biology and evolution, many scientific papers, and has produced a number of works in biology. He has led the way in making Dictyostelium discoideum a model organism central to examining some of the major questions in experimental biology.
Title: Discovery of cyclic AMP creates a stir
Listeners: Christopher Sykes
Christopher Sykes is an independent documentary producer who has made a number of films about science and scientists for BBC TV, Channel Four, and PBS.
Tags: Theo Konijn
Duration: 4 minutes, 10 seconds
Date story recorded: February 2016
Date story went live: 14 September 2016