NEXT STORY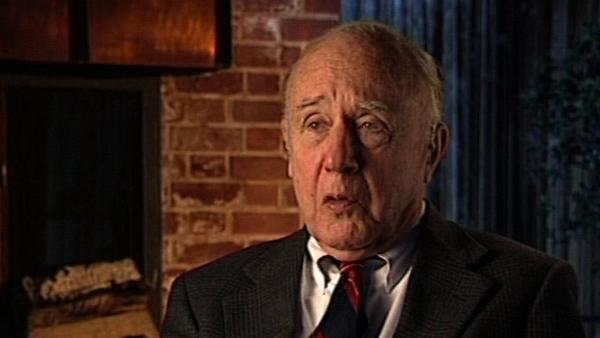 November 1, 1952: the Mike Test. The Eniwetok Atoll
Oppenheimer changes his mind about the H-bomb
1
...
5
6
7
8
9
...
13
This work had to come to a head with some definite prediction. And we wanted to show the progress of the burning front. The Atomic Energy Commission had its so-called General Advisory Committee, of which Robert Oppenheimer was the chairman and most influential member. And it had had a meeting in May of 1951, and I think it was Building E of the Institute for Advanced Study. We met in a room on the ground floor, which is the size of a small conference room. And I found myself giving account of what we were doing, the analysis. And I told about the calculations that were under way, but I couldn't report any results at that moment. But then there was a tap at the window, and there, right outside the window, was you, Ken Ford, and there was this roll of computer output, all charted up, plotted. And you handed it through the window, I unrolled it, stuck it to the blackboard, and it showed dramatically how this flame worked forward. And that was when Oppenheimer concluded that he would change his mind, instead of regarding the H-bomb as impossible, it was, as he put it, technically sweet. The results of our calculations and not only for the original design but variations in the design, we reported by trips, usually every month, to Los Alamos, and the design group at Los Alamos altered their plans accordingly. Finally, we approached the great date of the test, November 1st, 1952, the so-called Mike Shot, Eniwetok in the Pacific. And I'm sorry to say that I was the only one in our group allowed to go out to the test.
John Wheeler, one of the world's most influential physicists, is best known for coining the term 'black holes', for his seminal contributions to the theories of quantum gravity and nuclear fission, as well as for his mind-stretching theories and writings on time, space and gravity.
Title: Oppenheimer changes his mind about the H-bomb
Listeners: Ken Ford
Ken Ford took his Ph.D. at Princeton in 1953 and worked with Wheeler on a number of research projects, including research for the Hydrogen bomb. He was Professor of Physics at the University of California and Director of the American Institute of Physicists. He collaborated with John Wheeler in the writing of Wheeler's autobiography, 'Geons, Black Holes and Quantum Foam: A Life in Physics' (1998).
Duration: 3 minutes, 11 seconds
Date story recorded: December 1996
Date story went live: 24 January 2008