NEXT STORY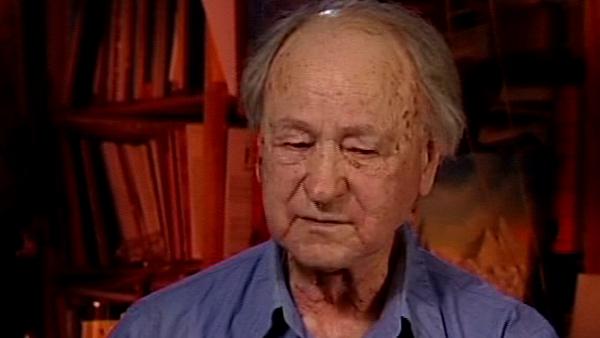 As I Was Moving Ahead Occasionally I Saw Brief Glimpses of Beauty
1
...
9
10
11
12
13
14
Diaries, be it film or written diaries is just a variety of fiction, because the processes is not very different. Okay, between written and film diary is... you... in the evening and you're writing some of notes on what happened that day, but you are already somewhere else, you're maybe already tired, you ate already, your thoughts are... you're already... memories of that day, or if you're thinking about the previous day, they are completely already changed by where you are at that moment and what you write down is already something else, it's already a variety of fiction. Of course, when one writes a... okay, you go to Dostoevsky or you go to... to Tolstoy or there is the use of personal experiences integrated there, you know, and you don't notice or that, you know... you know, in the mind that whatever he's writing there about this guy lying and dying there and about the experience of, you know, dying or... he has sort of deducted from, you know, observations from his own life and friends etc.
Here, when you write the day you sum up your day or the week or writing memoirs it's, you know, more personal and more direct but it is... it becomes fiction. So when I'm filming, if I would... my camera would be running 24 hours non-stop, then I would say, huh, it's some kind of real, you know, life, there is 24 hours with no planning and no, if you wouldn't move even the camera, if it would be just running, no discrimination of... But I don't do that, I only pick up, like, maybe five seconds or maybe half a minutes on some day or in some week. So how can this represent the real, you know, realistic life. Of course it's... there might be some reasons behind it, why I decide to do... to film that moment only those seconds and those reasons are very, very deep, I am not aware of them, so what I'm making up and when I'm putting them, first there are those bits that. And then when I begin to put them together and I am again somewhere else 25 years later like or 10 years later, then I see it all then completely differently and I don't... I ignore, you know, the... don't remember all the details, the background, the circumstance that I filmed. It's there, you know, that footage.
So, again, I begin to impose and structure from the point in... in time where I am now, so it's of course whatever... what Dostoevsky wrote it's really... it's Dostoevsky, and whatever... and my film, when I put it together As I Was Moving Ahead... of course it's me, but also it's... it's fiction, it's fiction. Same, and... and plus, I'm not the only one during this period that is doing that. The whole thing started like 50 years ago or so in the second part of the 20th century when many writers and not only writer's turned to this to very sort of more personal... using themselves as part of their art from literature to... there are various different varieties which, like, what Norman Mailer did and what Max Frisch does, it's very different. Actually, I'm more with Max Frisch but it exists. It's all... I think we got a little bit tired of... of very strict academic kind of novel, so that when we see what some of the most current German or Hungarian or novelistic criteria, it's very autobiographical. Very, I mean – everywhere it's happening today. Sebald or Kertesz, Imre Kertesz, it's very, very autobiographical, very... not exactly diarisitic, more... So it's... it's big subject, of course. Then we go to, of course, to Anais Nin, and of course you see... you don't... people, diaries. Oh, now we're going to find out everything about them. No, I'm not Anais Nin. We're very different, there you find, you know, very personal, much more personal, of course, I'm all in but it's in a different way, and as I say, As I was Moving Ahead... as a joke, you have to know who to read it.
Jonas Mekas (1922-2019), Lithuanian-born poet, philosopher and film-maker, set up film collectives, the Anthology Film Archive, published filmzines and made hundreds of films, all contributing to his title as 'the godfather of American avant-garde cinema'. He emigrated to America after escaping from a forced labour camp in Germany in 1945.
Title: My films are my diaries
Listeners: Amy Taubin
Amy Taubin is a contributing editor for "Film Comment" magazine and "Sight and Sound" magazine. Her book, "Taxi Driver", was published in 2000 in the British Film Institute's Film Classics series. Her chapter on "America: The Modern Era" is part of "The Critics Choice" published by Billboard Press, 2001, and her critical essays are included in many anthologies, mostly recently in "Frank Films: The Film and Video Work of Robert Frank" published by Scalo.

She wrote for "The Village Voice" weekly from 1987 into 2001 both as a film and a television critic. She also wrote a column for the "Village Voice" titled "Art and Industry" which covered American independent filmmaking. Her first weekly film criticism job was at the "SoHo Weekly News". Her writing has also appeared in "Art Forum", the "New York Times", the "New York Daily News", the "LA Weekly", "Millennium Film Journal", "US Harpers Bazaar" and many other magazines. She is a member of the National Society of Film Critics and the New York Film Critics Online.

She started her professional life as an actress, appearing most notably on Broadway in "The Prime of Miss Jean Brodie", and in avant-garde films, among them Michael Snow's "Wavelength", Andy Warhol's "Couch", and Jonas Mekas' "Diaries, Notebooks and Sketches".

Her own avant-garde film, "In the Bag" (1981) is in the collection of the Museum of Modern Art and the Friends of Young Cinema Archives in Berlin.

She was the video and film curator of "The Kitchen" from 1983-1987.

She has a B.A. from Sarah Lawrence College and an M.A. from N.Y.U. in cinema studies. She teaches at the School of Visual Arts in both the undergraduate and the MFA graduate programs, and lectures frequently at museums, media centers, and academic institutions. In 2003, she received the School of Visual Arts' art historian teaching award.
Tags: As I Was Moving Ahead Occasionally I Saw Brief Glimpses of Beauty, Max Frisch, Imre Kertesz, WG Sebald, Anais Nin, Fyodor Dostoevsky
Duration: 6 minutes, 27 seconds
Date story recorded: September 2003
Date story went live: 29 September 2010