NEXT STORY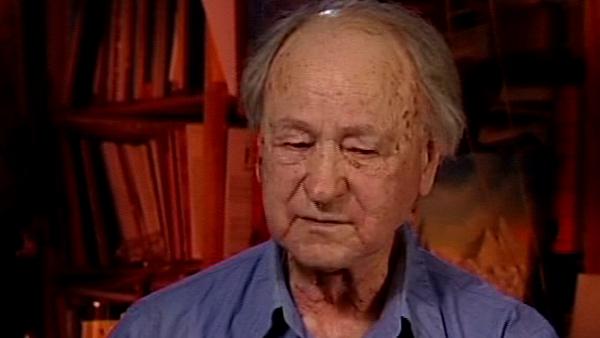 Joseph Cornell
Peter Kubelka surprises Ira Cohen
1
...
10
11
12
13
14
Peter Kubelka I met for the first time... I had heard of Peter Kubelka's work in Vienna and he brought his film Arnulf Rainer for the premiere at that festival at the Knokke-Le-Zoute Film Festival in that Experimental Film Festival in Knokke-Le-Zoute in December 1964. And I saw the film and I was amazed and I could not believe that because the rest of the films at the festival were not that... not that exciting and then it comes Arnulf Rainer. I see the film and then I hear the film ends and there is silence and I see that nobody's excited about it except me and I walk out into the lobby and I see this solid, pretty stocky young man walking back an forth and sort of very depressed so I knew it has to be Peter. He knew that the reaction would be, you know, very negative so I knew it was Peter Kubelka. So I came and introduced myself and that's how we met. And so the friendship began there.
Later he came in '66, he was, for one year... the film... in charge of United Nations Film Department and we... and he was editing at that time Unsere Afrikareise, another of his masterpieces, great films, and he was also doing a lot of... during that period he also became the Judo champion of the New York state and, of course, you can imagine what competition there was in New York state. But he... and then the press, after he won, the press asked him – the newspaper photographers – to repeat and demonstrate some of his techniques and during the demonstration he twisted his wrist and that was the end of his Judo career. He's still very good and he can, you know...
Actually, if we talk about Peter Kubelka, here is an anecdote. Anthology's opening was on... Anthology Film Archive, took place on 30th November 1970. We had a big party, everybody was there, not only avant-gardes but, you know, Otto Preminger and, you know, those were all our friends. Preminger was very friendly to the avant-garde. He said, 'When I go home I will beat up my kid because he's not making films like you', he used to say. So everybody there and we... the policy at Anthology in those days was that nobody's permitted to go into the theatre after the show starts because it was a very specially designed theatre designed by Peter Kubelka, of course, where you... it was all black and the seats designed so that you could not see who is sitting before you, in front of you or even who is on the side of you. They were separated – sort of like blinders – and there was an empty seat, of course, if you walk in you want to know where that seat is so what's the sense walking in. So the rule was not to permit anyone in. So there is... we were having a great party and then somebody, the big guy – actually, it was Ira Cohen – was trying to walk in and there, women in charge of the doors said, 'No, you cannot go in'. 'So, who's going to stop me?' And Peter was there, so Peter says, 'Please, don't go in there's, rules'. 'Who's going to stop me?' He says, 'I'm going to stop you'. So Peter, of course, is... was pretty, you know, bulky and solid, but not as bulky and solid as Ira Cohen. So Ira looked at going to start is marching in. So Peter just took... it was so fast that... that I think it took his... he was in a long coat, took his coat, like, with one had, one, two fingers wrapped up twisted and there was Ira Cohen on the ground. So he, Ira Cohen, does not believe, he cannot believe. He stands up and he's again on the floor, on the ground. So four times he got up and... and because he just could not believe it, every time he went was on the floor. Then Peter had enough so he just put his fingers, finger on him and Ira Cohen couldn't move and then he let him go. So Ira Cohen realised he cannot do anything and against Peter so he went walked out smashing every plate that the servers, women, girls, that we had engaged... had in their hands for their guests. He just smashed them all and he walked out. That was the opening. But we all had a great time, it was a great opening.
Jonas Mekas (1922-2019), Lithuanian-born poet, philosopher and film-maker, set up film collectives, the Anthology Film Archive, published filmzines and made hundreds of films, all contributing to his title as 'the godfather of American avant-garde cinema'. He emigrated to America after escaping from a forced labour camp in Germany in 1945.
Title: Peter Kubelka surprises Ira Cohen
Listeners: Amy Taubin
Amy Taubin is a contributing editor for "Film Comment" magazine and "Sight and Sound" magazine. Her book, "Taxi Driver", was published in 2000 in the British Film Institute's Film Classics series. Her chapter on "America: The Modern Era" is part of "The Critics Choice" published by Billboard Press, 2001, and her critical essays are included in many anthologies, mostly recently in "Frank Films: The Film and Video Work of Robert Frank" published by Scalo.

She wrote for "The Village Voice" weekly from 1987 into 2001 both as a film and a television critic. She also wrote a column for the "Village Voice" titled "Art and Industry" which covered American independent filmmaking. Her first weekly film criticism job was at the "SoHo Weekly News". Her writing has also appeared in "Art Forum", the "New York Times", the "New York Daily News", the "LA Weekly", "Millennium Film Journal", "US Harpers Bazaar" and many other magazines. She is a member of the National Society of Film Critics and the New York Film Critics Online.

She started her professional life as an actress, appearing most notably on Broadway in "The Prime of Miss Jean Brodie", and in avant-garde films, among them Michael Snow's "Wavelength", Andy Warhol's "Couch", and Jonas Mekas' "Diaries, Notebooks and Sketches".

Her own avant-garde film, "In the Bag" (1981) is in the collection of the Museum of Modern Art and the Friends of Young Cinema Archives in Berlin.

She was the video and film curator of "The Kitchen" from 1983-1987.

She has a B.A. from Sarah Lawrence College and an M.A. from N.Y.U. in cinema studies. She teaches at the School of Visual Arts in both the undergraduate and the MFA graduate programs, and lectures frequently at museums, media centers, and academic institutions. In 2003, she received the School of Visual Arts' art historian teaching award.
Tags: Arnulf Rainer, Unsere Afrikareise, Peter Kubelka, Otto Preminger, Ira Cohen
Duration: 6 minutes, 14 seconds
Date story recorded: September 2003
Date story went live: 29 September 2010