NEXT STORY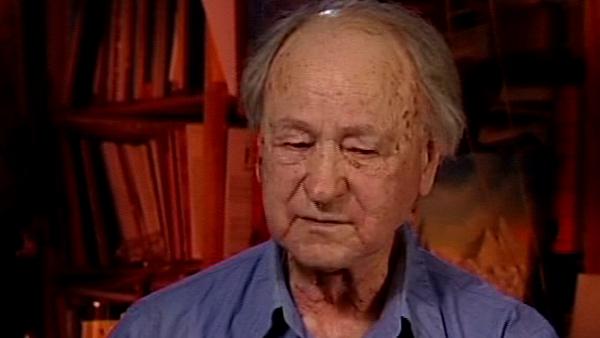 Different lives
1
2
3
4
5
6
...
14
In the displaced person camps I'm... I took some... there were some courses of English and I took some. Already I remember on the ship, the army ship, that brought me to the States, I read and quite freely read Hemmingway's, Farewell to Arms. Now, Hemmingway, I guess, for those who speak English, they don't realise that he used... if Shakespeare used 40,000 words then maybe Hemmingway used 2,000 words. His prose has very limited vocabulary, at least that book, in others it may be more complicated, but he's very good when you're just beginning to read English. But, of course, as soon as we landed we zoomed through all of American literature, which then, later, we realised that only we did and the others finished schools, universities without reading and knowing - you know we read all of Faulkner, we read all of dos Passos, all of Farrow... and our friends had read only one or even then, the Kerouac... works of Jack Kerouac, nobody that I had met has read the first, his first novel that he wrote in Canada I think, The City and, In the Town and The City were something like that, a very big one of 600 pages. So, of course, we wanted to be writing.
[Q] And were you writing?
We did not at all consider ourselves filmmakers, and that's what we're going to do. We thought we would be writers.
[Q] And when you thought you'd be writers did you think you'd be writing in Lithuanian or English? Did you have an idea?
No. Actually, my brother picked up easier and faster by being in the army, the English, and he wrote several novels in English which none of them were published, and later all of them were, I think, burned when his house burned. He wanted to write in English and so he wrote in English and he published some short stories and some, you know, film periodicals, magazines, literary magazines here. But I never, it was, I guess, me who did not consider, I did not consider really writing in English; I continued all my poetry, you know, in Lithuanian, and maybe it's me who gravitated more sort of to cinema because of that. I did not... I did not know really, and it's not clear how, you know, I went in towards poetry and suddenly just realised that I'm all in the middle of it, but how I didn't realise, I don't know. In all the aspects, of course, I joined Voice in '58, in 1958. So first, you know, as editor of Film Culture, but not so much, so I guess I began more like, I did not intend or want or was ready or was capable or was, to write a prose or anything near to poetry, you cannot write poetry in any language, but your own because poetry is too subtle an, you know, instrument of language. So, yes, more or less like that, but I always kept scribble, writing my notes, diaristic notes, diaries of which, again, I now almost regret that I wrote so much because I'm editing now them for publication and just a year I'm now on the year 1960; it's a big one, and it takes me two, three, four months almost for every year, so I don't know when I'm going to be finished. But on the other hand, most, the years '60,'61 between '60 and '70, every year, you know, there are big stacks, I later sort of thin out. So, actually my biggest challenge is to prepare for publication, the diaries of between '60 and' 70 and the rest will be easier.
[Q] And so, the diaries you always kept in English?
In English, all those diaries. And how, why it began that way, I started that one way to learn English is to begin to write in English. So, I started as practicing, I forced myself not to write, the first years I wrote in Lithuanian a lot, but then I said this is fool... because I have to learn English, so I started... forced myself not to write in Lithuanian, my diaries, and write only in English just to help myself to master the language, which I have never even mastered. That's something else. Nam June Paik says English is as bad as his.
[Q] No. No way.
Jonas Mekas (1922-2019), Lithuanian-born poet, philosopher and film-maker, set up film collectives, the Anthology Film Archive, published filmzines and made hundreds of films, all contributing to his title as 'the godfather of American avant-garde cinema'. He emigrated to America after escaping from a forced labour camp in Germany in 1945.
Title: Learning English
Listeners: Amy Taubin
Amy Taubin is a contributing editor for "Film Comment" magazine and "Sight and Sound" magazine. Her book, "Taxi Driver", was published in 2000 in the British Film Institute's Film Classics series. Her chapter on "America: The Modern Era" is part of "The Critics Choice" published by Billboard Press, 2001, and her critical essays are included in many anthologies, mostly recently in "Frank Films: The Film and Video Work of Robert Frank" published by Scalo.

She wrote for "The Village Voice" weekly from 1987 into 2001 both as a film and a television critic. She also wrote a column for the "Village Voice" titled "Art and Industry" which covered American independent filmmaking. Her first weekly film criticism job was at the "SoHo Weekly News". Her writing has also appeared in "Art Forum", the "New York Times", the "New York Daily News", the "LA Weekly", "Millennium Film Journal", "US Harpers Bazaar" and many other magazines. She is a member of the National Society of Film Critics and the New York Film Critics Online.

She started her professional life as an actress, appearing most notably on Broadway in "The Prime of Miss Jean Brodie", and in avant-garde films, among them Michael Snow's "Wavelength", Andy Warhol's "Couch", and Jonas Mekas' "Diaries, Notebooks and Sketches".

Her own avant-garde film, "In the Bag" (1981) is in the collection of the Museum of Modern Art and the Friends of Young Cinema Archives in Berlin.

She was the video and film curator of "The Kitchen" from 1983-1987.

She has a B.A. from Sarah Lawrence College and an M.A. from N.Y.U. in cinema studies. She teaches at the School of Visual Arts in both the undergraduate and the MFA graduate programs, and lectures frequently at museums, media centers, and academic institutions. In 2003, she received the School of Visual Arts' art historian teaching award.
Tags: Farewell to Arms, The Town and the City, Ernest Hemingway, William Faulkner, John dos Pasos, Jack Kerouac
Duration: 6 minutes, 23 seconds
Date story recorded: September 2003
Date story went live: 24 January 2008