NEXT STORY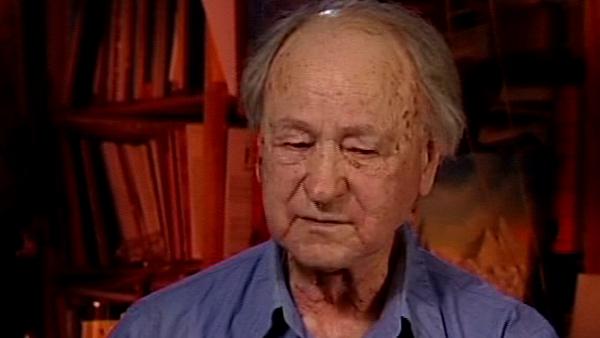 Founding Anthology Film Archives
The Film-Makers' Cinematheque
1
...
8
9
10
11
12
...
14
When George Maciunas organised the first Fluxus Cooperative – that was the first Cooperative – that was the beginning of Soho on 80 Wooster Street, I decided to join it and we took ground... basement and ground floor for the Film-Makers' Cinematheque. I mean, it did not exist but, you know, we decided that that location, that venue, that for exhibition – we will call it the Film-Makers' Cinematheque. But we had a lot of problems with the building department, they said, this is wrong and that is wrong and somewhere around... that was in 1967.
In 1969, we had to discontinue screening there and we moved to the... what was know as Huntington Hartford Building and which was also known as the Swiss Cheese building on 60... 59th Street and 8th Avenue. At the same time, when that was happening, there was a dissatisfaction amongst some of my very close friends about my screening programming policies at the Film-Makers' Cinematheque. My policy was very, like, open. I knew... I mean, that there is no other place, this is the only place at the time, practically, and I have to be very open and permissive and that is... it was the accusation, I was too permissive in my programming and showing. Now the irony of all this, of course, later that whatever I showed there later it was... all became classics of avant-garde film. But... so, at the same time since there was this criticism, I thought just exactly the same. Around the same time Jerome Hill was called by this friend Martinson of the Martinson Coffee fame, they were in the army together, they became very good friends and when Martinson became the chairman of the Shakespeare Theatre, the Public Theater, on Lafayette Street, and began renovating the building for 25 Lafayette, he said, 'There is some space here, maybe you want to do something, you know, for cinema'. So Jerome called me and said, 'Do you want to do something here?' I said, 'Why not?' 'Good'.
But at the same time I was... what I was already planning since George, George, the first two buildings that George had acquired for the Cooperatives was 80 Wooster and there was another building on Greene Street practically on the corner of Canal Street. So I put... Jerome, actually, Hill, put the deposit monies on both buildings on the ground floors and basements. And the idea was since there was a dissatisfaction about my programming that 80 Wooster will remain very open, the way I had... and the Greene Street building will become Cinematheque 2 which will be like an academy of very selected, very selected, it won't be open very much. And it was at that time that Jerome called me and said, 'We have this space at 425 Lafayette'. So, then I abandoned the Greene Street and took it and just went ahead at 425 Lafayette. And since I was too busy and I also was like fed up with all my screening activities, I just wanted to quit and just do my own work and have nothing to do with that anymore. So I called to P Adams Sitney who was in Europe at that time. I said, 'Come and take over this new situation'. So, he came and he became the first director of what became Anthology Film Archives.
Jonas Mekas (1922-2019), Lithuanian-born poet, philosopher and film-maker, set up film collectives, the Anthology Film Archive, published filmzines and made hundreds of films, all contributing to his title as 'the godfather of American avant-garde cinema'. He emigrated to America after escaping from a forced labour camp in Germany in 1945.
Title: The Film-Makers' Cinematheque
Listeners: Amy Taubin
Amy Taubin is a contributing editor for "Film Comment" magazine and "Sight and Sound" magazine. Her book, "Taxi Driver", was published in 2000 in the British Film Institute's Film Classics series. Her chapter on "America: The Modern Era" is part of "The Critics Choice" published by Billboard Press, 2001, and her critical essays are included in many anthologies, mostly recently in "Frank Films: The Film and Video Work of Robert Frank" published by Scalo.

She wrote for "The Village Voice" weekly from 1987 into 2001 both as a film and a television critic. She also wrote a column for the "Village Voice" titled "Art and Industry" which covered American independent filmmaking. Her first weekly film criticism job was at the "SoHo Weekly News". Her writing has also appeared in "Art Forum", the "New York Times", the "New York Daily News", the "LA Weekly", "Millennium Film Journal", "US Harpers Bazaar" and many other magazines. She is a member of the National Society of Film Critics and the New York Film Critics Online.

She started her professional life as an actress, appearing most notably on Broadway in "The Prime of Miss Jean Brodie", and in avant-garde films, among them Michael Snow's "Wavelength", Andy Warhol's "Couch", and Jonas Mekas' "Diaries, Notebooks and Sketches".

Her own avant-garde film, "In the Bag" (1981) is in the collection of the Museum of Modern Art and the Friends of Young Cinema Archives in Berlin.

She was the video and film curator of "The Kitchen" from 1983-1987.

She has a B.A. from Sarah Lawrence College and an M.A. from N.Y.U. in cinema studies. She teaches at the School of Visual Arts in both the undergraduate and the MFA graduate programs, and lectures frequently at museums, media centers, and academic institutions. In 2003, she received the School of Visual Arts' art historian teaching award.
Tags: Film-Makers' Cinematheque, 80 Wooster Street, Anthology Film Archives, George Maciunas, Jerome Hill, P Adams Sitney
Duration: 5 minutes, 38 seconds
Date story recorded: September 2003
Date story went live: 29 September 2010