NEXT STORY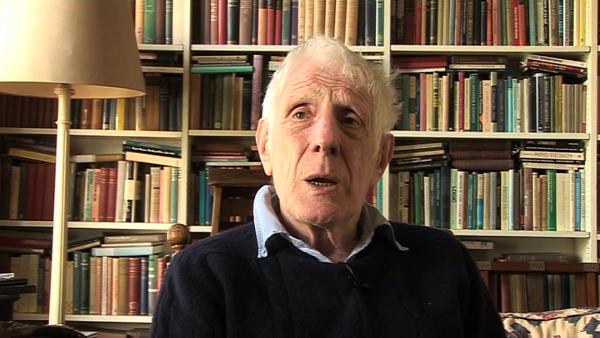 Location of the soul
Medical students don't have time for theatre
Jonathan Miller
Theatre director
1
2
3
4
5
I enjoyed myself there. I had a good time learning how to be a scientist, or learning how to acquaint myself with science. And I enjoyed my time in the Apostles, and I liked that world of the Backs and long discussions at night. I don't think I ever thought of it as paradise. I was pleased by what I was being taught, was fascinated by the problems that people like Russ Hanson introduced me to, and I think I enjoyed my weekends in Morgan Forster's rooms.
And, of course, there was the charm of visiting villages outside Cambridge and walking in Grantchester Meadows and so forth, but I don't think I ever thought of it as paradise. And contrary to what people think, I was not enormously involved in the theatre. I appeared twice, without being a member of the club, in the Footlights' May Week Review, and I did some comic stuff and I think attracted a fair amount of attention. I think I was really quite a competent comic, and had been once or twice at school when I was at St Paul's, but it certainly didn't take up any of my time, and I was never in the Footlights Club where they used to meet once a week and do stuff in the way that Peter Cook did. He was a member of the Footlights and I wasn't. I wasn't even a member of the ADC.
I appeared once in one of the plays at the Marlow Society. I played Sir Politic Would-be, and… directed by, I think by Dadie Rylands, but it took up none of my time. It was quite impossible if you were a medical student to spend too much time being in the theatre, as so many people like Trevor Nunn and Peter Hall, who obviously went to Cambridge with a view to being in the theatre. I went to Cambridge with a view to being a medical scientist, and also took up a lot of my time, you know, thinking about philosophy and knocking around with people who were, I suppose you might've called them… I flinchingly call them so… intellectuals.
People like Neil Ascherson, for example, who was an Apostle when I was there. Runciman, Garry Runciman and Chris Foster and people like that, they were all in the Apostles and it was just a world of intelligent gossip. But by no means did I think of it as paradise. There were long sort of hot summer terms and punting, but I was already pretty well engaged to the wife who you've just met.
[Q] I was going to ask you, I was going to say do you mind if I ask if women played [sic]…
No, there was my wife, that was all. I knew her before, we had met at St Paul's, actually, at a joint play reading between the girls' school and the boys' school. I think she was rather reluctant to go out with me, she thought of me as rather a pushy bugger. But her sister was at Cambridge and was actually in the ADC and used to act, and she later married Karl Miller.
I got associated with Granta. I used to do cartoons for Granta. This was the year after Mark Boxer had left when he was expelled for publishing, I think, what was regarding as an obscene… no, as a blasphemous verse. But Granta by that time under a different title, I think it was called Gadfly at that time because the proctors had forbidden the existence of Granta after this blasphemous publication, and my brother-in-law was the literary editor of Granta.
I don't think I ever wrote anything for them but I did do cartoons for them from time to time including a cartoon of which I was rather proud showing a bearded man with a long overcoat, his hands in his pockets, and instead of feet, coming out from his trousers are a pair of wheels and underneath I had 'God moves in a mysterious way'. And I did a number of cartoons and so, I mean, I had a nice time there and I was amused by my time, but also rather fascinated by what I was being taught by these rather interesting physiologists and anatomists as well. But I, by that time, was thinking, well, what's going to happen when I go down to London and go to University College?
[Q] Did you do anatomy at Cambridge?
Yes, in order to do… the natural sciences which were required of you in order to qualify to take up clinical medicine… you had to get… you had to do anatomy, physiology, biochemistry and pathology, and I had begun doing that and found them rather interesting, I had a good time doing that. And also I was in Cambridge, I went to Cambridge the very year, though I didn't know of it when it actually happened, when Crick and Watson had burst into the Eagle Pub with the information that they had solved the secret of life. And indeed they had just published their great paper on DNA. I don't think I knew anything about it at that time, my biochemistry wasn't up to it. I knew something about genetics but certainly not enough to take on that until really several years later.
Jonathan Miller (1934-2019) was a British theatre and opera director. Initially studying medicine at Cambridge, Sir Jonathan Miller came to prominence with the production of the British comedy revue, Beyond the Fringe. Following on from this success he embarked on a career in the theatre, directing a 1970 West End production of The Merchant of Venice starring Laurence Olivier. He also started directing opera, famously producing a modern, Mafia-themed version of Rigoletto.
Title: Medical students don't have time for theatre
Listeners: Christopher Sykes
Christopher Sykes is a London-based television producer and director who has made a number of documentary films for BBC TV, Channel 4 and PBS.
Tags: Cambridge University, the Apostles, Footlights May Week Revue, ADC Theatre, The Mahler Society, St Paul's College, Granta Magazine, Norwood Russell Hanson, Peter Cook, Trevor Nunn, George Rylands, Dadie Rylands, Peter Hall, Gary Ransom, Neal Ascherson, Christopher Foster, Carl Miller, Francis Crick, James Watson
Duration: 5 minutes, 58 seconds
Date story recorded: July 2008
Date story went live: 23 December 2008