NEXT STORY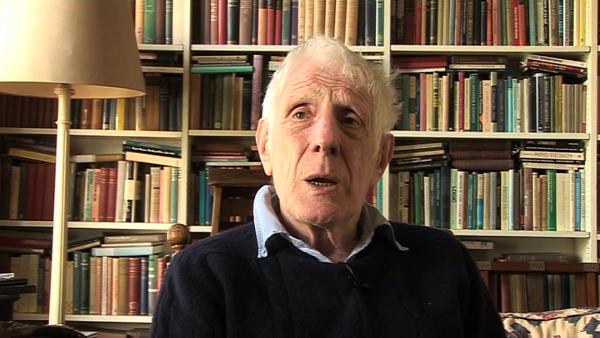 Death is not an exit
Jonathan Miller
Theatre director
1
2
3
4
5
I can remember on the first day of going into the anatomy building with a lot of us rather, sort of, hugging ourselves with fear of our forthcoming encounter with the dead. And there were these chilly stone floors with this frosted glass doors leading into the dissecting room, and people were wondering whether they we going to flinch at the spectacle of these dead bodies. And I can remember the door opening and there was this long vista of tables with these grey, mummified corpses which had been collected, looking not unlike those stone corpses which you see in Pompeii. And I don't think I was ever, sort of, horrified by it, I just went about it, and my first morning of dissection making the cut in these rather greasy skins. I remember talking to a brown overalled superintendent, and I said what's it like working here, this was some weeks after, I asked him and he said, 'Oh, it's all right here in the term when you gentlemen are here, it's the vacations I can't stand when it's just me and them'.
But we became, you know, carelessly indifferent to the dead. And I can remember seeing people at the end of the day holding a dismembered arm over their shoulder as they strolled towards the tank in which they were going to dump the limb to be in formaldehyde until they started work the next morning. It was a sort of careless indifference. I enjoyed it, I enjoyed just gradually opening up these bodies.
But then I was completely familiar with dissection, in any case, not with human dissection, but I'd done a lot of dissection in the previous three years at St Paul's. I'd done lots of invertebrate dissection and a lot of vertebrate dissection as well, so the dissection itself was something that I was rather competent at. I could do it carefully and well and conscientiously, and I enjoyed tracing the origin of nerves up the arm and into the brachial plexus and finally to their outlet in the cervical spinal cord. All that seemed to me to be worth doing properly and I enjoyed that very much indeed. And I enjoyed the anatomy lessons, a man called Boyd, Professor Boyd, who was a… who'd written a wonderful book on embryology called Hamilton, Boyd and Mossman, so he introduced us to human embryology, and I enjoyed that, and I retained an interest in how things assume their complicated shapes starting from such unpromising beginnings as a fertilised egg.
And I enjoyed all that and I enjoyed the anatomy of the nervous system and learning what the brain looked like in various sections. But remained completely puzzled by where these various initiatives, one would call actions, originated, and asking myself questions, is it reasonable to say that they originated anywhere? Certainly, I didn't find myself looking for the soul. I knew that everything that happened both perceptions and actions were implemented by the brain but I didn't think that I would eventually, like Descartes, think that there was one place which was where I was.
I certainly wasn't, nor did I think that any of these dead individuals were anywhere in particular. They certainly weren't in their hearts and they weren't in their livers, and although, in fact, without their brains they would've have been them, I found it rather perplexing in what sense they could be said to be in their brains. I didn't feel that… I knew that without their brains they wouldn't have been people or the individuals or the persons that they claimed to be, but that unlike, as I say, Descartes, who actually felt that you could identify the pineal gland as the seat of the soul, but by that time I wasn't interested in soul.
Jonathan Miller (1934-2019) was a British theatre and opera director. Initially studying medicine at Cambridge, Sir Jonathan Miller came to prominence with the production of the British comedy revue, Beyond the Fringe. Following on from this success he embarked on a career in the theatre, directing a 1970 West End production of The Merchant of Venice starring Laurence Olivier. He also started directing opera, famously producing a modern, Mafia-themed version of Rigoletto.
Title: Location of the soul
Listeners: Christopher Sykes
Christopher Sykes is a London-based television producer and director who has made a number of documentary films for BBC TV, Channel 4 and PBS.
Tags: St Paul's College, Human Embryology, HW Hamilton, WJ Boyd, HW Mossman, René Descartes
Duration: 4 minutes, 39 seconds
Date story recorded: July 2008
Date story went live: 23 December 2008