NEXT STORY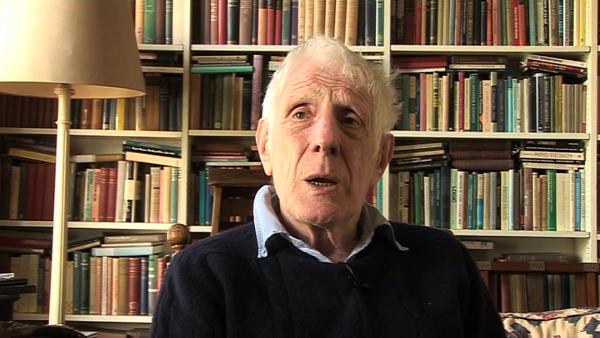 Why I enjoy theatre
Out of the academic world
Jonathan Miller
Theatre director
1
2
3
4
5
[Q] What was happening to medicine then?

It had gone completely. I mean, I was not doing it. I kept up with my own subject, I'd go on reading about it and I kept on intermittently going back and doing things. I spent two years in which I abandoned this subject, I mean, I abandoned the theatre altogether and I went to... I had a research fellowship at the University College in the Wellcome Foundation and was doing stuff on the history of mesmerism, which I never completed the book of, but I wrote a lot of stuff about it. And then many years later I went back and got a Leverhulme Fellowship at Sussex doing work in neuropsychology. And I, you know, working with someone else, published a paper. But then I drifted back into the theatre... I was out of it by that... I was out of the academic world really, though at ease in it as well, at the same time. I was able to keep up and talk and converse because I kept up the, you know, the... the interest and the reading. I mean, I know what people are talking about in this area, in many of these areas which I'm interested in. But they're all related to one another, it's not as if I've splattered around into... I mean... there are literally thousands of areas about which I know nothing. But, of course, to these rather vulgar journalists knowing more than three things is being a Renaissance man.
[Q] Do you... do you sometimes think... I mean many, many people good be doctors, and even neurologists, and possibly even make major discoveries in neurology...
Yes.
[Q] ... probably would have done... the ones you might have done, or someone else might have made them. I mean, whereas its far less likely that anybody could've been the perosn who did the original work that you did in films, in theatre and in opera?
Well, I don't know whether it's... possibly. I've never known. I mean, I quite... the works that I've done... a number of the works... I know that there are people who are delighted by what I have done and they come out of the theatre or the opera or whatever it is, or the television, saying the funny thing is it's made me realise that I hadn't really seen that work before, now I understand it in a different way. And that's all I set out to do. If I... yes, of course I hope that it's going to be different because that's the point of taking works from the past and finding aspects of them which had previously remained concealed or unrealised, that's the point of doing it. Otherwise there's no point just simply reviving them and... and, you know, like a Danish bog man.
Jonathan Miller (1934-2019) was a British theatre and opera director. Initially studying medicine at Cambridge, Sir Jonathan Miller came to prominence with the production of the British comedy revue, Beyond the Fringe. Following on from this success he embarked on a career in the theatre, directing a 1970 West End production of The Merchant of Venice starring Laurence Olivier. He also started directing opera, famously producing a modern, Mafia-themed version of Rigoletto.
Title: Out of the academic world
Listeners: Christopher Sykes
Christopher Sykes is a London-based television producer and director who has made a number of documentary films for BBC TV, Channel 4 and PBS.
Tags: University College, Wellcome Foundation, Sussex
Duration: 3 minutes, 7 seconds
Date story recorded: July 2008
Date story went live: 23 December 2008