NEXT STORY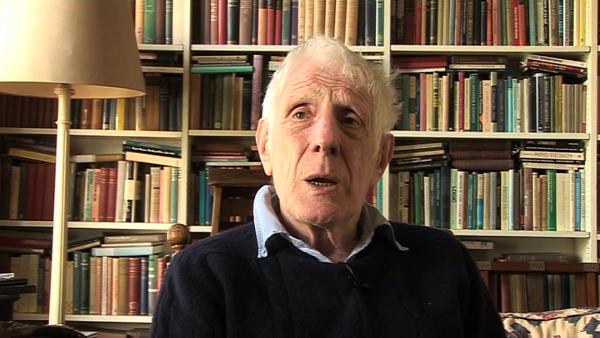 Studying shell shock after World War I
WHR Rivers' influence on my father
Jonathan Miller
Theatre director
1
2
3
4
5
And my parents must've met one another, I suspect, in the late 1930s when my father was already well established and one of the founders, if not the founder of child psychiatry in England.
Now, he, not withstanding his Lithuanian Jewish ancestry, was already a pretty assimilated person. He went to Cambridge in about 1907 where he studied first of all moral science, in other words did philosophy, at St John's College, which is the college I went to nearly 50 years later, and then he took up what was then called, and still is called, Natural Sciences. He did zoology and botany, and I think by that time was interested in becoming a doctor.
He was taught at Cambridge by a number of interesting figures, including perhaps the most interesting of all, his tutor was a man called Rivers, WH Rivers, who figures in Pat Barker's books about the First World War. Rivers was a… he was a visual physiologist, first of all. He wrote the 200-page chapter on vision for Schäfer's textbook of physiology.
And then in the late 1890s, in about 1898, he was invited by a colleague of his called Haddon, who was a zoologist who'd been studying invertebrate zoology in the Torres Straits up between the northern tip of Queensland and Papua New Guinea. And Haddon came back and was very struck by the fact that this was a… what it was then called, rather politically incorrect, a primitive culture which was disappearing under the influence of Christian missionaries and the new industry of pearl fishing. And so he took Rivers, and my wife's great uncle, a man called Seligman, to do what to all intents and purposes was the first piece of field anthropology. Up to that time people like Tylor and Frazer had done their anthropology sitting comfortably in chairs in universities receiving reports from district commissioners, and… or district officers and missionaries, but this was the first time that a group of Europeans had actually gone and lived with the tribes.
So Rivers had come back to Cambridge, I think, in early 1900, by which time he had become an anthropologist, one of the first real British anthropologists. And he was my father's supervisor, and I think he was one of the first people to receive and publicise Freud's work, Rivers, that is. He wrote this famous book called Instinct and the Unconscious in the early 1900s, about 19… sort of 16, 17, and I suppose he must've had a great influence on my father.
Jonathan Miller (1934-2019) was a British theatre and opera director. Initially studying medicine at Cambridge, Sir Jonathan Miller came to prominence with the production of the British comedy revue, Beyond the Fringe. Following on from this success he embarked on a career in the theatre, directing a 1970 West End production of The Merchant of Venice starring Laurence Olivier. He also started directing opera, famously producing a modern, Mafia-themed version of Rigoletto.
Title: WHR Rivers' influence on my father
Listeners: Christopher Sykes
Christopher Sykes is a London-based television producer and director who has made a number of documentary films for BBC TV, Channel 4 and PBS.
Tags: 1930s, England, 1907, Cambridge University, St John's College, The Eye in the Door, Handbook of Physiology, 1899, Torres Strait, Queensland, New Guinea, Sigmund Freud, Instinct and the Unconscious, Emanuel Miller, Betty Miller, WHR Rivers, Pat Barker, EP Sharpey-Schafer, Alfred Cort Haddon, Edward Taylor, James Frazer, Henry Head
Duration: 3 minutes, 19 seconds
Date story recorded: July 2008
Date story went live: 23 December 2008