NEXT STORY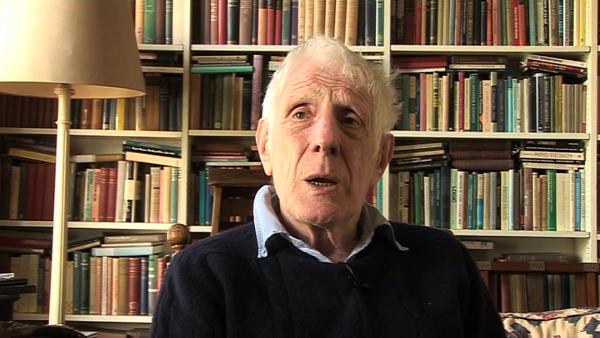 The Merchant of Venice
Così fan tutte
Jonathan Miller
Theatre director
1
2
3
4
5
I used to listen to what were then called gramophone records. I used to go to the Marylebone Public Library and get, you know, one after another of Beethoven's symphonies and piano concertos and all the Mozart symphonies on, you know, 12 inch gramophone records, and I'd listen to them. But I had no intention or interest in opera. I don't think I'd ever seen an opera at all when I was asked to do one. Roger Norrington rang me up once, and he lived around the corner from here, and he asked me if I'd like to do... to direct Così fan tutte. And I had already done a lot of plays, and I'd worked at The Old Vic with Olivier and had done the Merchant of Venice with him.
And I said I don't know, I've never done Così fan tutte. And I looked at the story, listened to the music, and I said, yes, I think I know how to do this. I know what it's about. It's not about fidelity, it's about identity. It's about what happens when you dress up and pretend to be someone else.
People think it's all about infidelity. Well that, of course, was one of the things that it's about, but the infidelity is the consequence of disguising yourself and finding that you are someone else. That's a much more interesting theme. But then, once again, I've done it many different ways, and people always assume that I... they take literally the idea that they dress as Albanians, as if they know what Albanians looked like in the 18th Century. I've done it traditionally three times, and then the fourth time I decided to do a really updated version of it and set in last Thursday afternoon. And it's one of the biggest successes Covent Gardens ever had.
[Q] The Armani one?
Well, it was Armani to begin with. But in the ten revivals of it I got rid of all the Armani stuff, but it was always called the Armani production. I just modernised it and it was a way of getting cheap costumes which we didn't have to pay for.
[Q] It was fabulous...
It was very good, but it got better and better and better... but it got better and better and better when I finally did it two years ago, and I didn't have them dressed as Albanians, nor in Armani costumes. I based them on these heavy metal bikers with their bandanas… and their heavy, you know - 'hey!' - and it was fantastic.
And I've always had Tom Allen playing it... playing Don Alfonso... whenever I've done it.
Jonathan Miller (1934-2019) was a British theatre and opera director. Initially studying medicine at Cambridge, Sir Jonathan Miller came to prominence with the production of the British comedy revue, Beyond the Fringe. Following on from this success he embarked on a career in the theatre, directing a 1970 West End production of The Merchant of Venice starring Laurence Olivier. He also started directing opera, famously producing a modern, Mafia-themed version of Rigoletto.
Title: "Così fan tutte"
Listeners: Christopher Sykes
Christopher Sykes is a London-based television producer and director who has made a number of documentary films for BBC TV, Channel 4 and PBS.
Tags: Così fan tutte, Royal Opera House, Covent Garden, Roger Arlington, Giorgio Armani, Thomas Allen
Duration: 2 minutes, 33 seconds
Date story recorded: July 2008
Date story went live: 16 August 2011