NEXT STORY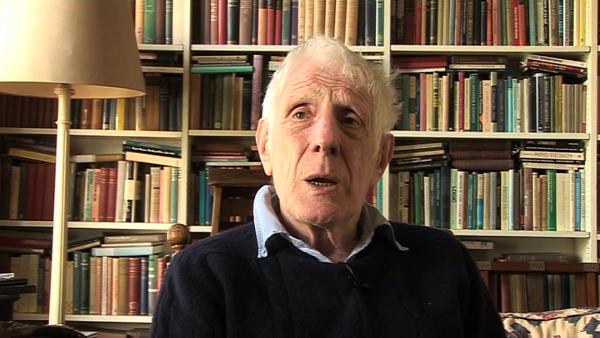 Rigoletto
The Merchant of Venice
Jonathan Miller
Theatre director
1
2
3
4
5
Well, it was rather surprising to be asked at the very early stage in my directing career to direct someone as distinguished and well established as Olivier, and someone as charismatic and famous and as celebrated as him. And when he called me up I think I was doing something and someone said it's Laurence Olivier in the phone and I said pull the other one, and there it was, he was on the phone and he asked me whether I would... first of all, I think he didn't think about being in the thing himself, he always wanted to do a Merchant of Venice in order to have his wife, Joan Plowright, appear as Portia. And I began to think about it and I thought, well, it would be rather nice to get away from that awful traditional way of doing it in period, and I thought of another period in which I might do it.
And I thought, well... I showed him these wonderful photographs of this man called the Count de Priuli, the Comte de Piuli, of Venice in the 1890s and I thought well, that might be a nice, and he suddenly said, I'll do it. And once we agreed, he was simply one amongst a number of actors who attended to my directing. And I think, if you read his autobiography, you will see that he, I think, had one of the best times in his life.
He didn't condescend to me as a great figure of the theatre with a young rookie impudently telling him what to do. I found myself recommending things that he did, and his eyes widening with surprise and delight that no one had ever asked him to do such things before.
There was a moment at which he discovered that one of Antonio's ships has gone down, and said, is it true, is it true, and then he said to me, what should I do? And I said, well, there's a marvellous newsreel of Hitler signing the Surrender of France in the railway carriage at Compiègne. And I said he does a crazy little dance, and I said, well, why don't you do that? And he said, oh, I love it, I love it. And he did it.
And I gave him a number of things which he... no one had ever asked him to do anything like that. And I asked him also not to do certain things, and no one had ever had the cheek to ask him not to do any of his traditional stuff. And I kept on saying, why are you doing that? No one actually does that. And he never argued, he said you're absolutely right, let's try it. And he was delighted with the idea and when he came in... I said, we'll do the court scene at the end. I said, I'm not going to do it in a court, I'll do it in Justice's Chambers so that everyone's sitting at a long table, these 19th Century figures, and you bring in this briefcase and click it open. He was delighted with the idea of a briefcase and very carefully selected so that it made wonderful click-click as he opened the fastener to open it. And he was delighted with being given the opportunity to work in a way which he had not previously been asked to work. And I think it was the first time that he had been consistently and unremittingly advised to do things which he found himself agreeing with and enjoyed it. At no point did he pull rank, and at no point did I impudently say that I was smarter than he was. It was just that we talked amiably and I came up, as an imaginative young man, with lots of really good ideas which absolutely eliminated the cliché versions of the stage Jew.
I mean he wanted to start it off with all sorts of, you know, Fagin sort of things when, you know, with the nose and I said, but I really don't need all that. I said he's just a businessman, let the anti-Semitism take care of itself. And he should look like someone perfectly normal, about whom his anti-Semitic colleagues have adverse views, notwithstanding the fact that he looks exactly like them. I said, believe me, I'm Jewish and I don't look like any of the traditional views, and I'm only a Jew for anti-Semites, and you should be Jewish only for these anti-Semites. So he… he did everything I asked him to do, and he did it with enthusiasm, there was no sense of surrender or giving in. Each time he took it, it was like passing a rugger ball, and he always caught it and ran with it.
Jonathan Miller (1934-2019) was a British theatre and opera director. Initially studying medicine at Cambridge, Sir Jonathan Miller came to prominence with the production of the British comedy revue, Beyond the Fringe. Following on from this success he embarked on a career in the theatre, directing a 1970 West End production of The Merchant of Venice starring Laurence Olivier. He also started directing opera, famously producing a modern, Mafia-themed version of Rigoletto.
Title: "The Merchant of Venice"
Listeners: Christopher Sykes
Christopher Sykes is a London-based television producer and director who has made a number of documentary films for BBC TV, Channel 4 and PBS.
Tags: Venice, 1890s, France, Laurence Olivier, Joan Plowright, Adolf Hitler
Duration: 5 minutes, 6 seconds
Date story recorded: July 2008
Date story went live: 16 August 2011