NEXT STORY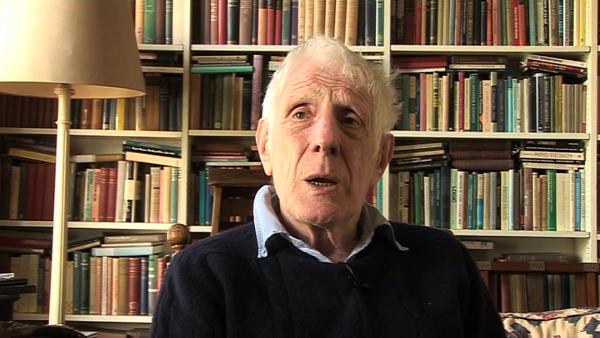 St Matthew Passion
Desert Island Discs twice, please!
Jonathan Miller
Theatre director
1
2
3
4
5
You have to realise that I'm one of the few people, and I'm not boasting here, because it's just, it's anomalous... I've done Desert Island Discs twice. And the second time I did it, which was 30 years after I did it for the first time, I did choose as my book a wonderful five-volumed book on invertebrate zoology. And... I mean, I always liked this wonderful routine, 'What would you take, apart from, of course, the Bible and Shakespeare', as if somehow these were the things... I wouldn't dream of taking either. And so this… this second time, I wanted this book by an American woman zoologist on invertebrates. And that goes back to what got me into the sciences in the first place. I spent a lot of time with my friend Oliver Sacks and another friend of mine called Eric Korn, doing marine zoology and, you know, and a lot of invertebrate zoology. And I thought it would be nice to be on a desert island and to be able to go down with my dredger and net and spend my long solitary hot days dissecting polychaete worms.
[Q] That's why you wanted a dissection kit?
Yes. I love dissecting, and I've always been fascinated by, and continue to be interested in, what I would call the architecture of living forms. Now, as soon as I say that, of course, the creationists get very excited because they think that I'm underwriting the notion of intelligent design. Well, they're not designed, that's simply the way they've evolved, and there are certain formats which repeat themselves and there are certain sorts of coherences and patterns which have always interested me. And I very much like this book on invertebrate zoology.
The first time, I think, I selected another book which was a book about the writing of Kubla Khan by Coleridge. It's a wonderful book by a man called John Livingston Lowes called The Road to Xanadu. It's immediately behind you on the bookshelf there. I've forgotten what my... oh, my luxury item the first time, which caused them to stop recording when I said it. He said, 'What would your luxury item be?' and I said, 'A razor to cut my throat with', because I thought that what Robinson Crusoe apparently found so attractive would, in fact, be desolation. So those are the two things. But the dissecting kit was now not for cutting my own throat but for opening up some more polychaete worms.
Jonathan Miller (1934-2019) was a British theatre and opera director. Initially studying medicine at Cambridge, Sir Jonathan Miller came to prominence with the production of the British comedy revue, Beyond the Fringe. Following on from this success he embarked on a career in the theatre, directing a 1970 West End production of The Merchant of Venice starring Laurence Olivier. He also started directing opera, famously producing a modern, Mafia-themed version of Rigoletto.
Title: "Desert Island Discs" twice, please!
Listeners: Christopher Sykes
Christopher Sykes is a London-based television producer and director who has made a number of documentary films for BBC TV, Channel 4 and PBS.
Tags: Desert Island Discs, Robinson Crusoe, William Shakespeare, Oliver Sacks, Eric Korn, Samuel Colridge, John Livingston Lowe
Duration: 3 minutes, 15 seconds
Date story recorded: July 2008
Date story went live: 16 August 2011